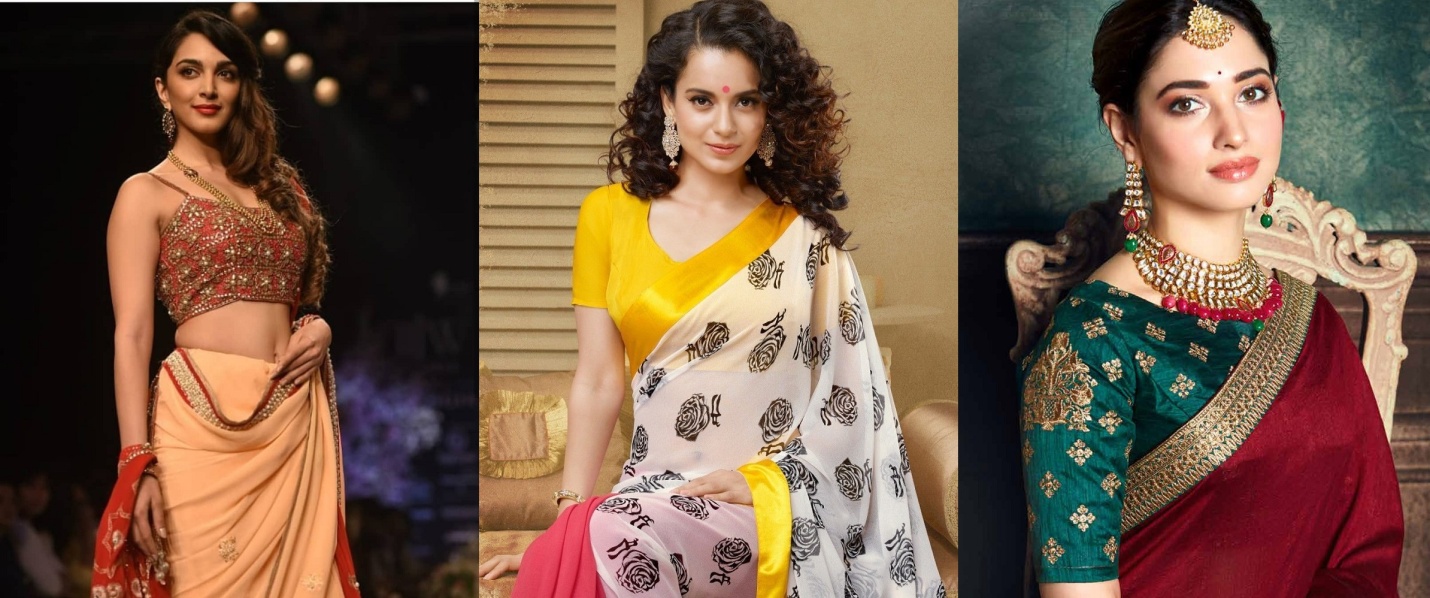 Indian fashion has many garbs that can be worn especially ethnic ones. The saree has stood its test of time as the most ethnic and classic Indian women's attire. The love for this traditional outfit has been redesigned, styled and even blended with other attires without losing its original make. The celebrities too love it more now that the new trends match with their fashion needs and still retain the sarees elegance. The beauty of a Bollywood celebrity wearing a designer saree is that in no time a replica will flood the market as their fans aim to pull the similar saree look as them. The celebrity saree always stands out and is revamped by adding or reducing the designs and styles from the original saree. Below are different sarees wore by Indian celebrities on various occasions.
The auspicious occasion saree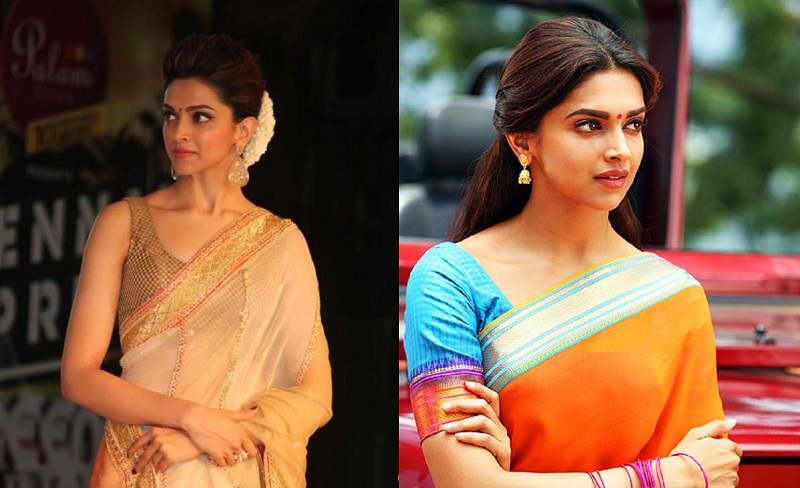 During the Chennai express film promotions, Deepika Padukone embraced the event with an off-white and gold combination saree that gave justice to her role in the film. This off-screen look by the actor made you vouch for the movie more. She looked gorgeous just as she was on screen with a blue saree that was a complete avatar look making you enjoy her more in the Chennai express role. Pairing her look with flowers gave it more life and made her utterly desirable to her audience. This look is comfortable and gives you an easy time during such an event even when mingling with the guests and fans.
The blossom wedding saree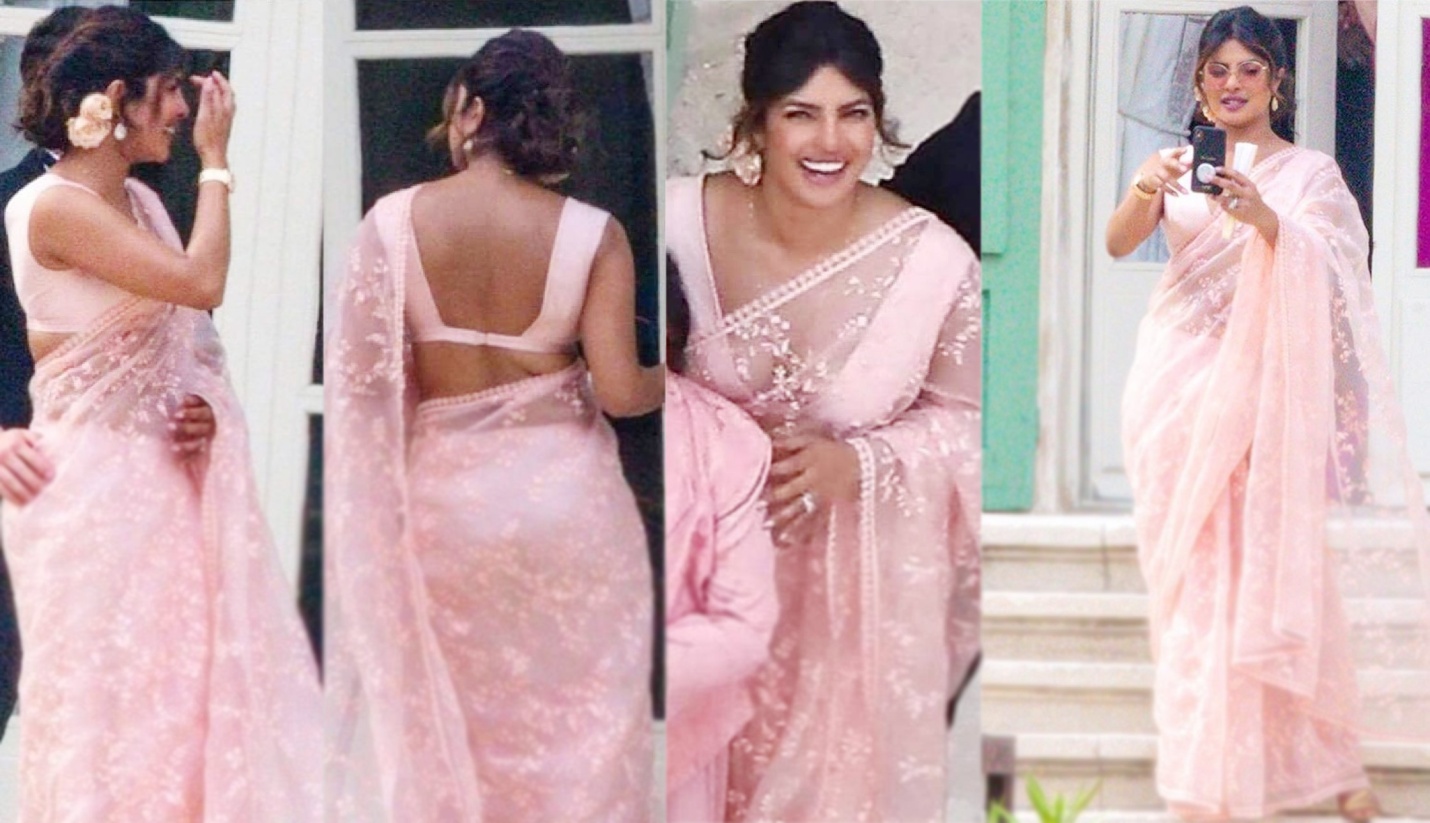 In her brother in laws wedding in France. Priyanka Chopra Jonas brought out her diva side in the blush pink Sabyasachi saree that she wore for the church wedding. Looking like a beautiful flower and an Indian fairy princess she blended in well with husband Nick Jonas who looked vibrant in his black suit making them look marvelous at the wedding. Priyanka adorned this look with fresh flowers to her hair adding more glam to her entire look. This saree was simple not overdoing the brides look and elegant with a touch of divine feel to it.
The Royal ethnic knit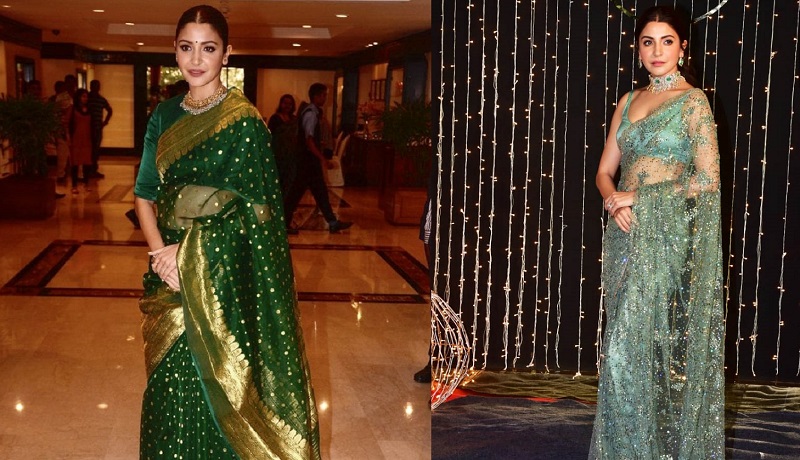 Traditional weaved saree is a must have for almost all Indian women celebrities. Just like how the gorgeous Anushka Sharma dresses up to a Banarasi saree giving out a chic style statement in this stunning saree during the Priyadarshni Academy global awards. This look is such a showstopper with its royal green Banarasi chanderi silk saree that had dotted patterns all over her body. The matching silk saree blouse and her statement jewelry made her look classic and the green bindi made her an overall dazzling beauty. Her love of the benarasi saree does not stop there. During her wedding reception she also wore a red silk benarasi saree and a matching red bindi as well making her a splendid bride. These two attires showed how she can pull off the regal sarees and make them look lavish on her.
The bold solid color saree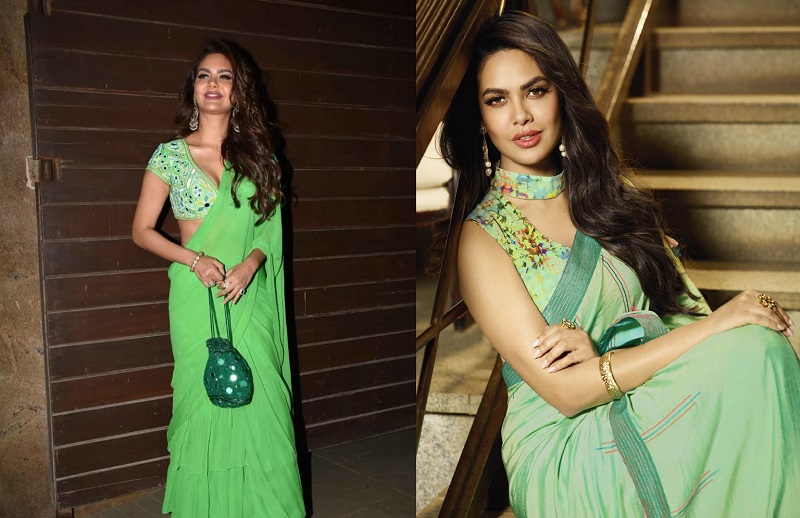 The tacky parrot green saree worn by Esha Gupta for 'Eid celebrations was a classic epitome choice. Although Esha looks dazzling in almost every look this stood out as her fans enjoyed how sensational she looked in this saree on her Instagram page. The green patterned crop top that she wore beneath of her saree added a revamped element to the whole look. From the many sarees that she has worn in the past, this was a bold choice for this Bollywood star to rock to such a party event giving her all the right glares.
The crimson saree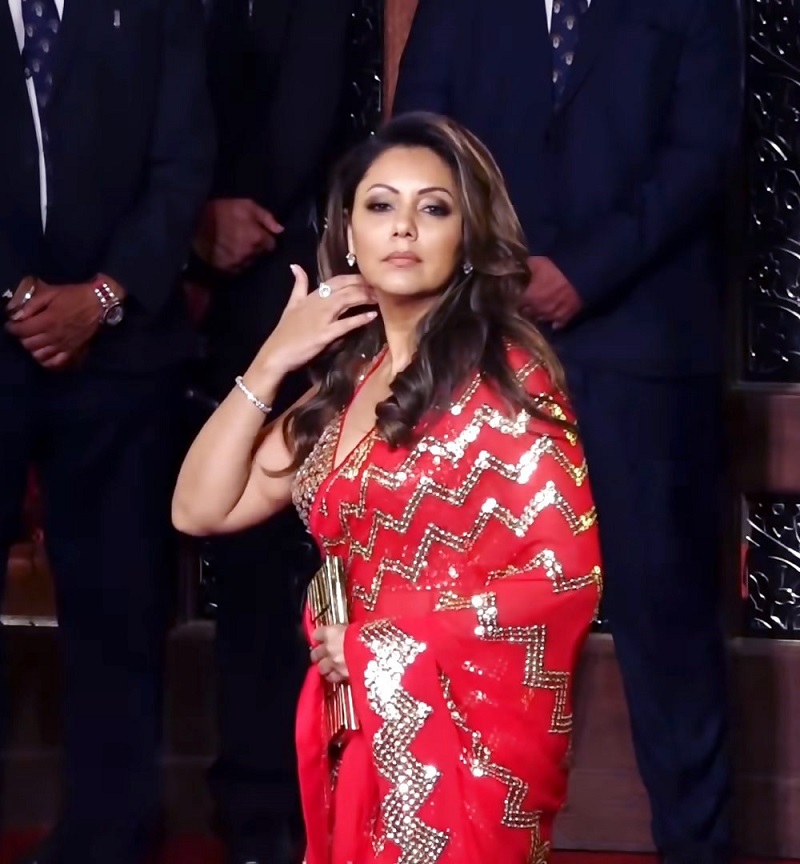 It is on a very rare occasion that a celebrity restyles or repeats a previously worn outfit. But not for the designer and dotting wife Gauri Khan who took the beautiful red Abu Jani and Sandeep Khosla saree and wore it twice in two different events. She dressed up in this saree at Isha Ambanis wedding and was seen with it in a slightly different styling for a family event. The gorgeous Gauri has brought a 'rock it with no shame' vibe to the celebrity world. Through this splendid ethnic red saree that has a golden embroidery blouse brought out a shimmering contrast that fits the star that she is in both events. This look is a perfect inspiration for the many fashionistas who would love a similar look for their wedding events or other festivities.
The rich summer floral saree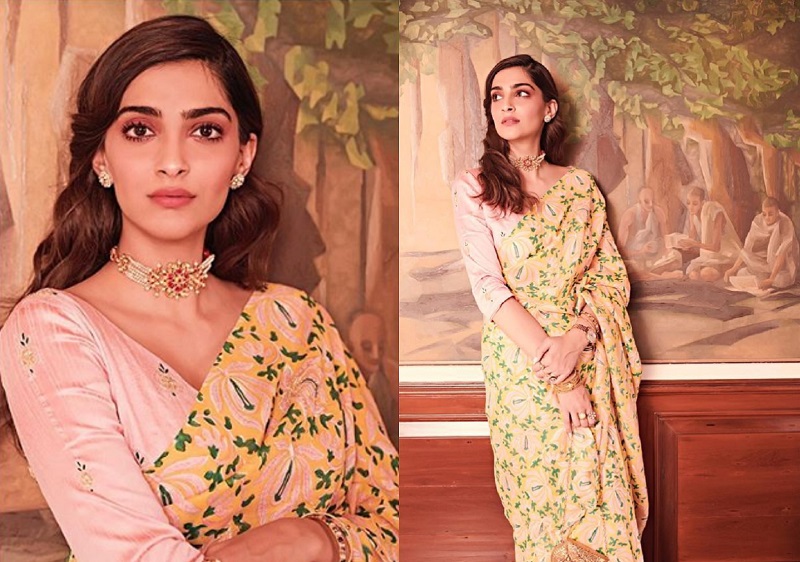 The out of a painting saree look adorned by Sonam Kapoor for the promotion event of her movie Ek Ladki KO Dekha Toh Aisa Laga. It has a lot of feels to it, such as a rich summer vibe of an obsessed fashionista that made her look splendid in this beautiful drape that looked breezy and comfortable. The balance of this look was brought out in the floral hand-block print, the pastel colors and the elbow length wrap blouse plus the complementing jewelry gave her a brilliant Bollywood star look. This is a perfect inspiration look to adorn during the summer festivities to bring out the perfect alluring summer look.
The ultra-fine saree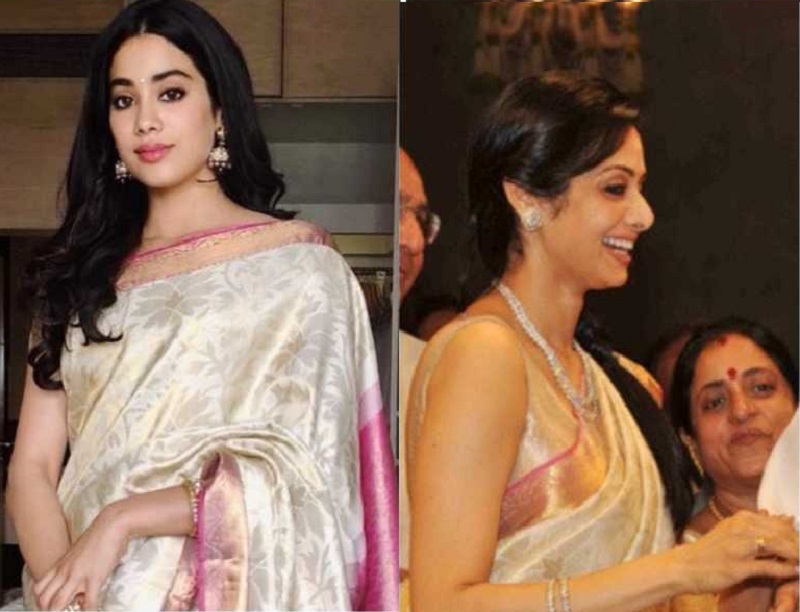 The late Sridevi who was the mother to Janhvi Kapoor wore this saree at Ram Charan's wedding and her daughter by receiving her award dressed in the same saree in her honor. During the 65th national film awards held in New Delhi Janhvi she looked ravishing in the Kanjeevaram saree that stood out in its pink and white blend. She stood out in this heavy work saree and the elegant Janhvi was a stunning twin reflection of her mother's look as she received her late mothers' award in that precious moment during the ceremony. The styling was slightly different in the blouses when the mothers were a full sleeveless blouse, while Janhvi wore a cropped sleeveless blouse to accentuate the look to fit her personality.
Simply ethnic, simply beautiful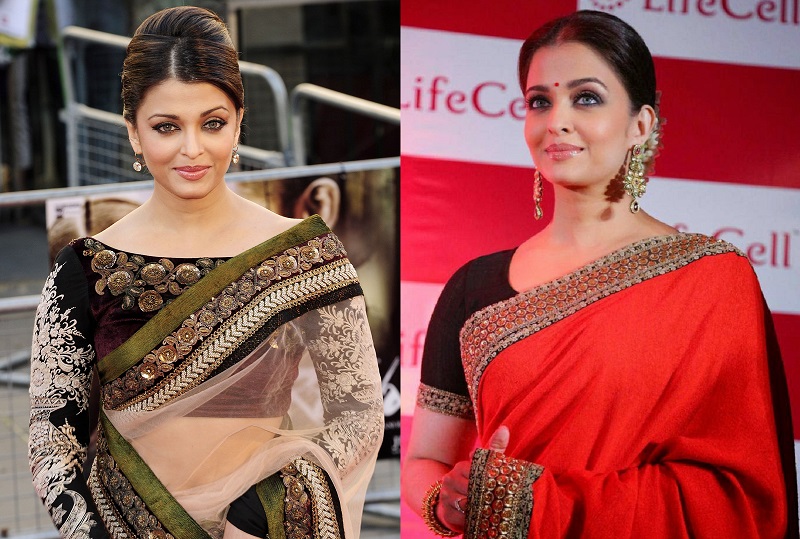 Aishwarya looks like a star whether she is wearing a Lehenga, kurta, an Anarkali or a saree in whichever event she is attending. As she showed up in the 'life sell public stem banking' event in Chennai. The gorgeous Aishwarya had nailed her look for this occasion with a red and black ethnic and beautiful Sabyasachi saree. It was simply styled but commanded respect with this dignified and opulent look that gave her an exquisite look with the border of applique and mirror works. This is a good wedding look too which can enhance your style and give a rich boost to the traditional saree.

Heavenly white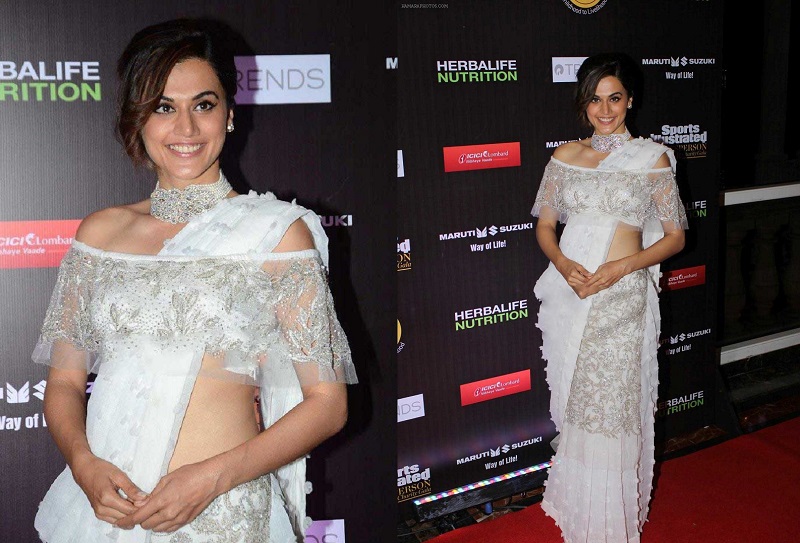 Impressive public appearances of a Bollywood diva that has a romantic feel with sarees and different ways to style them. Taapse Pannu never disappoints with her saree game from the winter saree, pant saree and the little black dress saree have revamped the saree fashion choices and fabric used as she never deters from experimenting with it. During the sports person of the year 2017 awards that Taapse attended she dressed in a heavenly white saree that was embellished with golden embroidery giving it a majestic finish. What gave this look a pure flow was the off shoulder embroidered net blouse that brought out her facial feature in this unique saree styling.
Keeping it cool and personalized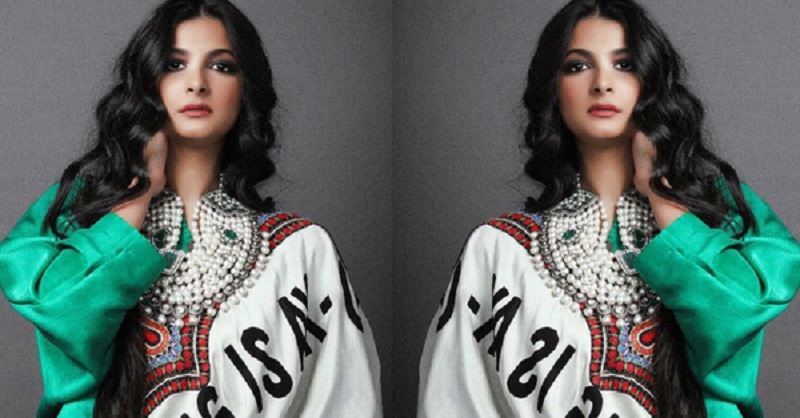 Who else other than Sonam Kapoor designer sister Rhea Kapoor can pull off a personalized yet cool fashion statement to an occasion? This design by Anamika Khanna was her first creation and a brilliant ensemble. At the third DeepVeer reception event Rhea Kapoor was the most outstanding attendee. She wore a blended saree that had a statement label that cannot be easily forgotten. The ensemble of this saree is a show stopper in itself and the extra design in ivory of the scallop that read 'Everything is AK-OK Rhea Kapoor' in bold black. While her designers Anamika's signature embroidery that was added on to the scallop borders highlighted it. By adding on a forest green boxy blouse gave the necessary contrast to give a finished look to this monochrome saree.

Pure painted sophistication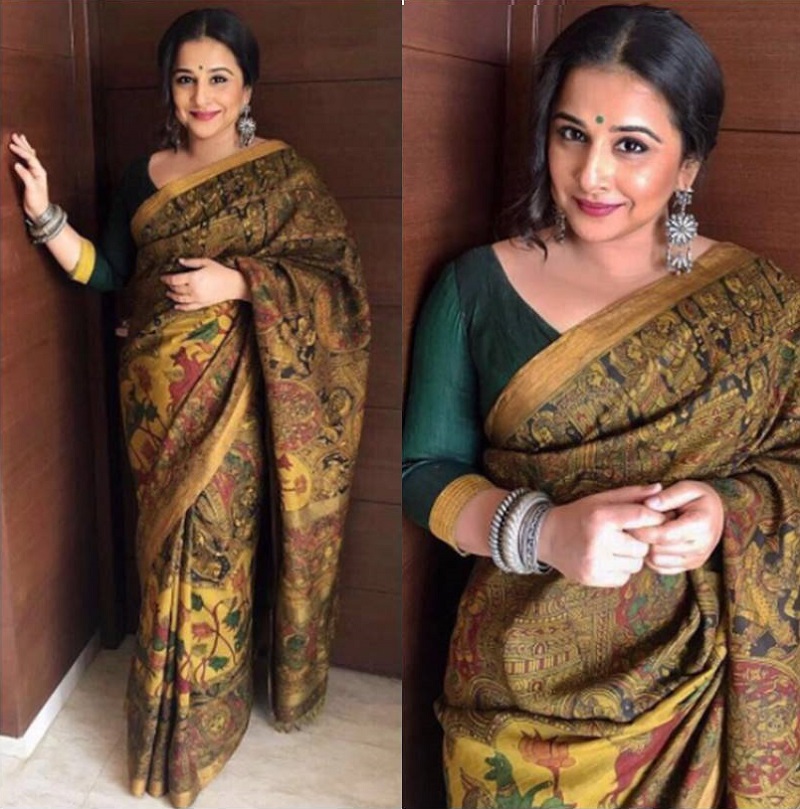 If you want to put artistry and canvas to shame get a saree similar to Vidya Balan's lovely hand painted Kalamakari saree. She wore this utterly gorgeous saree that brought much more to her look and the saree in itself. It made her look simply dressed but sophisticated during the 2017 Rann Utsav that bought out the superstar in her in the raw silk fabric. She paired it with a fitting green long sleeved blouse that had a yellow highlight at the wrist edges. This color blends in well with her frame and looks and gave her a great impression in this event.
Smashing in stripes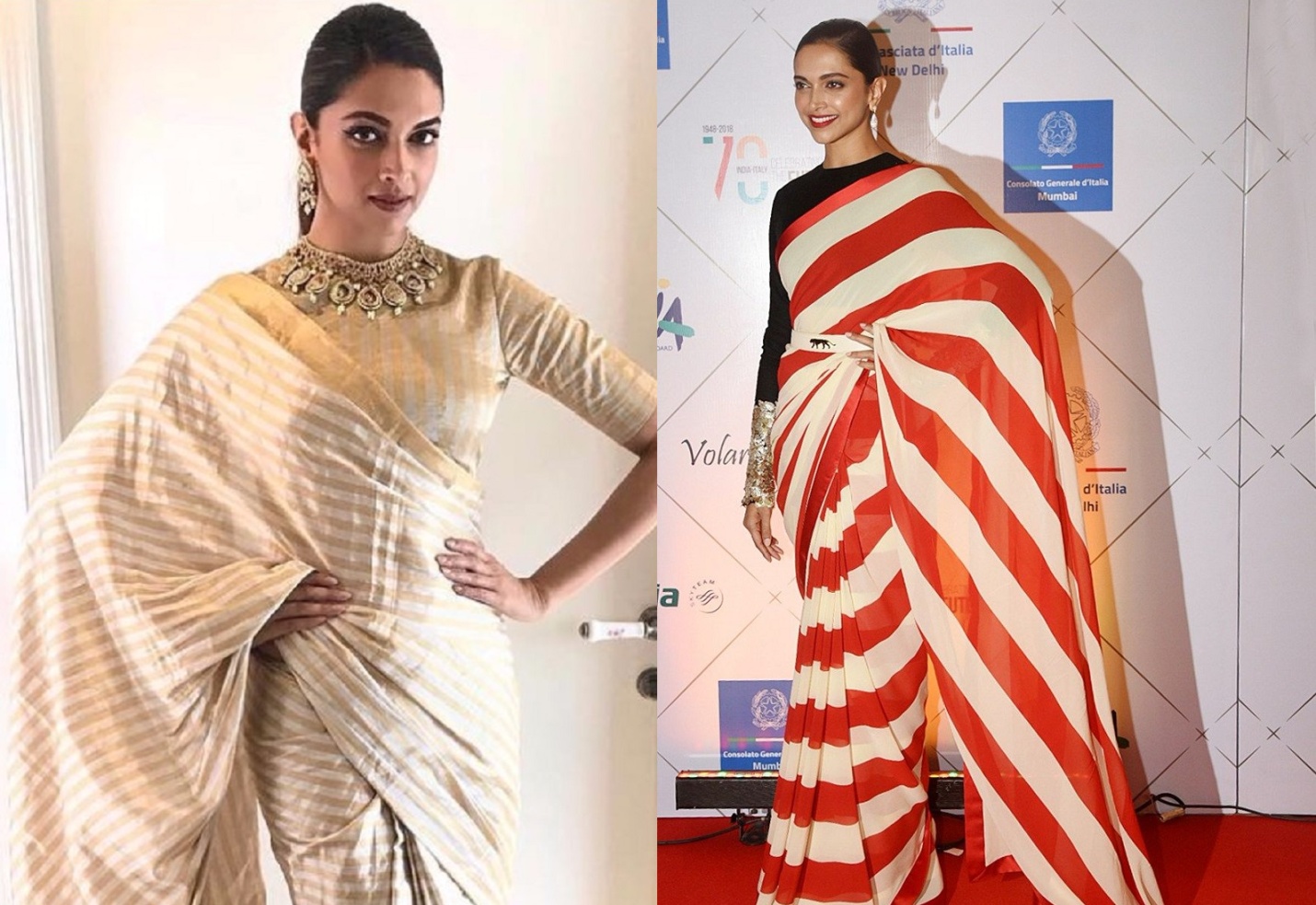 Stipeses are a style that needs a lot of consideration before wearing them for they can favor your body frame in either way. But not for Deepika Padukone she is a fashion risk taker and brings out style trends that get major replicas in the market after she adorns one. Whether she wears a casual garb or a striped saree she still makes a lasting impression. During the promotion of 'Padmaavat', she wore a raw mango saree that was in gold stripes. She has also worn a stripped saree again which was in red and white stripes from Sabyasachi Mukherjee with a black full sleeve blouse that brought out the bold stripped saree. Plus, she always looks glamorous in this chic style stripe sarees.

Shimmering Shetty red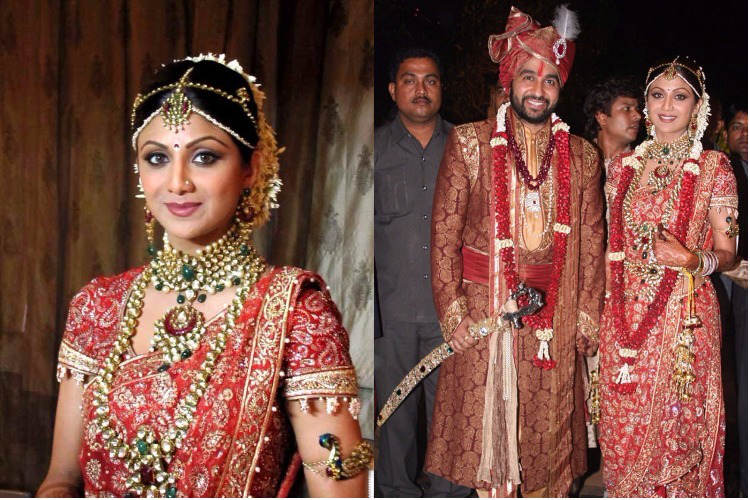 Shilpa Shetty's beautiful red saree for her wedding was a look to admire and remember for a long time. Her wedding was a beautiful auspicious event that was well detailed to remain unique and fresh in people's minds. Her shimmering red Banarasi saree was also a perfect choice to blend in with the wedding's expensive theme. This saree made her an out of this world bride due to its costly and lavish design and embellishment. The intricate detailing and the beautiful polki jewelry made her stand out from her guests. The paparazzi could also not get enough of the dress which gives her impeccable style and her whole complete ensemble from her headgear to her shoes. With such a lavish look for her wedding, she earns more followers especially the many women she inspires.

Swag up pant-sarees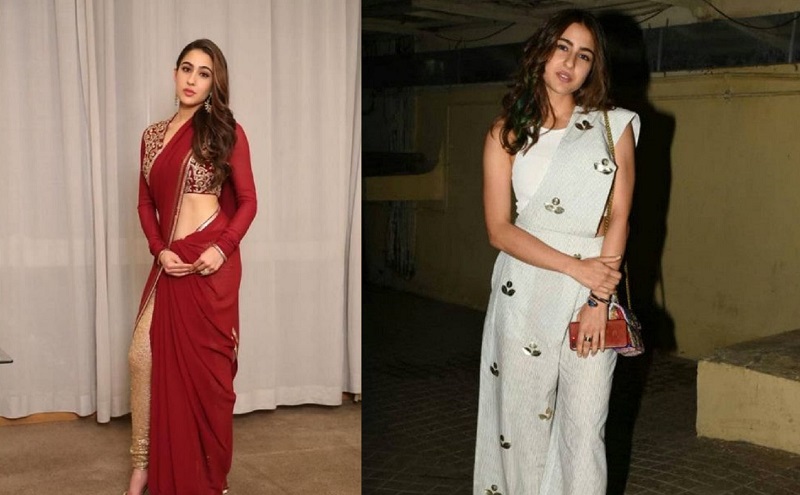 Pant sarees have been adorned previously with other celebrities, like Sonam Kapoor. However, we cannot get enough of them for every celebrity adorns it in a different style, color and on different occasions. The beautiful Sara Ali Khan wore a drool-worthy gold shimmer and skinny pants with a bold back cut-out blouse in a movie promotion and this color combination to this saree styling got her fashion swag game up. Her half long sleeves and print blouse added the charm to the outfit. She looked cute and with this look, she must have added more new fans to her growing fashion style.

A touch of uniqueness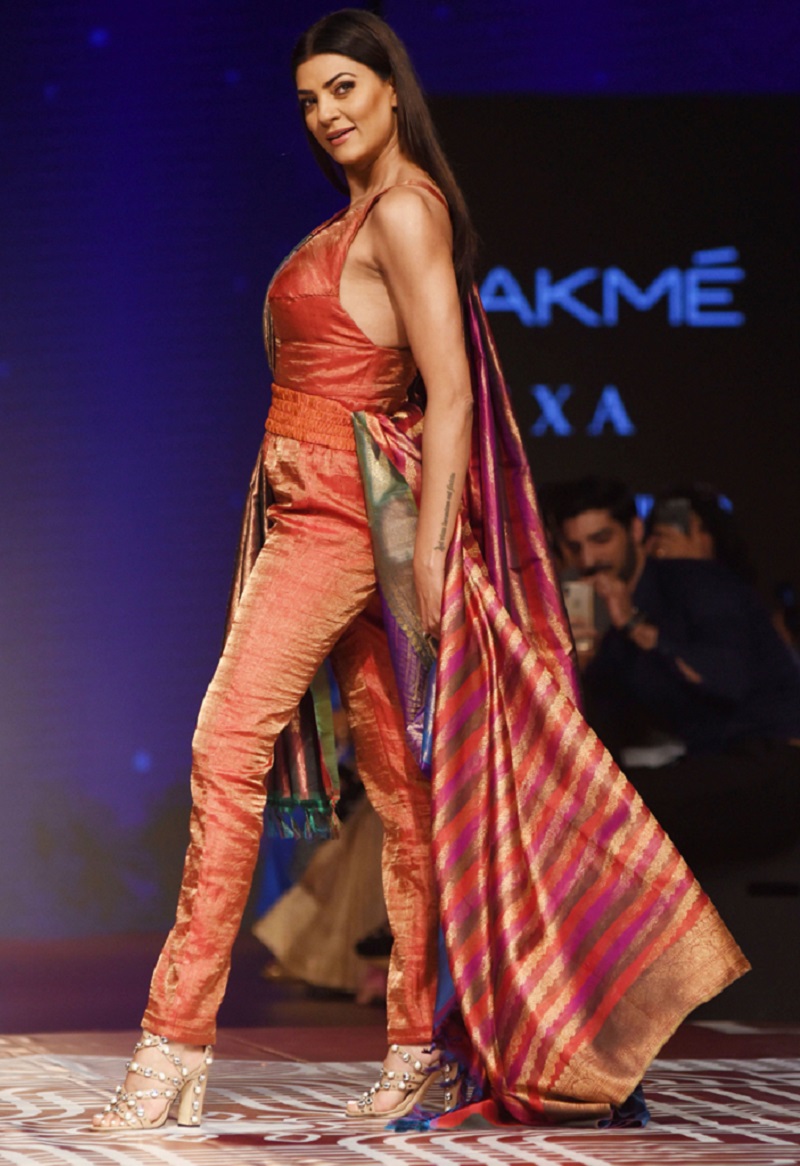 Sushmita Sen walked down the Lakme fashion week wearing a unique saree blouse gharga ensemble. Sushmita is known for her unique saree draping tricks and this look at the fashion week was not a surprise at all. Since she is all about being self-aware and a confident woman by adorning herself in this daring blend she remained true to her fashion mantra. This Kanchipuram silk handloom saree that had a unique touch in its draping style over a jumpsuit brought out an alluring fearless look at Sushmita at the event. This head turner dazzling outfit was also a great way to showcase a reversible saree.

Keeping it classic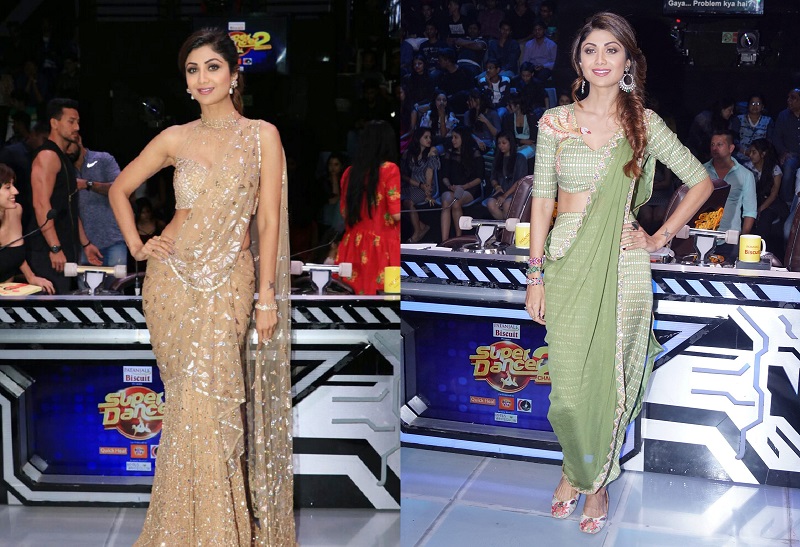 During the super dancer's semi-finale. Shilpa Shetty amazed the audience with a magical performance which she adorned with charming attires as the beautiful ensemble of an ethnic- chic peach and cream saree by Monisha that was on another level. This mermaid design was an elegant choice, to say the least, and it flowed well on her body with the paisley embroidery. The blouse she wore was, however, the focus of the whole outfit. The embellishment on the net blouse matched well with the rest of the outfit together with the bodice underneath that could be seen through. She had a deep red nail paint that brought out the right amount of pop to the outfit.
To being marvelous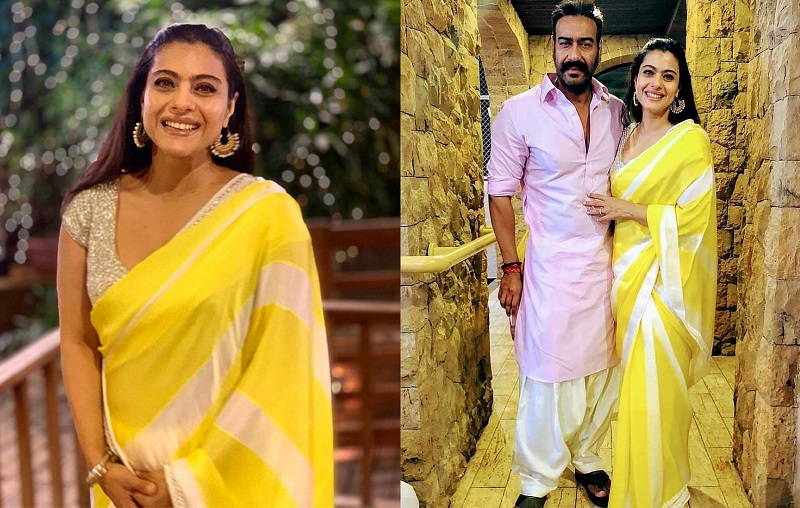 When the gorgeous Kajol sports a look she bedazzles everyone around her. During a festive event with the husband, she adorned the saree in vibrant egg yolk yellow color with a white border. This striking yellow saree made her look as beautiful as she was all smiling with her husband. The yellow body has horizontal white lines that are thick enough to be seen but not overpower the yellow shine. This look sends out all the happy and fun vibes and Kajol with her vibrant charm must have passed on these great feelings to others in the event. This saree is also perfect when worn for a Mehendi ceremony or another pre-wedding Indian ceremony that favor the color yellow.

Trend alert Fringe saree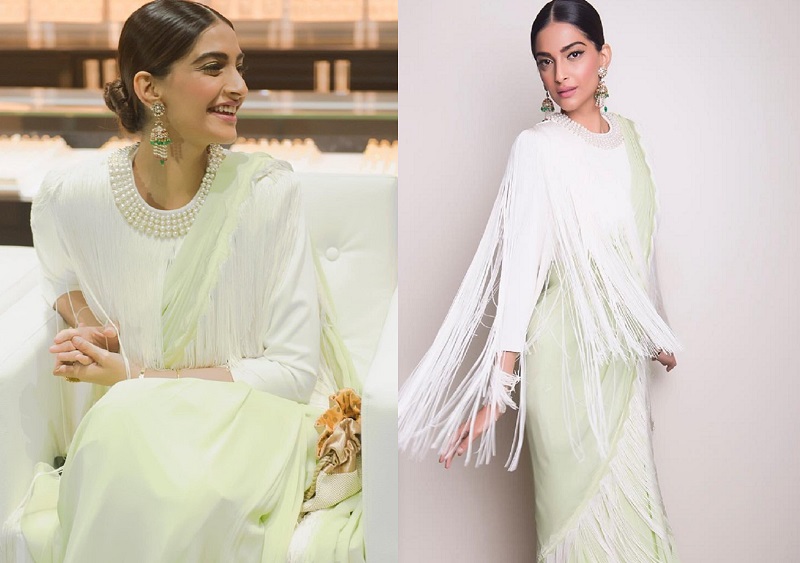 Fringe and saree blend well together when adorned by Sonam Kapoor. The diva wore this to a jewelry branding event in Dubai and she was on point in every detail of it. Being a modern look only the bold women like her dare to pull it off. Sonam was a trendsetter for this look after it had made its way to the runway. The perfect ensemble for this mint fringed saree upgraded her to a queen of the modern-day saree game. Her face was kept subtle and fresh and the flowy feel that this saree shows made her look dazzling, comfortable and a perfect glow. This fringe saree can be a perfect choice for a photo shoot due to its design and style.

Dazzling denim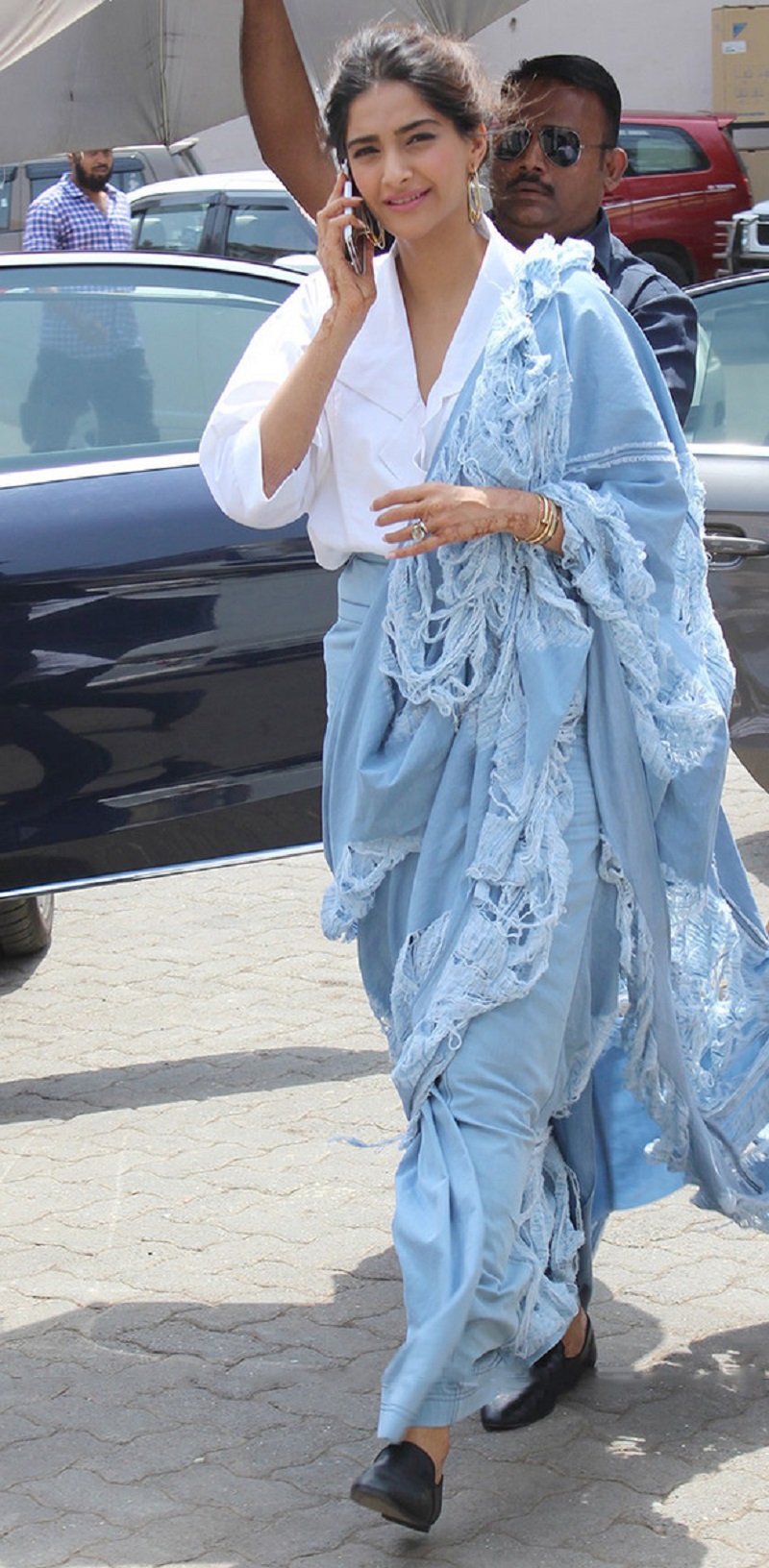 While promoting her film Veere Di Wedding Sonam Kapoor wore this dazzling and yet captivating saree. This shows how these divas sartorial choices are upscale by wearing one head turner denim saree to another. This saree was light blue with a baggy collared blouse. The denim look is for the risk takers due to the denim fabric that is used to design it. Well, no one can out-do Sonam Kapoor fashion sense as she wore a washed out denim saree that is claimed to have been recycled from old Levis denim. This look is trendy, chic and a unique saree to wear as a celebrity. The denim saree is proof for more daring saree designs that are yet to be seen in the Indian fashion market especially through this risk-taking fashionista.

The Valentine print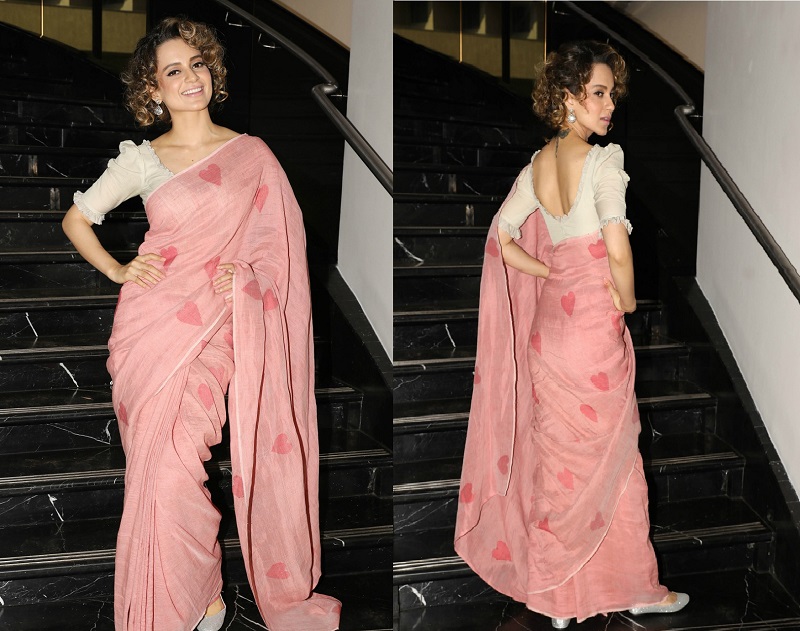 Having this saree in your collection should be an ultimate saree goal. It has a valentine's day saree inspiration. Celebrities like Kangana Ranaut are like the queen of print as she adorns them with perfection. Her range of prints in various shades such as floral, geometric all wow and have been embraced in the market as well. The hearty print saree she wore when attending the promotion of the Rangoon movie worn many hearts. These prints looked good when she matched it with a white blouse and perfect curly hair. This look can look vintage and modern at the same time depending on the drape style and the fabric used. You can opt for other prints such as cat print, dotted whichever print you choose as a celebrity fashionista it helps you mix some adventure with current fashion.

Combining the best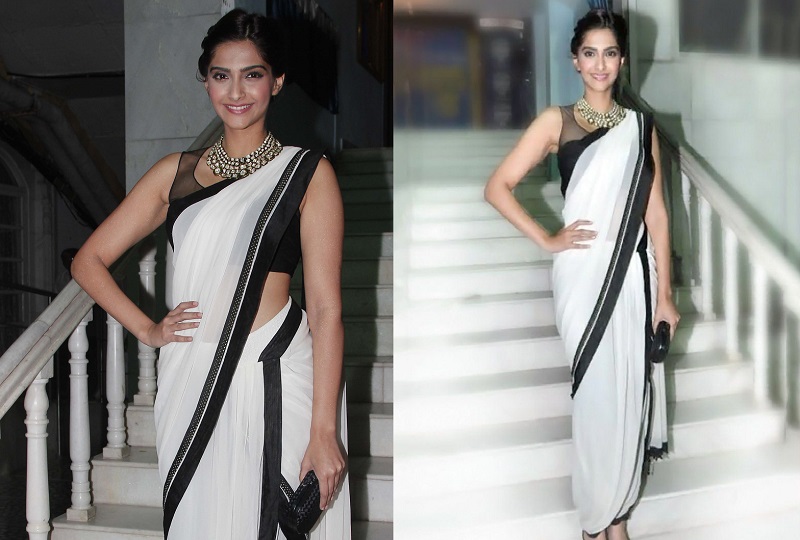 Celebrities with the latest trends in fashion have brought out many ways to blend the saree with other Indian traditional attires. The dhoti saree is one of the best and it gives you a lot of necessary attention. Sonam Kapoor sports on a dhoti saree at the launch of the Ghazal album where she wore a white saree, with a black border and draped dhoti. Despite the color, you wear it in. Its opulence and elegant looks gracious on the wearer due to the combination of the best of ethnic Indian attires. It can be paired with a jacket as well for a comfortable evening look. There are many collections of this saree combo choose one that flatters your personality well.

Blended with love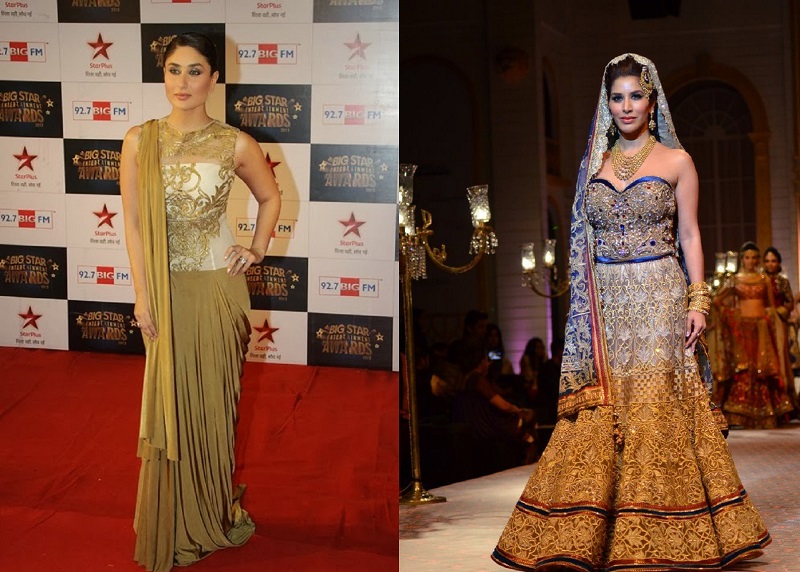 The corset Lehenga saree is one attire blend you will love to adorn on. During the Amby Valley India fashion week, singer and television presenter Sophie Chaudhry took this blend to show off her fashionista side. She looked absolutely gorgeous in the dazzling crystal and gold corset, Lehenga and dupatta. Kareena Kapoor has also tried this look and looked amazing like an Indian goddess in Shantanu and Nikhil corset saree. This is proof that the corset is not only for brides alone to wear but can be given a blend in a saree and Lehenga.

Two pieced glamour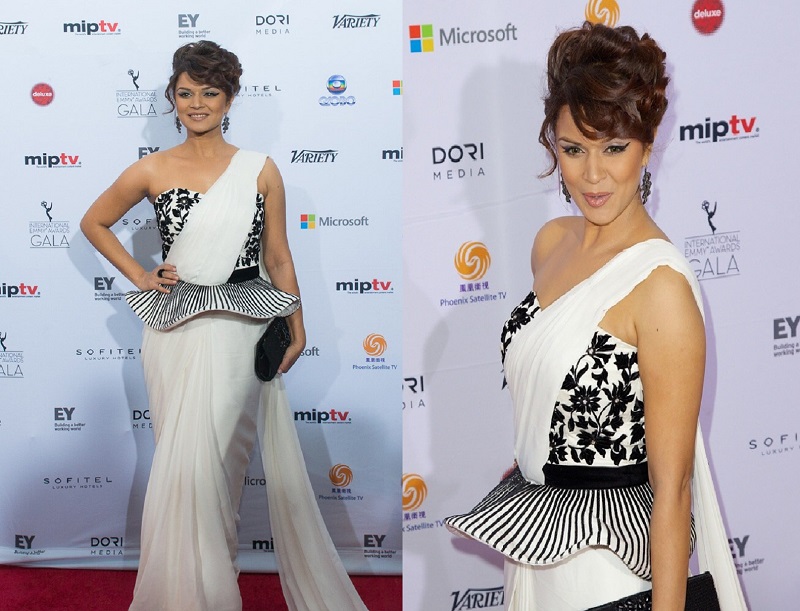 While representing the Indian television fraternity Aashka Goradia wore a peplum saree-gown during the international Emmy awards. She looked fashionably impeccable as she posed for the paparazzi at the red carpet. This two-piece fusion of a peplum top and saree creation by the Riddhi and Siddhi sisters got the right attention at the award ceremony. Her makeup was on point and she did an amazing job showcasing this design piece.

All the above celebrity sarees are just the least of the choices a celebrity can choose from. As a matter of fact, with various designers ready to showcase their work on Indian celebrities the completion for saree blends and new designs and styling is top notch today. It does not matter the type of occasion you hope to attend, whether an award ceremony, interview, wedding, funeral or you just want to pull a daily look. The saree can now be made to fit all these occasions and amplify your look like a celebrity or not. Go bright as a celebrity in the saree but consider the event you are attending as well. Get your draping right it's what makes the look complete and exclusive. Have your accessories in place to assist you to blend well with the saree choice to avoid one covering the beauty of the other.