Wedding seasons are the best. It's so colorful, lively and, full of fun, isn't it?  If this wedding season you are going to be a bride, you will be grateful to us for reducing your burden a bit. Marriage is all about planning, undoubtedly you will get so many outfits to try and so many people to meet. We have come up with many hairstyles for your D-day that will accentuate your beautiful attire. After consulting with many fashion experts we came to know that more and more people are opting for a traditional ceremony and a traditional look as well. So if you want to keep up with the latest trends, you need to start planning your ensemble, and hair for the ultimate D-day look!
Traditional Braided Bridal Hairstyle South Indian style
South Indian
This hairstyle will look great with round face, oval and triangle.
South Indian hairstyle requires long black dense hair. The long braid is then beautifully decorated either with gold embellishments or flowers all through the length of the hair. This hairstyle looks great with Kancheevaram saree. To you pair it with different attires to give a  mix of traditional and contemporary look. In case of short hair and want to have this style, use hair extensions.
The braid should be tight, neat enough to make flower garlands, pearls or chic golden accessories visible.  Ador it with Maang Tikka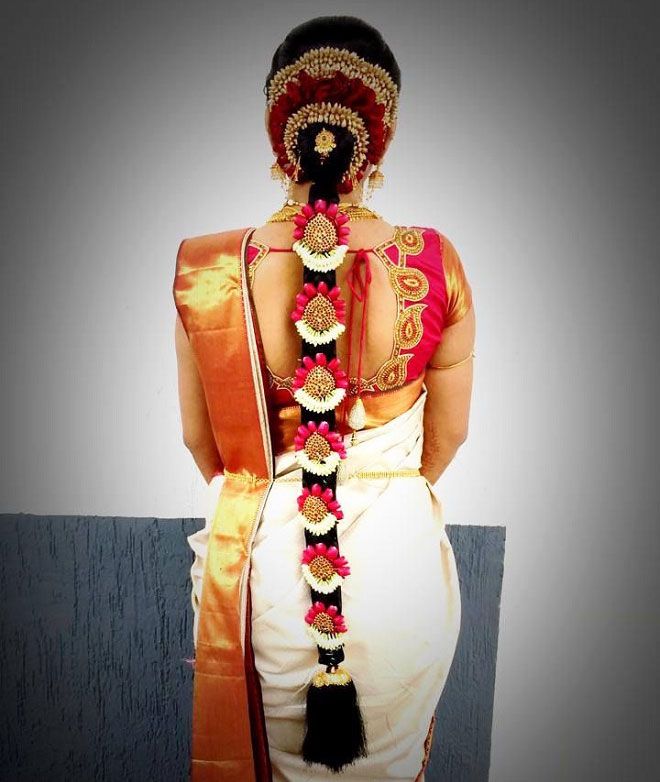 source: www.pinterest.com
What you need
Smoothening serum
Fine-toothed comb
Bobby pins
Elastic band
Floral hair accessory or jewelry (readymade or strings)
How to style
1 Apply smoothening serum and brush well to have fizzy free hair.
Do a center part. From the front part take a small section of front hair on the right side and pin it back straight or with a twist to give it a neat look. Repeat the same on the other side.
2 Braid your hair from below the crown area by dividing your hair into three sections. Braid it tightly and secure the end with an elastic band.
3 Decorate your braid with jewel pieces or flowers around the braid. Secure them well with U pins and bobby pins. Two to three layers can be given at the top in a semi-circle like fashion.
4 For this particular style, maang-tika is mandatory to enhance the frontal appearance.
Bengali hairstyle
Bengali wedding is generally accompanied with long beautiful hair. Hence the styling is done in a way that adores the beauty of the hair hereby enhancing the whole wedding look. The Bengali weddings attire is loaded with the simplicity of red and white saree. Heavy makeup on eyes, big red bindi gets balanced by keeping the hairstyle simple. Hair is left open by giving soft delicate curls. Another option is to tie it up in a high bun with red flowers such as hibiscus.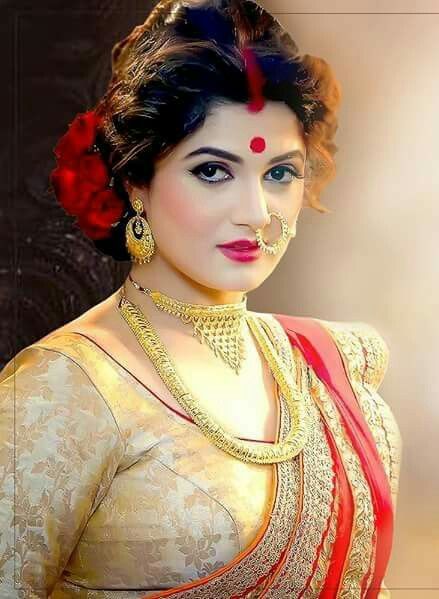 source: in.pinterest.com
What you need
Volumizing moose
Fine-toothed comb
Bobby pins
Elastic band
Heavy jewelry (readymade or strings)
hairspray
Hair curler
How to do it
Apply smoothening serum and brush well to have fizzy free hair.
2 Part your hair from the middle and use volumising moose to give volume to that front portion. come it a little backward.
3. take out small portions of hair and curl them using a curler.Flaunt it in the front.
4tMake a simple bun at the back and combine it with the puffed upfront portion from both the side. You can even divide the hair into three portions. Two small portions on the two sides are braided, and the middle portion is created into a bun. The two braids are then placed around the bun to give fuller and attractive look.
5 Decorate it with heavy gold or kind jewelry. Use hair extension if you have short or mid-length hair.
Maharashtrian style
Main elements of Maharastrain hairstyle is a full bun or Juda of hair. It may be embellished with a gold jewelry or gajra by draping it around the bun. The pearl string mundavalya which runs across the forehead and maang tikka are important to complete the look. Your hair has been side-parted or combs back.  Make a puff on the back to create the old school retro wedding hairstyle. Wear this hairstyle with a naval saree to get into the traditional mood.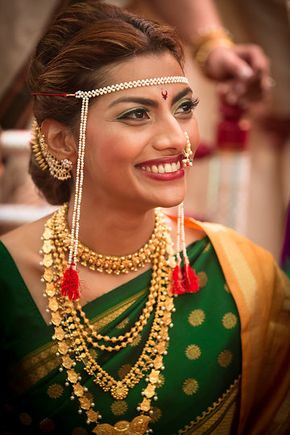 source: stylesatlife.com
What you need
Volumizing mousse
Round brush
Blow-dryer
Light hold hairspray
How to do it
1. Brush well to remove all tangles. Do a center part. From the front part take a small section of front hair from both the side, roll them up and lose them up to give some volume. You should use Volumising mousse for giving the perfect amount of volume to your hair.
2The long hair is plaited into a bun at the back and a mid poof created in the crown area. Join the bun with the front puffed hair at the back.
3Then complete the look with flowers or gold jewelry at the back. Add a mundavalya running along the forehead in front. Use a hairspray to set everything at a place.
Punjabi style
The North Indian wedding hairstyles are flexible and can be done with different hair sizes. It largely focused on the mang-tikka,  it's a beautiful ornament worn on the crown area. You can braid the rest hair.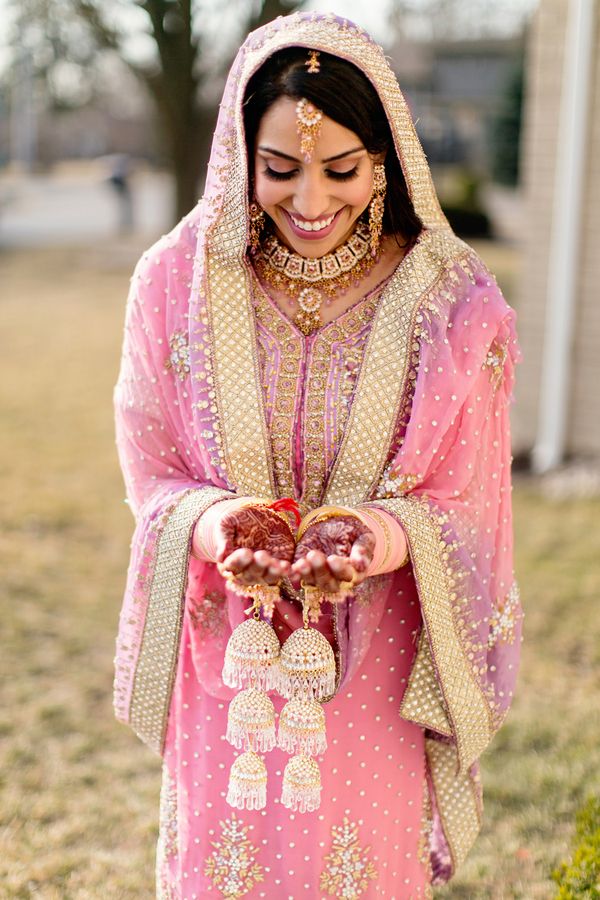 source: in.pinterest.com
What you need
Volumizing mousse
Straightener
Round brush
Blow-dryer
Light hold hairspray
Hair clips
1 To get the hairstyle shown in the picture you need to puff up all your hair a bit. The puffed hairdo makes your hair look fuller.
2 Section out the different zones of your hair and straighten up. Place your mang-tika chains and secure it tightly using hair clips.
3 You can even straighten up the front part, while the second half slightly curled. Part your hair from the middle so that the mang-tika falls comfortably.
4. Now take all front section from one side and swept it to the extreme side. secure it nicely and you are done.  Add a jewel if you want.
Hairstyles are not restricted to this much.  After having a look at the traditional hairstyles lets see how to do fusion hairstyles. they are in vogue and are easy to do by yourself.
Messy Tiara Braid
Tiaras are in vogue this season. Bejeweled tiara or tiara with scented flowers will give you the feel of a princess. It can be done on medium to long hair. As shown above, the loose braid will add the romance and glamour to the hairstyle.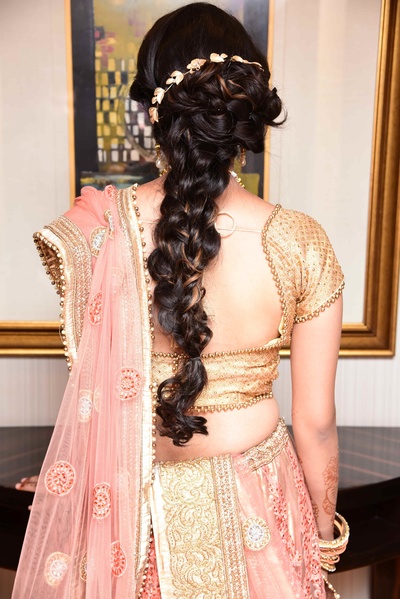 source: in.pinterest.com
Wash your hair and curl your entire hair by taking 2-inch sections at a time. Just a branded curler to have minimum hair damage.Giving a side part, gather all hair to one side and then flip it over the shoulder. Braid your hair loosely and secure it by making a small bun out of it. Keep half of your hair braided but don't secure it into the bun. Pull a braid section lightly to make it appear bigger and messy.
Pin your tiara on your crown area or at the end of your braid as shown in the picture. Finish the look by spritzing some light hold hair spray
 Matha Patti Style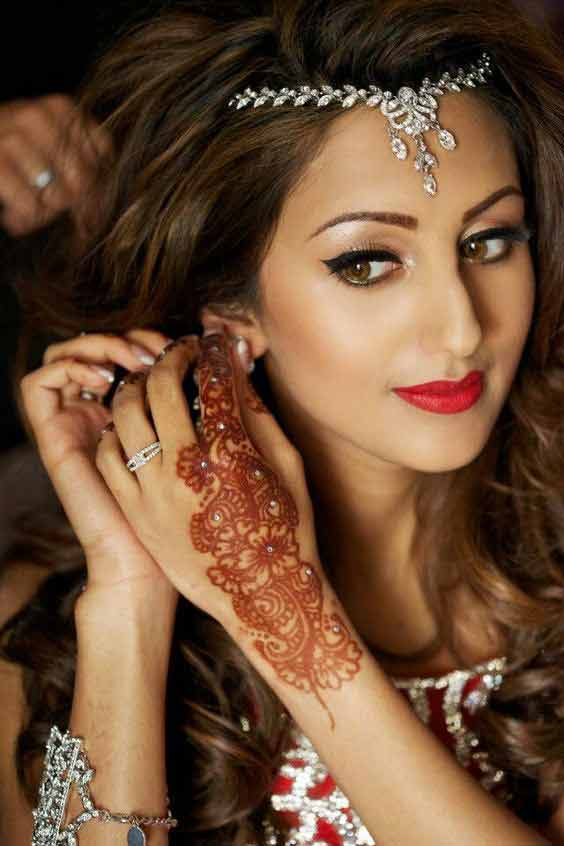 source: in.pinterest.com
Wearing the mathapatti is inevitable for many Indian brides. You can do it in a  contemporary and chic way on your short, medium to even long hair length. This bridal hairstyle just required soft curly hair.  Select a diamond mathapatti to lie the one shown, it's very modern in appearance and less heavy. Let it sparkle through your puffed hair to make it look even more endearing. Just puff up your crown to carry that mathapati with much swag.
Decorative side bun
If you want something in between a traditional and a modern look for the special occasion of your wedding, pick this hairstyle. This one will give a stylish look, which will also add the softness of the traditional hairstyles. Here the hairs from the front have been rolled in an interesting way to reach one side of the head and the decorative bun has been placed covering the back of the head from the side and not at the nape of the neck.
Back swept open curly hairstyle
To get this gorgeous hairstyle part your hairs at the side of the head in an angular line. Comb the hairs of the broader section to the back to create a slight front puff. Pin the hairs at the back of the head, creating a back puff and leave the length of the hairs open. The length of hairs needs to be curled in small sections and only a minimal part of the curled hairs should be taken to the front from over one shoulder. The maximum volume of the hairs should be left at the back.
Follow these beautiful hairstyles to look traditional yet chic on that special day of your life. Share your experience with us. Follow FashionPro for more such hairstyle tips and wedding styling tips.
Cheers!