White sneakers have been around since forever now. They are seen everywhere and looks like they are one of the go to's for the celebrities.
So here's how you can style them with your daily outfits to amp up your looks.
1 .European Holiday
Delicate sun-dresses, dress shirts in pastel colors look amazing with white sneakers. Pair it with a choker or a loose shirt jacket to pull your look together. This is one of the most stylish and comfortable look. Who would have thought you could pair dress and sneakers together and look elegant!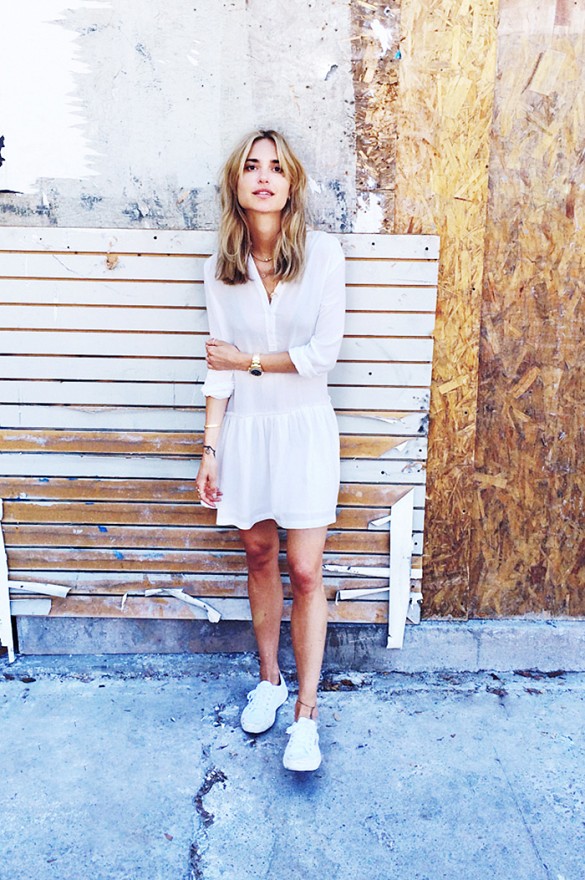 source: white-wrap-dress-summer-sundress-white-shirt-dress-white-sneakers-via-looksource: desource: pernille
2. The Classics: Black and White
Just like the sneakers, colour blocking has been around for a long time. Go with the evergreen Black and White. Pair your white sneakers with a white t-shirt and black jeans/ leggings. This outfit is the most comfy and can be worn anywhere!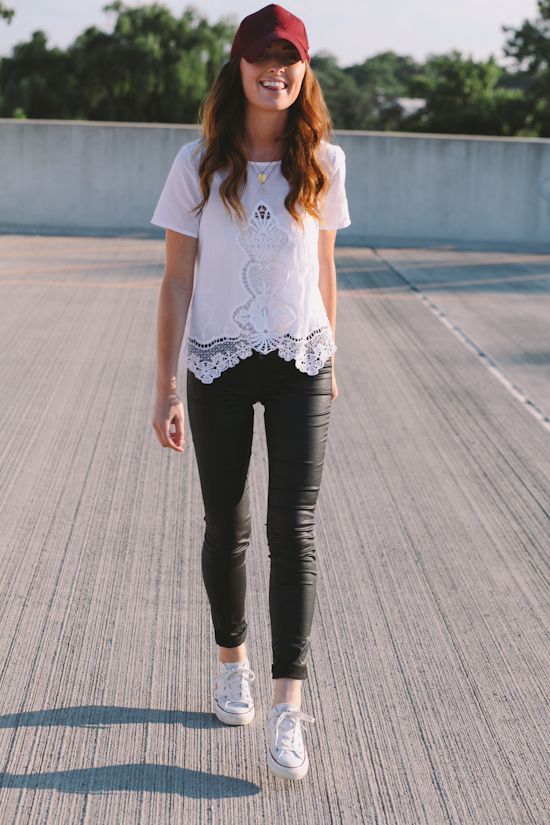 source: lookastic.com
3. Skater skirts and Crop tops
Skater skirts are the best in summer; they give you the freedom to look on-point with no thigh sweat. So why not pair your white sneakers with a cute crop top and a skater skirt. Here is a picture for your guidance. If you want less show of skin throw on that shirt jacket or a combat jacket.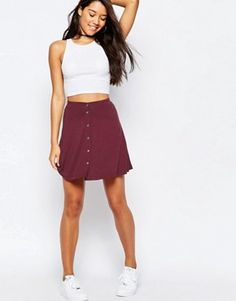 source: in.pinterest.com
4. Off Duty Model
Show off them legs with simple denim booty shorts and a plain t-shirt with your sneakers. Keeping it simple and sexy, it can be the perfect beach outfit!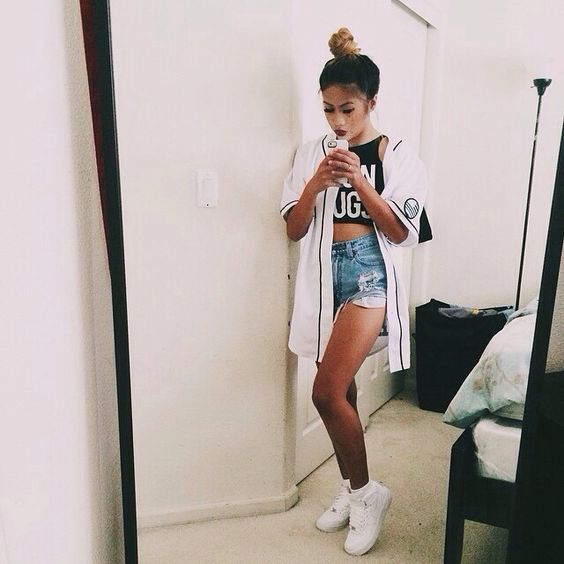 source: in.pinterest.com
5. Little Black Dress
A simple black dress can go a long way. And here you thought you can only wear a LBD with those heels but no peasant no, grab your white sneakers and rock that LBD to that party tonight!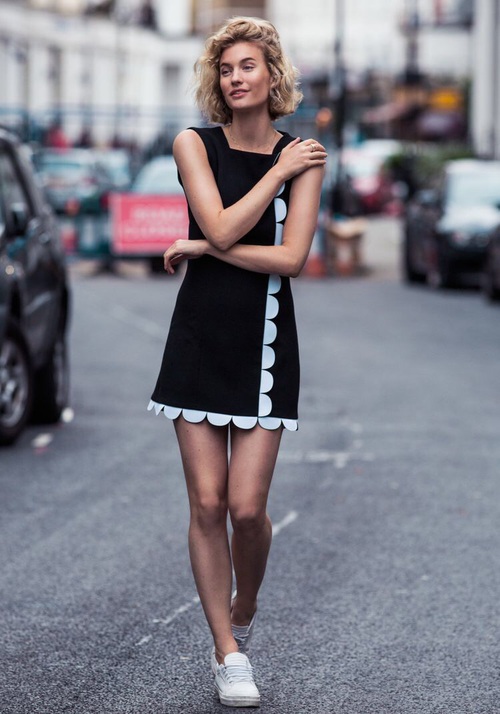 source: weheartit.com
6. Sweatshirts and Yoga pants
Okay, I was wrong. This is by far the most comfortable outfit. I am one to say because that's what I am wearing right now. So go ahead and pair the white sneakers with your yoga pants and sweats. You have my blessings!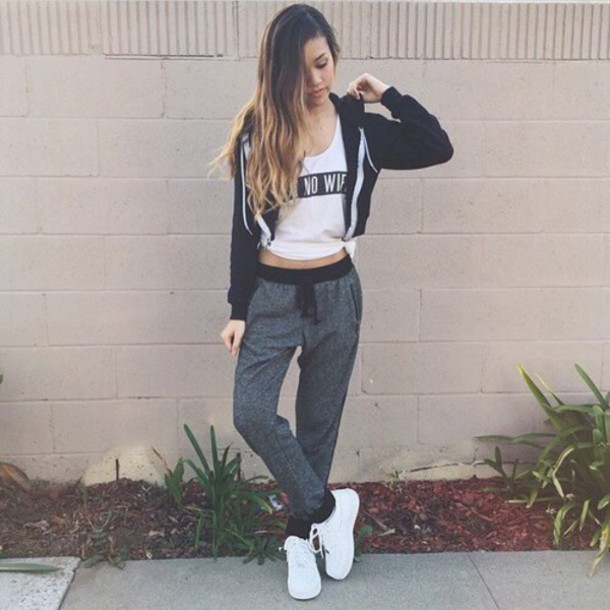 source: wheretoget.it
7. Waist it Up!
Believe it or not formal high waist pants look bananas with sneakers. Give it a try and wear dark coloured pants with your sneakers and change that stigma in your society!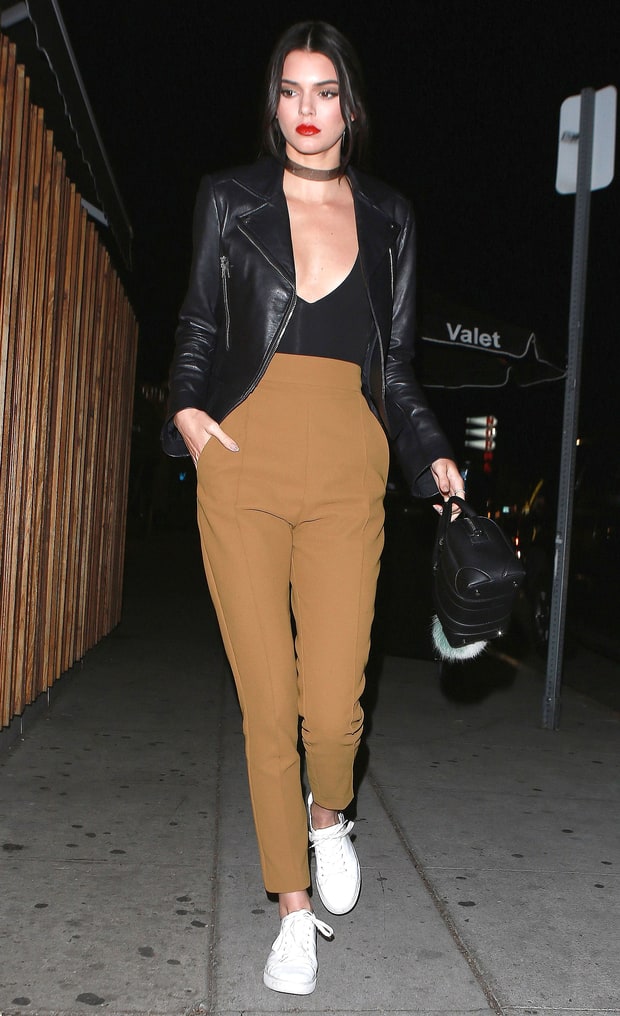 source: www.usmagazine.com
8. Bomber Jacket and Skinny Jeans
This is the best way to embrace falls. It's the perfect outfit that shows you are ready for fall with the jacket but still holding your ground to summer with those sneakers. Pair your sneakers with a bomber jacket , white t-shirt and skinny jeans.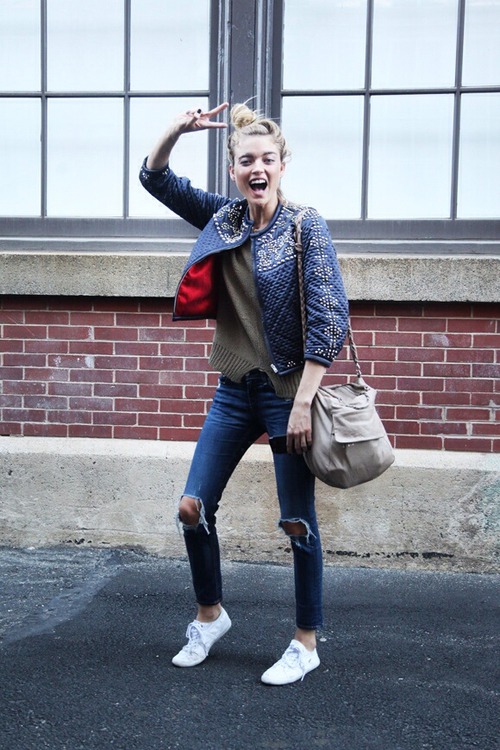 source: lookastic.com
9. Wear it to work!
Okay guys so this is by far the edgiest way to sport your white sneakers. Grab your pencil skirt and a nice crisp shirt and pair it with your white sneakers. And to pull the entire look together grab a shoulder jacket too! I know it sounds bizarre but guys see the picture below and be the judge yourself! Give it a try!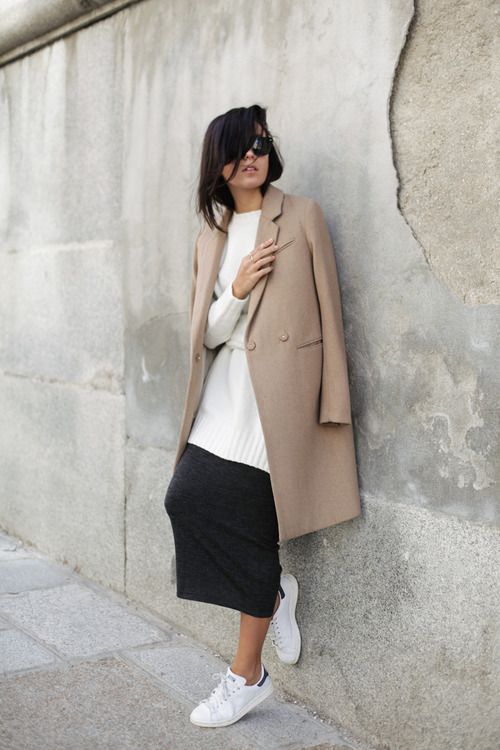 source: www.closetfulofclothes.com
10. Culottes
They are the hottest pants in 2o16 and are crazy comfy. Up your culotte game with your white sneakers. You can wear this look from your work to your brunch effortlessly!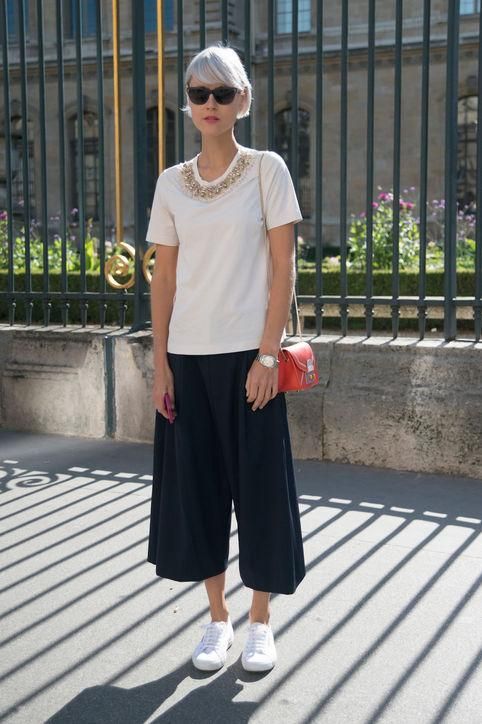 source: in.pinterest.com
Get those white sneakers out and werk it!
I hope this article served your purpose, show some love and subscribe to our website for more outfit ideas and much more!