There are many important things a bride has to look after during her own marriage, be it the choice of a wedding dress, hairstyle, 1footwear, accessories. However, women might feel puzzled if she has short hair and she does not have enough time to make them grown. In that case, FashionPro is here to give you some trendy wedding hairstyle choices.  On the big day, these hairstyles will surely make you look stylish and stunning in the wedding photos. Let us tell you one thing, there is nothing called an ideal wedding hairstyle.
If you are used to wearing a stylish short haircut, you can easily fill the same style of yours into your bridal avatar. Also, wedding fashion keeps on changing every year. Thus, contemporary short hairstyles can amaze your guests with a plenty of interesting ideas. Let have a look at some stunning examples of the latest bridal hairstyles for short hair.
Contemporary hairstyle.
Short hairstyles are pretty simple, without unnecessary jewelry and stuff. The less styling products on your hair will make you look more fashionable. Even small updo on bride's hair stays loose and natural-looking.
Short hair keeps the focal points such as hair accessories like tiaras, wedding headbands, combs, bobby pins, hair clips, etc intact.  You might want to match the color of your wedding gown or serve a contrasting detail.
Bridal hairstyles for short hair can be twisted and turn.  For example, keep your bangs backward and cover the back of your head by a wedding veil or a compact floral composition. Short bob haircuts can also be converted into breathtaking wedding updos just like that.
One side open hairstyle for short hairs
For short relax effortless look try out this hairdo.
1 Start by parting your hair one side and then the poof has been added to the bigger section.
2 The length of the hairs has been curled and placed to the front from over one shoulder.
3 The heavy head accessory on the opposite side of the puff will make the hairstyle look royal.
Reverse Tiara Hairstyle
Floral tiaras can add feminine charm and delicacy to a bridal look. This wedding hairstyle for short hair is bound to, instantly upgrade your d-day look.
1 Begin by blow drying your tresses right to get long loose curls.
2 Now place the tiara extending from one side to another, tugging in the front edges. Secure it using a clip.
3 For the back, make tight curls and secure them with a hairspray and your wedding updo is set.
4 Choice of the tiara is up to you. You can also opt for stone studded or elegant pearl ones depending on your wedding ensemble.
French Twist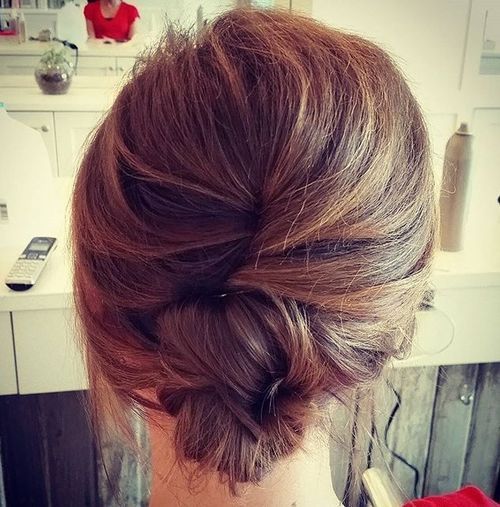 The French twist hairstyle would be perfect to get an elegant and sophisticated style. You can flaunt it to elevate your bridal look.
1 It only looks complex to style, start by backcombing your hair to give more volume to your hair.
2 Make soft romantic curls and a keep few in front.
3 Backcomb your hair and use a  small bumpit in your crown area. Now take a section from one side and slight twist it secures it with a  pin.  Do the same with other section and twist and secure.
4 Twist the rest of the hair and then roll it up and tuck it in between secure hair.
Shaggy Faux Bob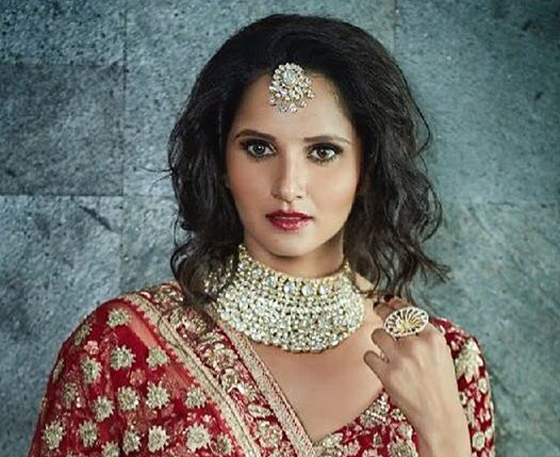 This hairstyle right from Sania Mirza's wedding looks edgy and stylish. Easy to style, it oomphs your wedding attire to a whole new level.
1 Start by cleaning your hair and then blow drying it.
2 Use a curler to give soft light curls all across your hair. Keep your hair as it is and just take one 1 inch off from hair and section it after putting big maang-tikka.
3 Cover the string of maang-tikka with your front hair and let the curls set naturally.
The Side-Swept Braid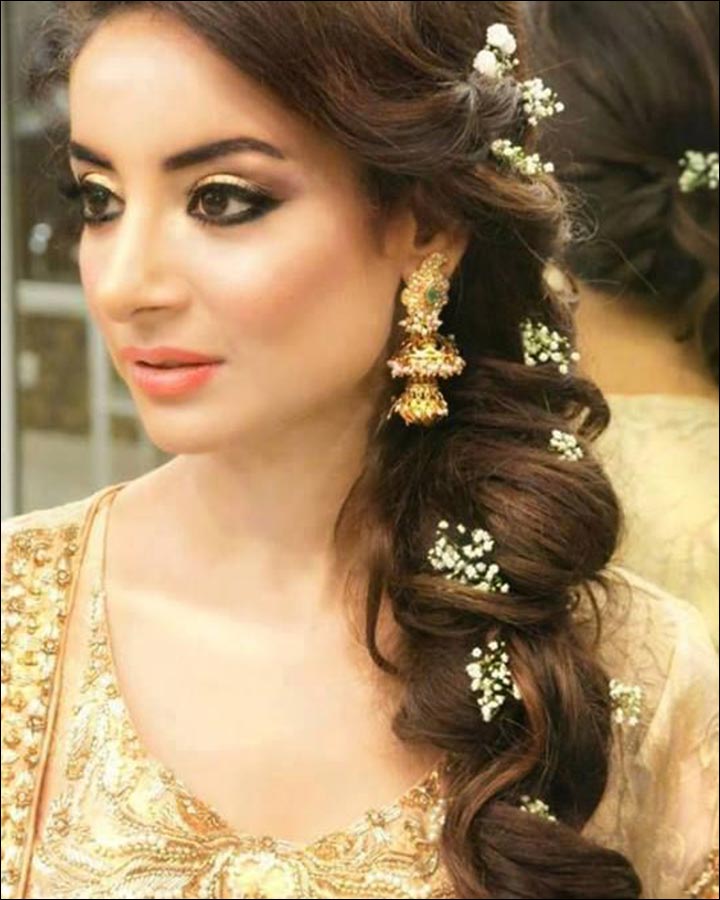 A beautiful and romantic hairstyle, this works perfectly for brides with extremely short hair.
1 Start by giving volume to your hair.  When done do a side parting. Keep 1 inch of your front hair separate.
2 Start braiding your hair, the smaller it will the better it will look. Secure it with a rubber band.
3 Side swept the front section by giving it more volume. It can be accompanied by any of buns, braids or any other styles for a dazzling look.
4 Decorate it with complimenting flowers or light hair accessories.
Chignon hairstyle with maang-tikka
This beautiful chignon hair bun matches with the lightweight maang- tikka and matching earrings.
1 Start by making a ponytail. Part the hair just above the elastic band.
2 Now separate the ponytail in five to 6 strands and twist them.
3 Pull them through the parting that you made above the elastic band.
Side open
Try this hairstyle if you want to flaunt your gorgeous hair. It is not completely traditional and super easy to do.
1 Start by giving your hair slightly curly locks.
2 When done side part it till the crown area and ake a little puff over it as shown.
3 Secure both the side and pin it in the back. Let them be open and keep all your hair on one side of your shoulder.
Middle bangs
This bridal hairstyle is easy to do and it gives your face length. If you have got short hair and round face this will suit you the most.
1 Start by bunching up your short hair at the back into a low bun.
2 Center part 1 inch and give it a romantic soft curl as shown.
Curls side partition
Isn't she looking gorgeous in those white gown with those small veils on her head? Even you can do it on your own.
1 Side part your hair and then make soft curls.
2 Fix your hair by using hairspray. At the end decorate your head with a small net veil and you are ready.
Side maang-tika
This is an excellent hairstyle if you are a bride with a somewhat oval shaped face.
1 Start by start parting the front area of the head. You need to puff up the back, it can be done using a small bumpit ar just bu backcombing your back area.
2 Secure all the hair on one side and make a pony.
3 Make the rest of the hair curly using a curler. At the end attach a maang-tikka to the other side of the secured hair as shown. Set everything using a hairspray. The side hairpiece or maang- tikka will give you a grand look.
Curly bob cut
This wavy hairstyle is a great idea if you have short frizzy hair.
1 This open hairstyle involves making a poof at the back.
2 The hair has been side parted at the front and the curls sit beautifully on one side.
3 Secure the other side tightly and bring every inch of possible volume on the curl side.
4 highlight the look by adding a maang-tikka on one side.
5 Sise parted straight hair
You must have got amazed after looking at so many hairstyles. Let us know which is your favorite hairstyle and don't forget to subscribe.