That time has gone when brides and bridesmaids used to wear just saree or lehenga during wedding season. Nowadays every woman wants to get that 'hatke' look. We have come up with varieties of options for Indo western fusion look. With the increasing demand for fusion wear, many designers including Manish Malhotra, JJ Valaya etc are trying to combine the elements of East and West.
Indo western dresses are easy to handle and are perfect because they are generally light in weight than the traditional Indian wear, It may happen that the dress is completely traditional but are draped innovatively in western styling. Alternatively, western gowns may get embellished with Indian motifs, embroidery patterns, fabrics etc. Not only for the wedding, they can be worn for cocktails, receptions, and events like that.
Such attire touches modernity at the same time being ethnic.The usage of materials, cuts, and styles in these bridal wedding gown is very creatively done to give each piece a unique look. To look classy and elegant can opt for gown because they perfectly complement the Indian body type also.
1The Gown Sari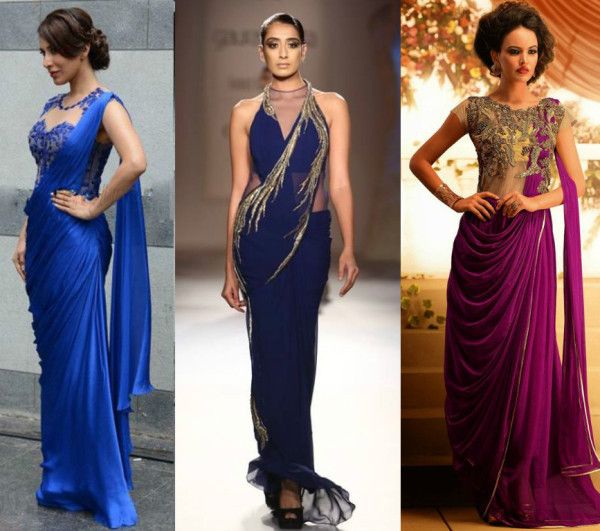 source: in.pinterest.com
A perfect example of east meets west. The designs give a refreshing choice for the modern bride who used to wear just sari in typical style. Getting the silhouette of a sari, but in a gown, the format can make a bride look contemporary with a flavor of the Indian culture and tradition. Variations can be done by wearing the evening gown with fabric draped like a pallu, or a gown with a cutaway blouse. All these are the full proof ways to Indo-westernise your look on your wedding day.
2 The Slit Silhouette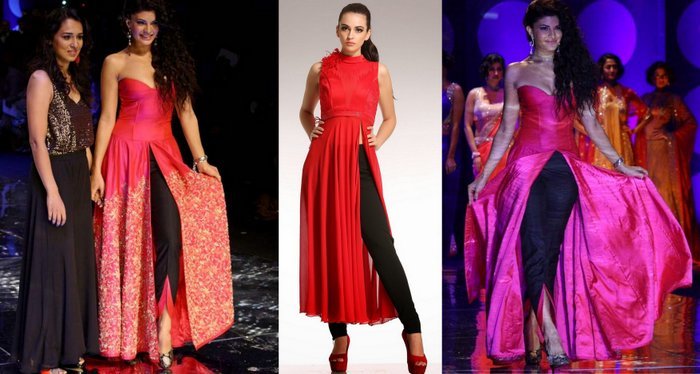 source: www.wedmegood.com
A gown with a high slit worn with a variety of bottom wear like a dhoti, churidar, pajama is another interesting Indo- western garment.  The bottom wear underneath gives the gown gives a western touch.
3 Dhoti drape gown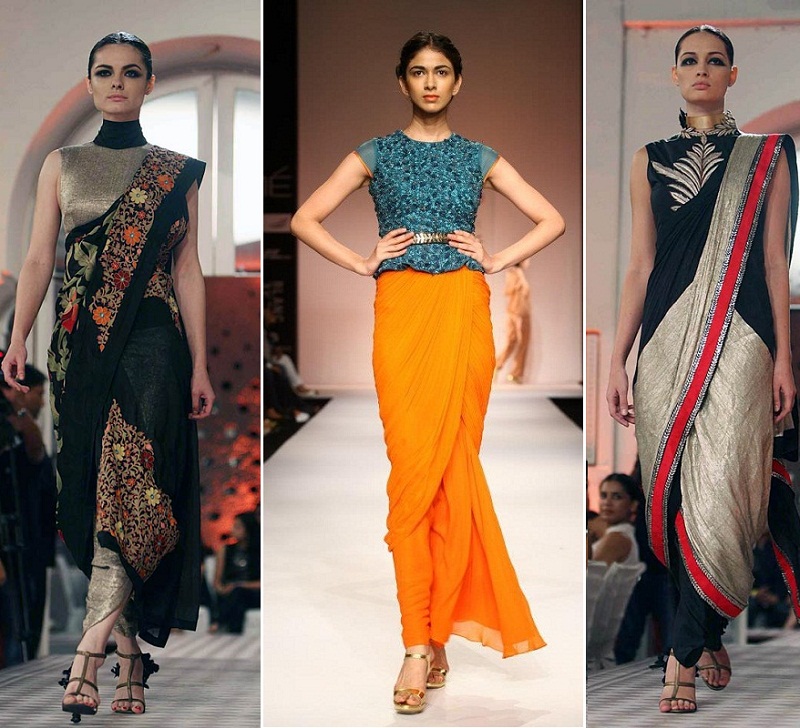 source: in.pinterest.com
Gowns beautiful draped as innovate piece might give you a super cool silhouette to flaunt at your wedding. Go for a plain one with heavy embroidery only at the borders to make them heavier. You might choose something that will stand out in the crowd. It could be done by adding embroidery all across the top of the blouse area and decreasing the work as we go down.
4 The corset-skirt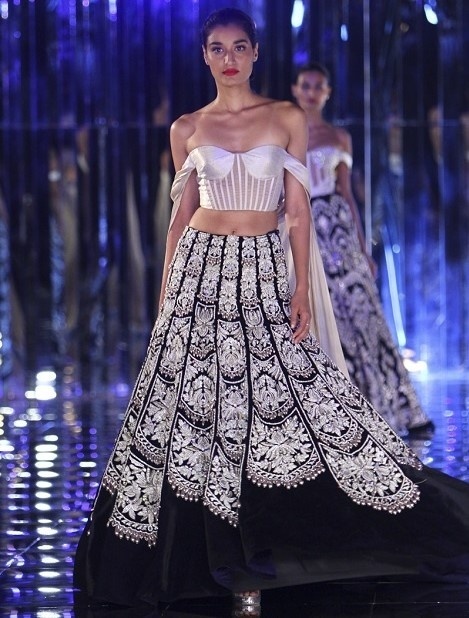 source: weddingz.in
Why always typical red lehenga to get the feel of a bride. This time exploring the unlimited into western options by putting together a light long skirt, with a gorgeous embroidered corset blouse like the one above, or an actual corset as well is another really great Indo-western option for your wedding to reception events. Just scale up the heaviness or lightness factor depending on your comfort, and keep the silhouette more or less straightish for it to look like a western outfit.
5 Floor Length Gown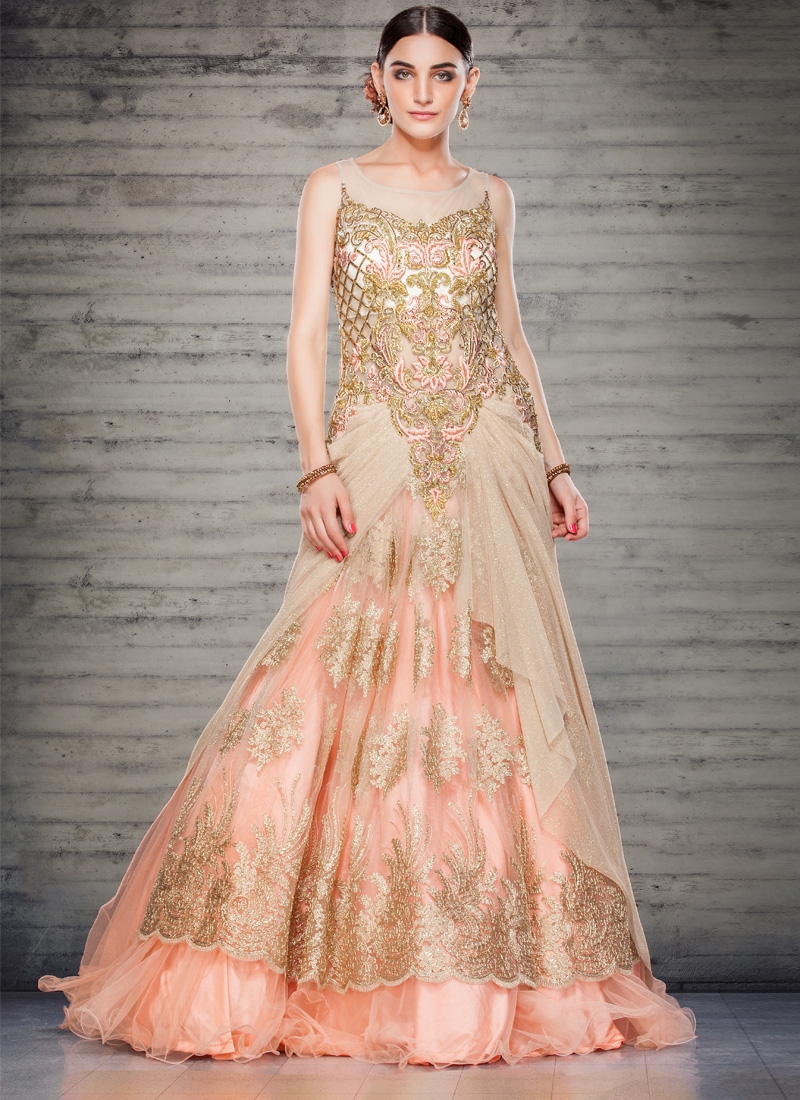 source: www.bridalsurat.com
Gowns are not meant to be just your ankle length. You can make it look grander by putting lots of layers at the end and extending it to sweep the floor as you walk by. An Indianised embroidery upper portion on a floor length gown would look great and give you a royal feel for sure.
6.The Pant Sari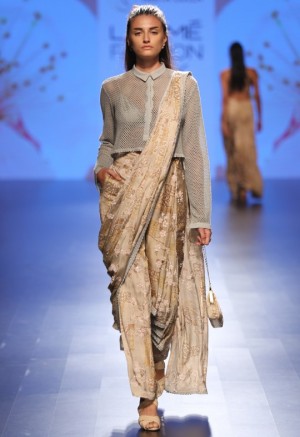 source: www.vogue.in
It is something that is just so out of the box for a bride. Looks super chic, edgy and modern at the same time. Surprise all the guest by wearing the pant sari and show your unique style statement. Start this trend and be an inspiration to all the girls present at your wedding. Wear jewelry by mixing and matching both traditional and modern pieces. Keep the look light and have faith in what you wear.
7 The Indianised Jumpsuit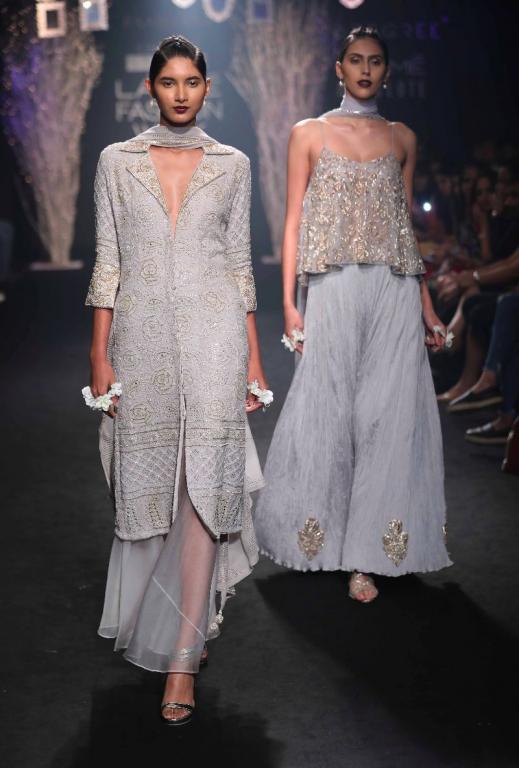 source: www.vogue.in
Jumpsuits once were just limited to western wear, but not anymore. With tons of Indian designers experimenting every second on all possible Indian attire, Indian brides have got tons of options to choose from. Gorgeous jumpsuits are the perfect outfit for events like reception or you can even wear it on your wedding day.
8  Kurta Lehenga Designs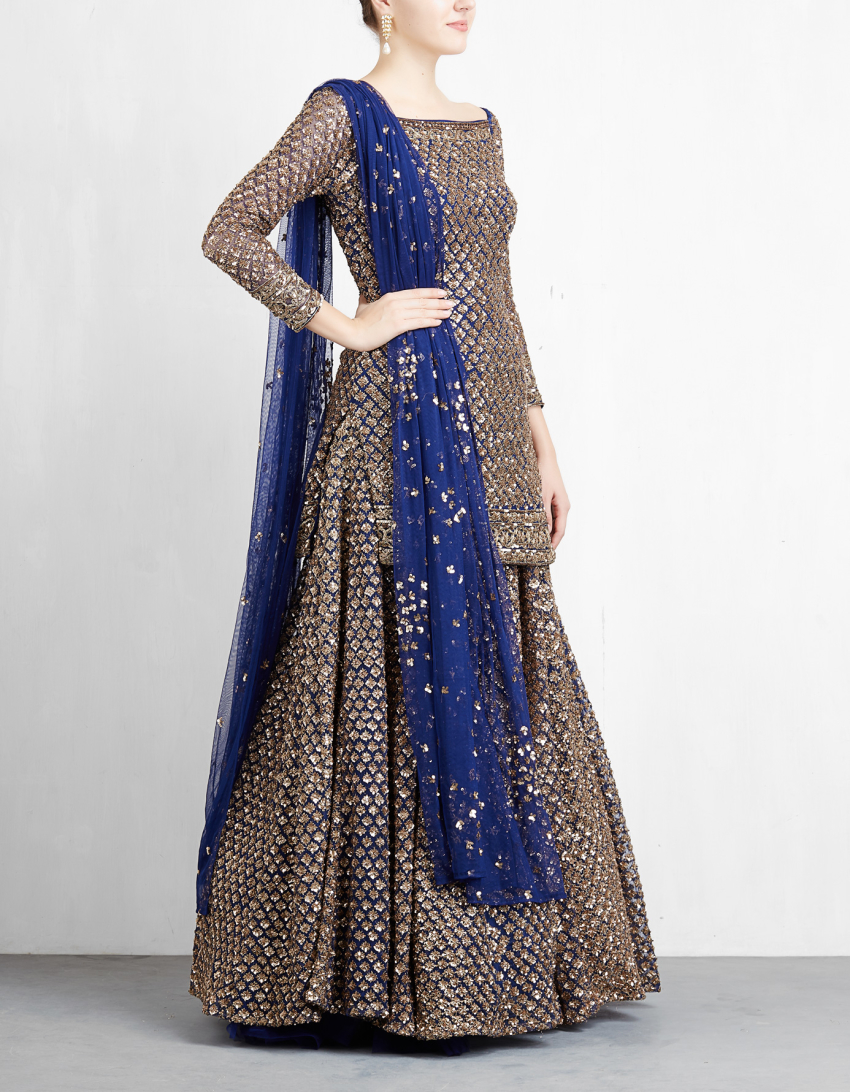 source: www.getnewsviews.com
This could be an ideal outfit if you are not comfortable in showing your skin. This types of wedding wear are very much in vogue these days. You can try teaming up Bundhgala Choli with Kurta Lehenga for a fusion look. Complete the look by using a matching jewelry that will undoubtedly enhance the look ten times.
Inspirations…
Bollywood actresses have always come up with unique trends that were accepted by the mass. To give you confidence and some idea about how to carry into western gown like a diva we have assembled few great pictures of actresses.
Let's have a look at them.
Katrina Kaif elegantly carried the ethereal ensemble from Manish Malhotra's bridal collection while promoting her movie. Everything about this dress feels like it's meant for her. She never overdoes anything and even here her simplicity came out to be the reason of true charm. The golden floral thread work on the pastel lehenga is looking classy.  The alluring high-necked sequined lace choli is an ideal choice for an enchanting your wedding. The glitter sparkle more to bright light on you. Just one statement earring is all she needed to accessorise her dress.  You can enhance your look by giving smokey eyes and dark lipstick.
Again designed by India's favorite Bollywood designer, Manish Malhotra. Anushka wore this great creation with ease because of its lightness. The skirt has been created with lots of craftsmanship by doing chikankari thread work all over the skirt. Thye beautiful skirt has been teamed up with a fringe-style top which is so in vogue nowadays. The fringed choli and the thread work lehenga is equal parts contemporary and traditional. Probably that is why this is a perfect example of how most of us might like it. Unlike most of the bride, you can keep your hairstyle in a high updo. It will make you look tall and to complete the look you can spice it up as your wedding garment by decorating it with a tulle dupatta with a silver sequined border. With high updo big dangling earrings will get highlighted, other option would be to wear it with a stone-studded choker to complete the look.
Prachi Desai looks so elegant in this floral wedding garment designed by Manish Malhotra. Nude colors are clearly winning the race with its subtle yet charming character. You can leave the guests and your man drooling by wearing it on your wedding day. This nude floral thread work dress has lace work near the neck and on the skirt to give it a contemporary look, even the thread work looks very modern and chic. The choli has lots of fringes with lacework giving it a young vibe.  This dress can surely be that perfect dreamy and whimsical attire for any bride for her wedding day. You could recreate Prachi Desai's hair and makeup by doing dark brown-black smokey eyes, applying reddish pink glossy lipstick, light foundation and a pink over it. Keep your eyes minimal, Prachi did this by wearing statement ring.
Thinking of white as the color of your wedding attire might sound weird to your parents but people are experimenting and designers are really working hard to make white as an option for brides. If you want to avoid it during the wedding then try a beige color gown like this one. It is very contemporary in its design and cuts. Since weddings are colorful, loud, and fun you can even go for purple or maroon variants.  People went gaga for this prodigal design from Manish Malhotra.  The beautiful amalgamation of modern and traditional even the appliqué work adds all the charm to your romantic wedding affair. The plain nude dupatta with patch work border is just perfect for a hair accessory or to just drape it on yourself.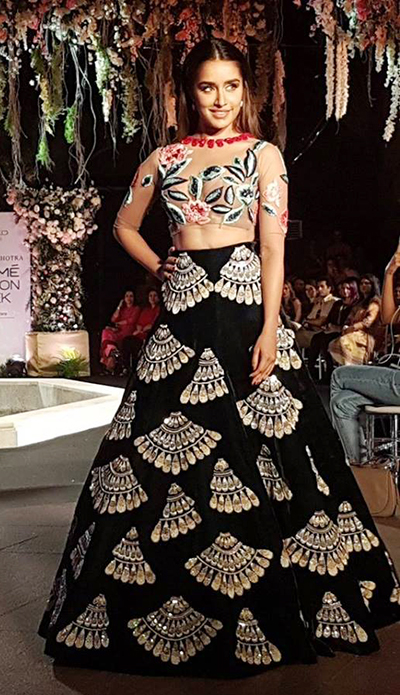 source: www.mangosurat.com
This particular A-line skirt gave  Shraddha Kapoor a lot of attention and appreciation. Unlike heavy embroidered detailed work, this ensemble brought back the minimalistic style to the ramp and the bridal line. The black A-line skirt with the large golden motif looks so funky and unique in itself. Complimenting her A-line skirt is the sheer thread worktop, and the illusion neckline could be perfect for the elegant bride in you.
From the designers closet…
When it comes to wedding India serves as a big marketplace whether it's about food, music, jewelry, or outfits. Taking care of that many designers have experimented with traditional wedding wear that has opened new doors for all the beautiful girls or India who will be a bride someday. Most designers started targeting such beautiful girls and came up with the contemporary styles made by mixing and matching Indian and western wear. As a result, there are many combinations that you can experiment with for a unique look on the Wedding Day. For example; Sarees can be draped in the manner of Grecian dresses or short embroidered jackets can be teamed with dupattas having Indian motifs and bright colors. Designer embellished kurtas can also pair with long skirts or lehengas and long flowing skirts can be teamed with cholis in halter styles.
Manish Malhotra-Indo western
The lehenga looks more like a long skirt with hardly any embellishment on it. giving it more of an Indo-Western Gown look. You can do something similar by wearing a gown that is knee-height over the Lehenga to make it a Jacket Lehenga. The Jacket may replace a choli and should be ideally in fabrics like in crepe or silk. Designers like Manish Malhotra and Satya Paul has done some remarkable work on Jacket Lehenga. One such piece of Manish Malhotra work is shown above.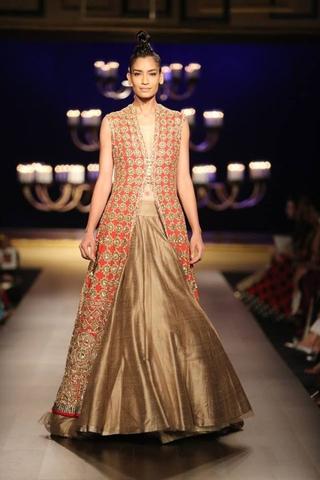 source: marigoldevents.com
When it comes to gown, it becomes difficult to beat Manish Malhotra. This blood red gown with deep V neck highlights the beauty of the gathering done on the upper part of the dress. The flow is smooth giving her tall appearance. What we liked about the gown is its simplicity and little embellishment done all over the surface. Big daylight earrings compliment the attire. You should be trying this one even engagement or if you are one of the bridesmaids.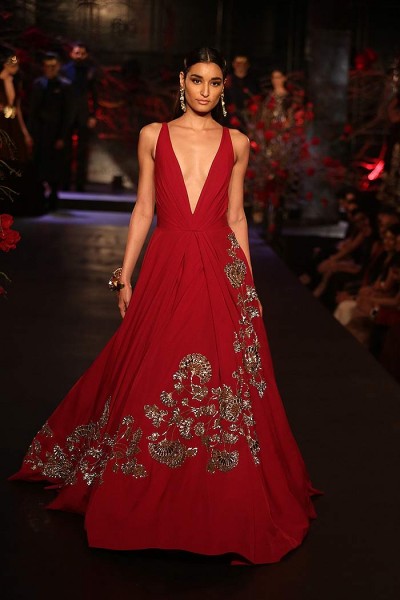 source: shilpaahuja.com
JJ Valaya Creations
The master of Indian textiles and clothing has masters the art of constructing wedding garments for Indian bride from last 20 years. The glory and beauty of Indian craftsmanship can be seen even in this bridal collection. He mixed and match all the possible Indian attire to make it look modern at the same time maintaining the beautiful handwork done by Indian artists.
The collection opened with a sheer paneled kurta over churidars and teamed with an ornate waistcoat was short of fabulous and inspiring Unique draping with belts on saares, White crepe one-shoulder gown, A line swing kurta with velvet sharara, and an ivory tonal embroidered patch pocket jacket gave variety to the show.The turquoise green/blue line of floor length kurtas, saris with embroidery inspired by the tiles and the bustiers brought something new to the bridal season.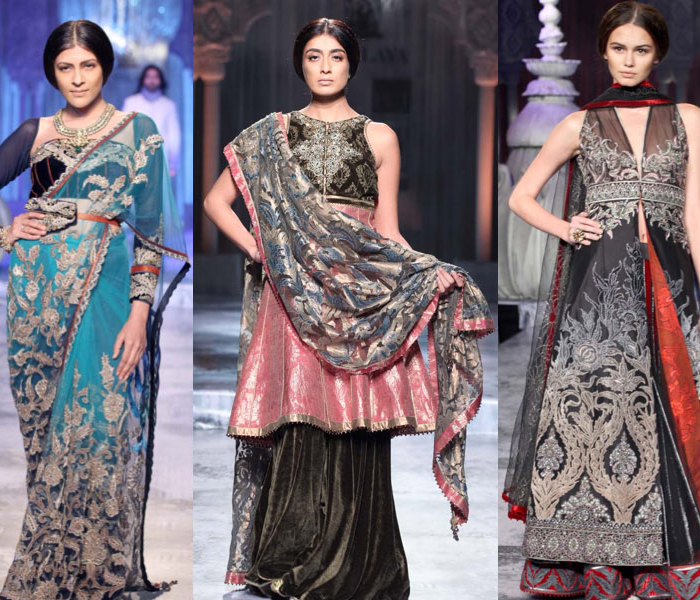 source: www.highheelconfidential.com
Shyamal & Bhumika
Lots of Indian embellishment all overcoat and any piece of attire have made Shyamal & Bhumika bridal collection mazing. They have used all the possible beautiful colors. You can definitely try gowns like the one shown below on your own wedding or that of someone who's close to you, there are so many options.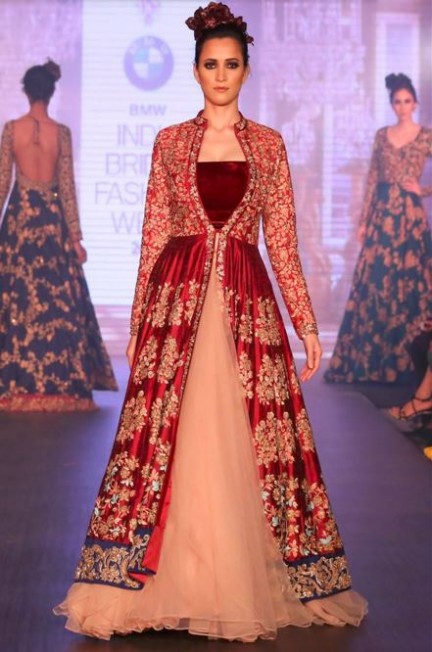 source: nafdress.com
If you want to get all possible attention, wear something heavier and in red, wine or pink. But combine it with a contrasting color like gold or white so that your dress doesn't clash with the brides.  Wearing a bright color, or something that contrasts red so as to stand out in all your wedding pictures. Pastels like lavender, powder blue and peach are good options. For brights, try mauve, grape or turquoise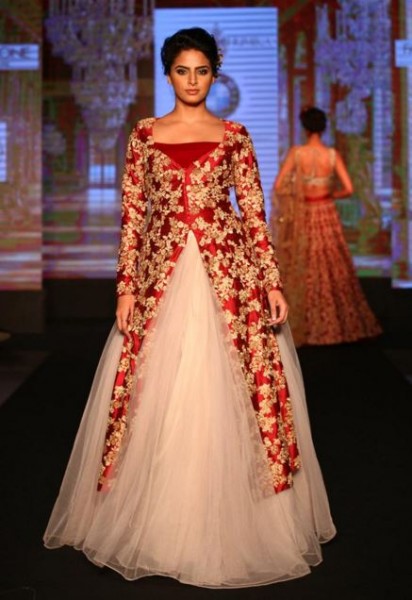 source: nafdress.com
Hope you have got the basic tips and tricks for making your wedding garment hatke through our article. It can get really overwhelming if your dress will make you look dressed just right for the wedding. Don't forget to share the compliments you received.
SUBSCRIBE TO MORE SUCH ARTICLES.