After seeing more and more fashionistas wear anklets, it was really time we did an article on anklet designs.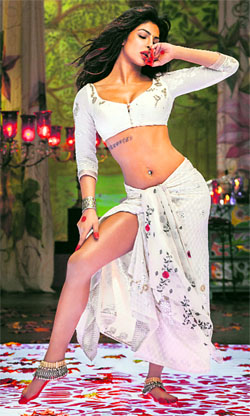 source: www.tribuneindia.com
This anklet trend was last seen in the 2000 ( the last decade) where all the actresses loved wearing this simple and classic accessory no matter what the outfit was and it looks like it might just be time for the come back of this old classy trend.
While the anklets from the 2000s might make you think you never want to wear these old outdated pieces of jewelry, the 2016 versions of the same anklets are actually quite tempting. They vary between something a bit casually understated and something which is a lot bold, there's a version for any and every taste out there.
source: www.bhmpics.com
Although the anklet might seem like a small detail, they are quite noticeable. They really do add a breath of fresh air to a summer outfit. They seem essential when wearing ethnic lehenghas or sarees.
Anklets can make you feel beautiful and carefree all at once, bringing those same qualities into your personality and showcasing it in your stylish looks.
Whether you  have already had an impressive collection of these anklets in the early 2000s or even if you're just now working  to give the aesthetic and appeasing look a try; the anklet is definitely something you should buy and show off to your friends. And if you have no damn clue what to buy and where to start, I have got you covered.
This article features below 8 must have anklet designs that you should buy.
1. Chain Anklets
The chain anklets are not only very delicate and understated, but they can be easily layered along with other ankle bracelets. These anklets go especially with western outfits and can often be used to keep your lucky charm close.
source: www.pinterest.com
2.Multi-chain Anklet
If you are looking for a more visible anklet to showcase your bold personality and don't necessarily want to go with the bracelet aesthetic, then this multi-chain anklet is perfect for you. Not only does it catch people's eye, but you can also chose how thick or what kind of string you would want. This looks particularly great with Indian skirts.
source: www.pinterest.com
3. Anklet Set
Have you ever seen anything so beautiful and aesthetic in your life. The ankle sets are more noticeable and are very cool because you can wear them on your shoes as well! Not kidding, there are models who did that.
source: www.pinterest.com
4. Beach Anklet
This is part of the "I went to a beach this summer" starter kit. These anklets look the best when worn with a two piece swim suit and beautiful silver jewelry. The chunky colorful beads and hanging light feathers give you a super chic look. Whether you wear this with your bathing suit or hot denim shorts, you will feel summer has just begun.
source: www.pinterest.com
5. Anklet & Connecting Toe Ring
You can now amp up your anklet game with a little something extra like a toe ring. Opt for an ankle bracelet which has a connecting toe ring, this adds a new element to your sandals or flip flops. This also looks great while going to Indian wedding or walking barefoot on the beach.
source: www.aliexpress.com
6. Leather Fringe Anklet Design
If you love the new in fringe trend, add a little bit of this to every outfit you wear. With a fringe anklet, you can turn any casual piece of clothing into chic. This is visible and says trendy written all over it. You can wear it with some short skill and high stilettos.
source: www.beachbarefootsandals.com
7. Indian Anklets
Have you ever seen a bride wear something called a payal in her feet? Well that's nothing but an Indian anklet. These anklets looks great when paired with Indian outfits.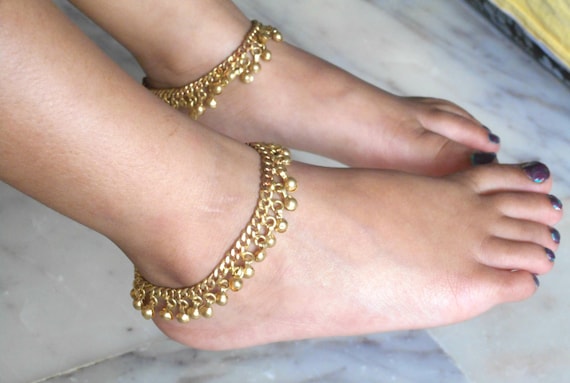 source: www.etsy.com
8. Tasseled Chain Anklet
Tassels were absolutely a huge thing this year, decorating everything from purses, hot pants, mobile cases to belts. So why not keep this trend into place and add a little tassel to your anklet? They can be paired with anything and everything. Some of these tasseled anklets are very colorful and hence look casually wonderful.
source: www.net-a-porter.com
This new trend is at its peak now so I suggested you log onto these online portals and shop for them now. Well, I have attached some links below to help you get started.
Send us images of your favorite anklet and comment below what you think of this new trend!