Footwear
And to finish off your outfit with a flourish -shoes!!
It can be daunting to choose shoes for an Indian wedding. Should you wear heels or flats? Should you go for the traditional or the chic? Or should you pick comfort over style?
Here are some ideas from which you can draw inspiration and bring the glam to your feet.
Choose the right 'tone'
The first thing you do is to check if the shoes match with the jewellery that you have chosen for your outfit. Here is a pair of studded, kitten-heel mojris that go perfectly well with the stones and pearls in the jhumkas. The rose-gold tone of the shoes also adds to the festivity. The gold tone also matches the gold highlights of the saree and complements it.

source: www.maharaniweddings.com
Traditional sandals
With all the running around to do during the wedding, heels are definitely not going to help you. For occasions like the actual wedding, choose a traditional sandal that you can pair with your outfit. These lovely embroidered designs will keep you glamorous and up on your feet all day! What more?! They come in a great variety of colors, designs and patterns – shopping for shoes just got a lot more exciting!!
Classic pumps
The most common but the most versatile of shoes are the pumps. These days pumps are available in all colors and with all embellishments to highlight your feet. Leave the golden and white pumps for the bride. You, the best friend, can get hot-red pumps or cute ones in pink and even a stunning midnight blue!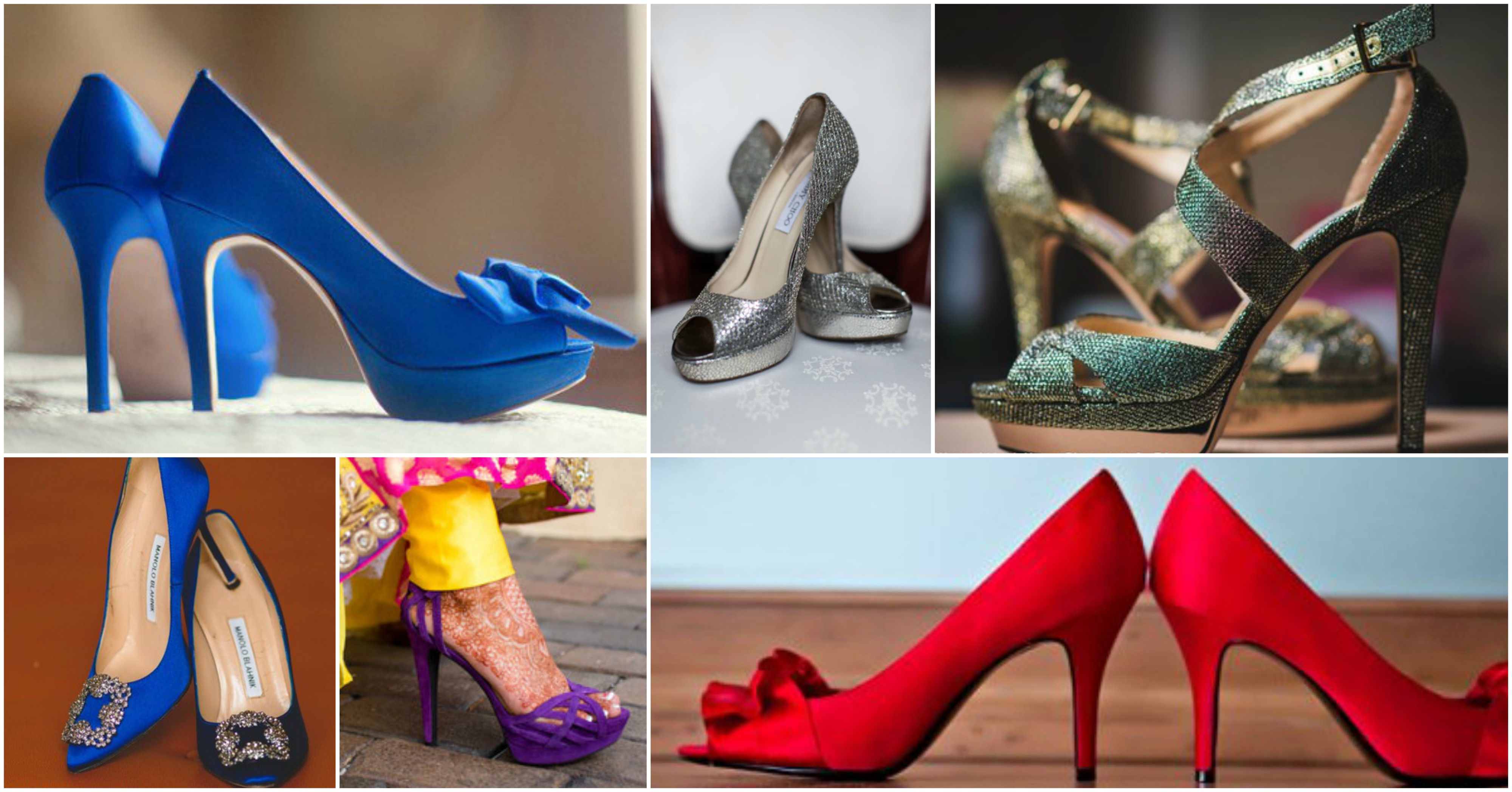 Some pointers to remember when picking out your footwear
If you are not a heels type of girl then there are plenty of options. Don't fret. You can wear ballet flats, or traditional sandals or kolhapuri sandals. Heels are not the only footwear for weddings.
It might be a good idea to stretch out the heels by stuffing them with socks before the big day to make them more comfortable.
Dance with heels ONLY if you are comfortable doing so.
Find a go-to pair of shoes with a neutral tone and a style that you are comfortable with. You will not only be happy wearing these shoes to functions but also saving some money by not splurging on shoes that can be worn with only one outfit.
And that my dear friend, was your guide to picking and outfit and rocking it at your best friend's wedding!