Is fashion weaving its way into India?
With the epitome of fashion brilliance continuing year around in the name of various fashion weeks, the Department of Industrial Policy & Promotion(Ministry of Commerce & Industry) collaborated with the Fashion Design Council of India (FDCI) and presented Make In India Fashion Week titled 'Weaves of Banaras'. Signifying the beauty of Banarasi culture and heritage by adding a modern day twist and sophistication to it at an enchanting venue, ITC Grand Central, Mumbai enlivened with marigold and mogra flowers.
It was a delight when the classic lady, Vidya Balan along with top 12 designers step foot during the seminar adorning a red and a black sari draped elegantly with minimal makeup.She sure knows to make beauty look effortless!!Don't you think?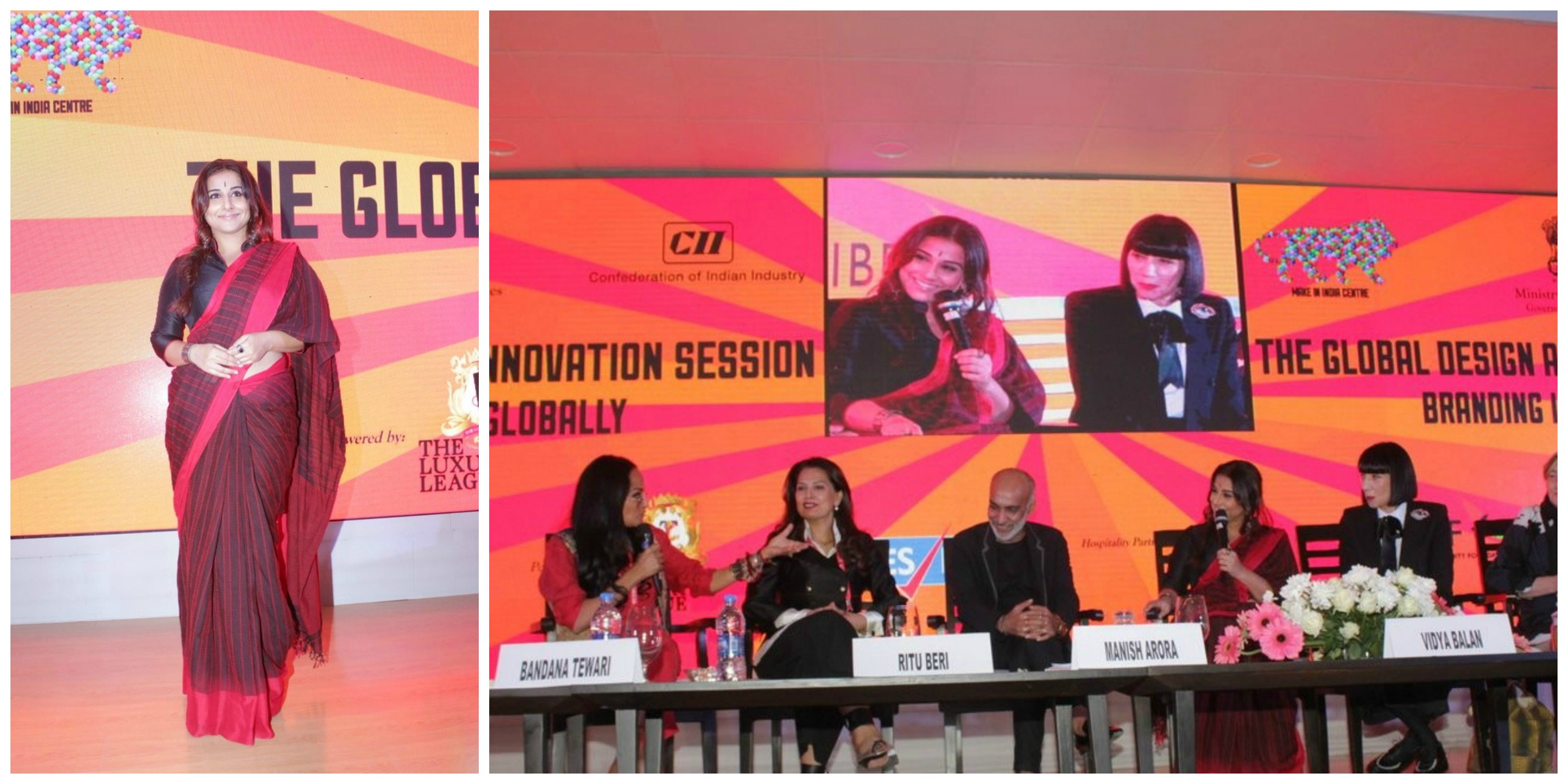 When a dozen renowned designers showcase their talent on the ramp, it becomes a feast for the eye, and that is exactly what was experienced by the spectators and fashion critics on Feb 14th, 2016. The variety that caught up with the show was that every designer had to weave his/her way showcasing the banaras tradition in their own mesmerizing style and outlook.And where they able to do it? Let's see it all!!
Rohit Bal
The "Master of Fabric and Fantasy" proves it again by creating a classic ensemble of both metallic gold and white.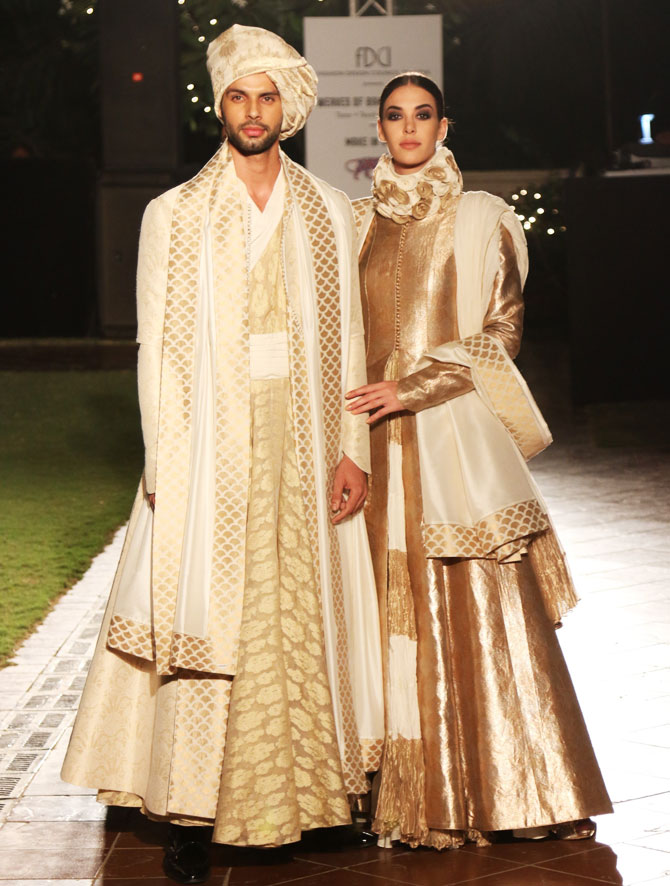 J J Valaya
His fascination with India's royal history is clearly depicted in his designs always.By adding shimmer to the yet delightful ensemble, he adds in a Rajasthani touch along with banarasi toning to it.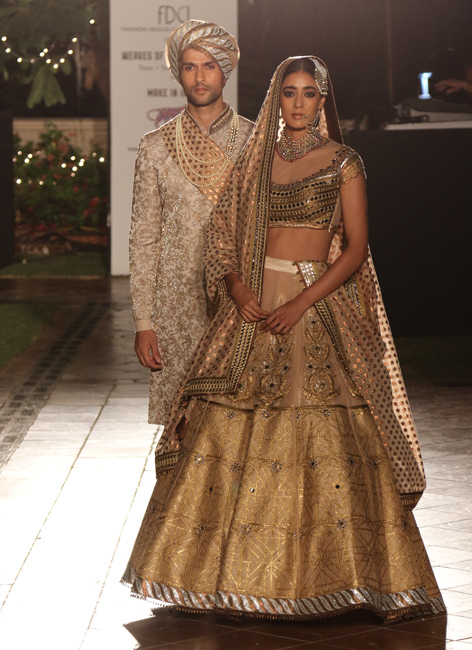 Sabyasachi Mukherjee
Subtle and simple yet extravagant, his creations evoke images of ancient and medieval ages.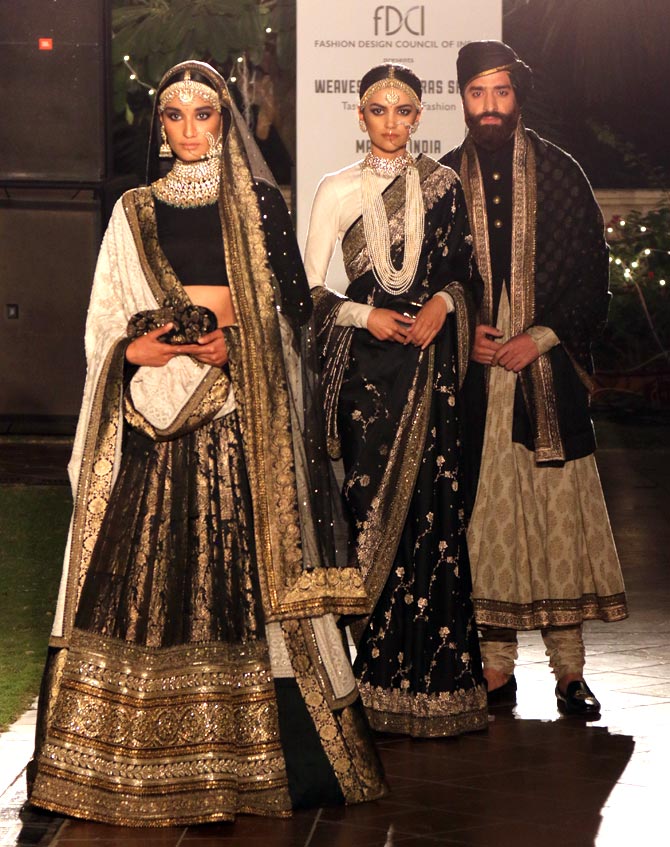 Namrata Joshipura, Rohit Gandhi & Rahul Khanna
Namrata as always takes a simple yet bold step in dark hues concentrating more on asymmetric patterning. Meanwhile Rohit and Rahul style up their way by including in various colour tones and patterns synchronizing in stripes, floral all in a single go.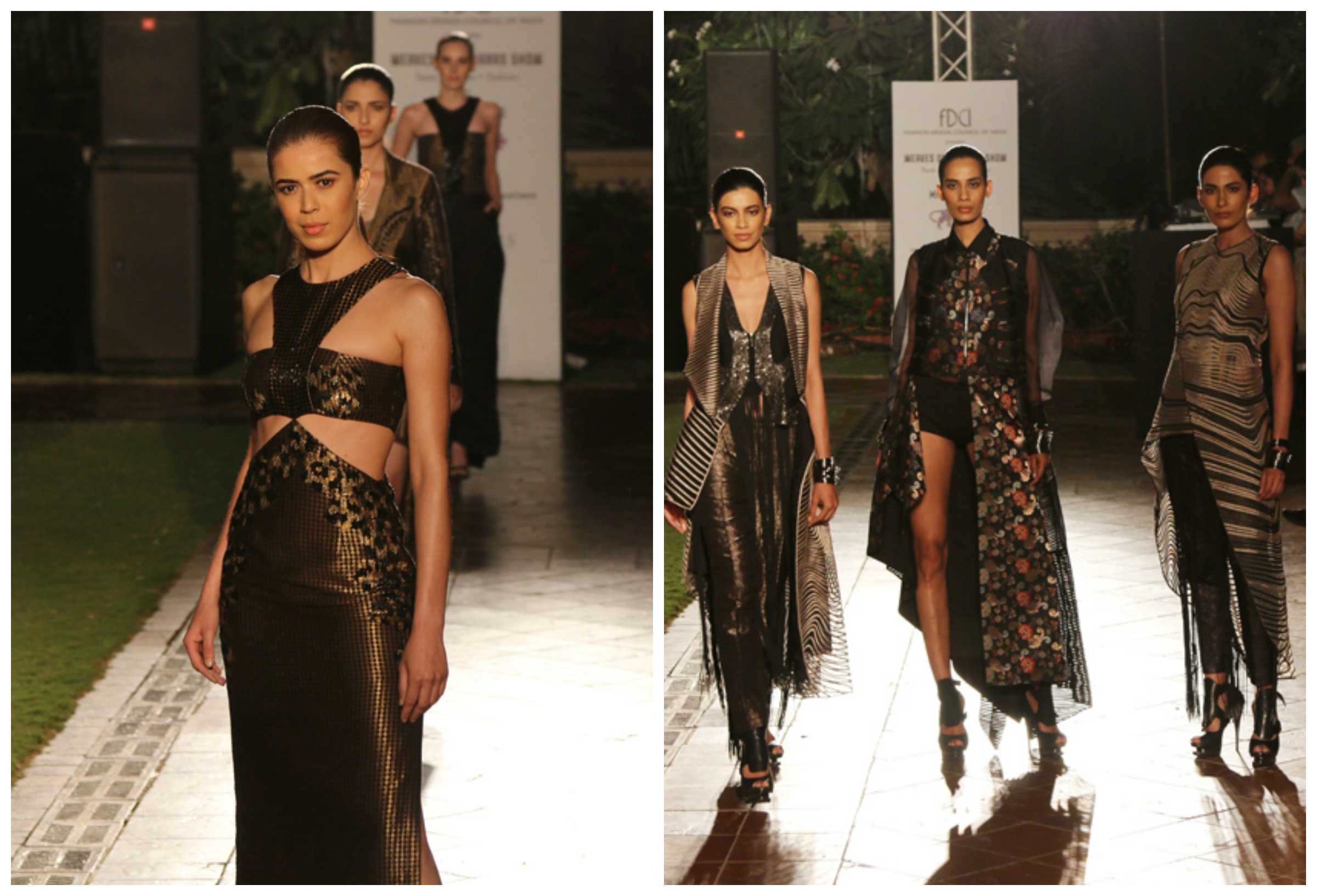 Anju Modi
Her creation as always encapsulates divinity, spirituality and feminism in its utmost form. To put forward a woman understands a woman better!!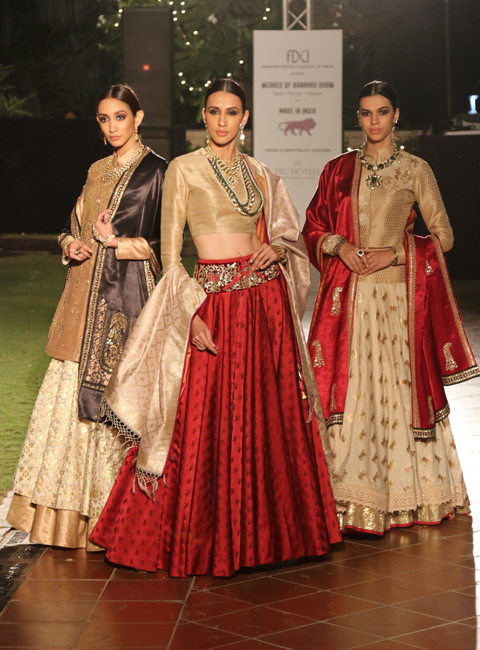 Rajesh Pratap Singh,Abraham & Thakore
Rajesh en-dazzles the onlooker with minimalism and understated design aesthetics with a unique approach of adding classic jackets to a normal attire whereas Abraham & Thakore designs reflect the modern day woman, a perfect wear on the red carpet don't you agree?(Stick to the theme yet be chic and an uptown fashionista!!)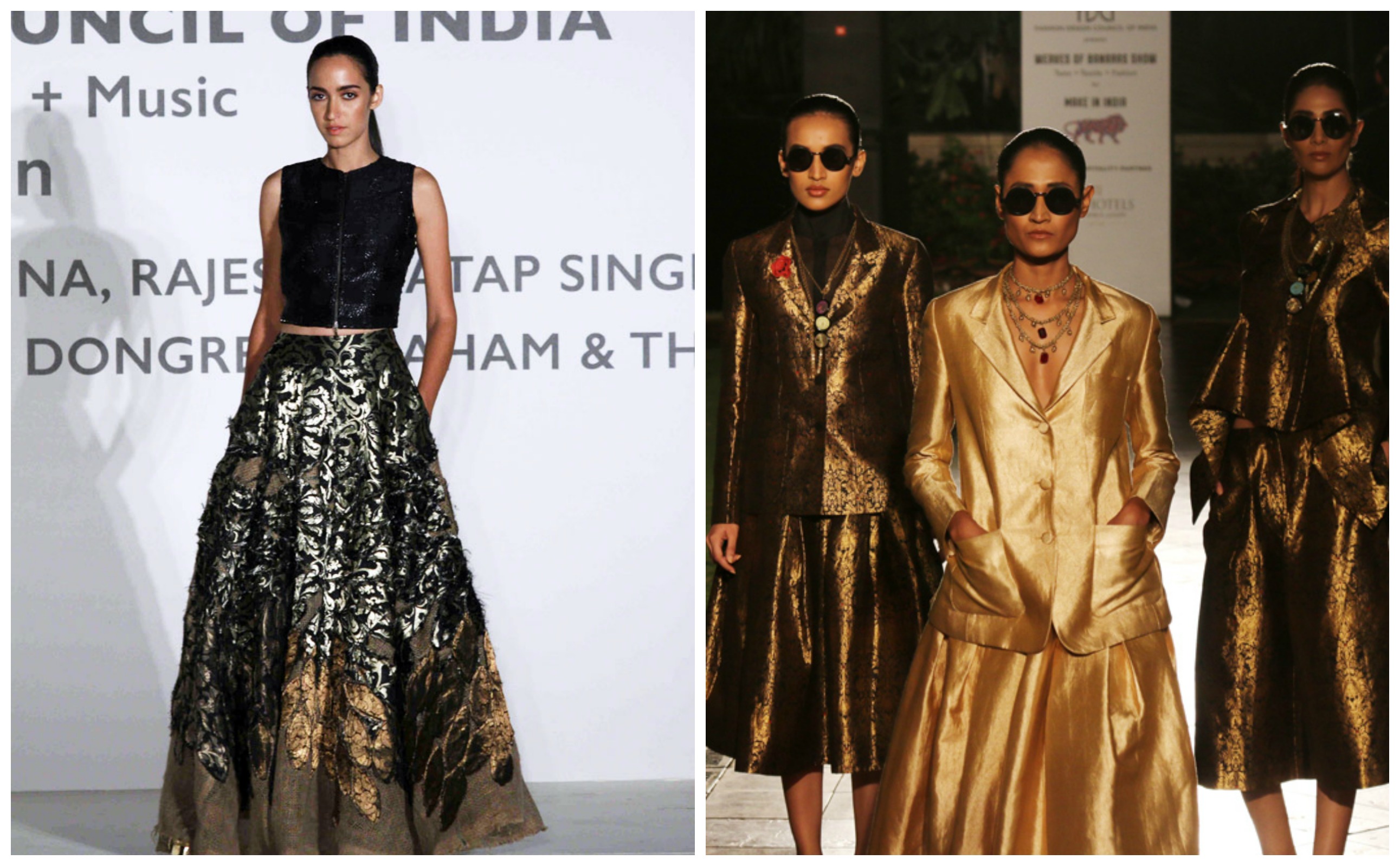 Anita Dongre
Her designs embark us on a fairytale journey and speak out loud of Indian craftsmanship be it Jaipuri, Rajasthani or Gujarati. The intricate designs on her wedding lehengas make anyone want to get engrossed in Indian culture.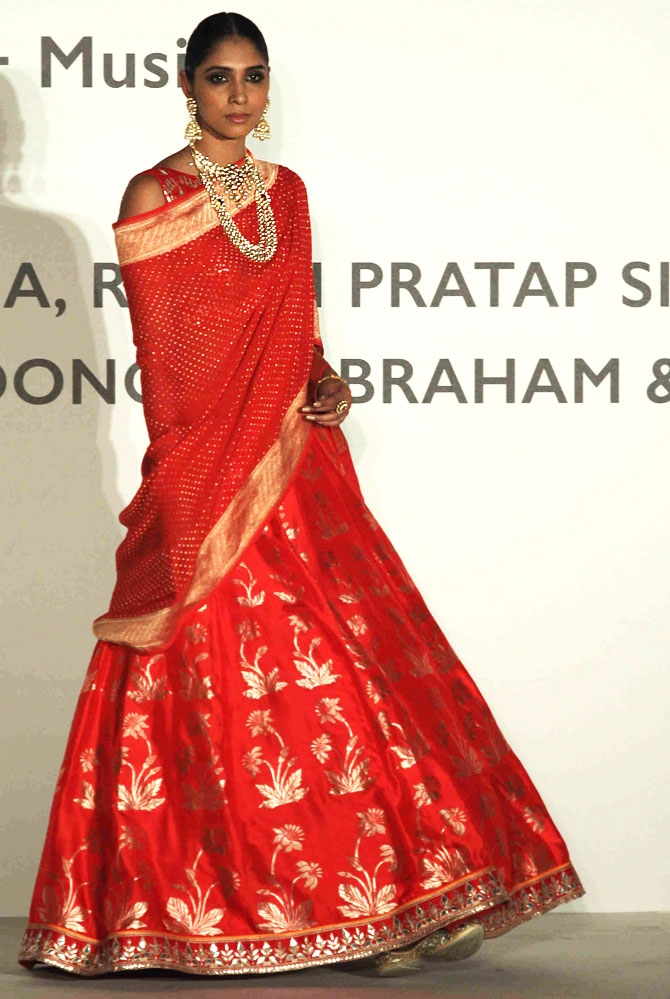 The banaras flavour was reflected beautifully in contemporary fashion with a unique style by all the fashion designers who participated at Make in India Fashion Week'16 show titled "Weaves Of Banaras" highlighting the need of endorsing and publicizing more of Indian craftsmanship.A real big message for the fashion world with an awesome treat for the eyes!!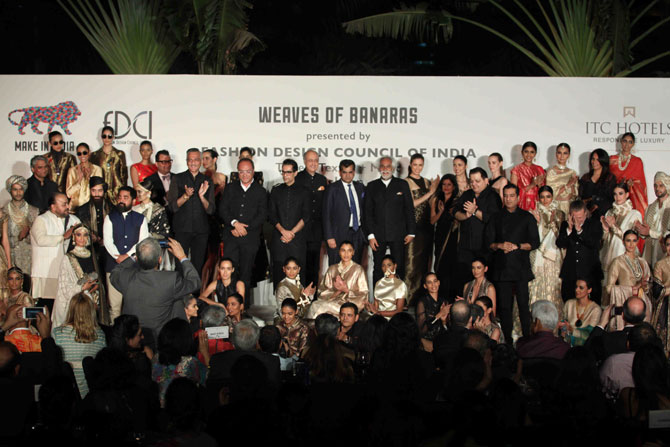 So next time you need a total carry forward look be it the royal, chic, sophisticated or all in all style do remember to check these designers and their remarkable collection.
Spread out the message of "Make In India" and try to incorporate as much of Indian craftsmanship into your style.Post in your comments on which designer speaks out your style and why?