There are a handful of celebrities who are loved even when they are not in the lime light for a long time. This is precisely the case in Madhuri Dixit's case. After relocating to India and now that she makes an occasional if not regular appearances at events, we love the fact that she is back in the public eye. And it goes without saying that the super star is still in the running as one of the most stylish celebs around. Recently, the fashionista was spotted at the premiere of 'Toilet.' Let's take a closer look at what she wore at the event. Happy reading!
Madhuri's Look
At the event Madhuri selected a polka dotted sleeveless jumpsuit. She wore a black cardigan over the jumpsuit. Well, she wore a pair of strapped ankle shoes. She looked spunky and uber cool. As for accessories, she selected a few silver bangles. And yes, we loved her shoes, a pair of pointed black heels.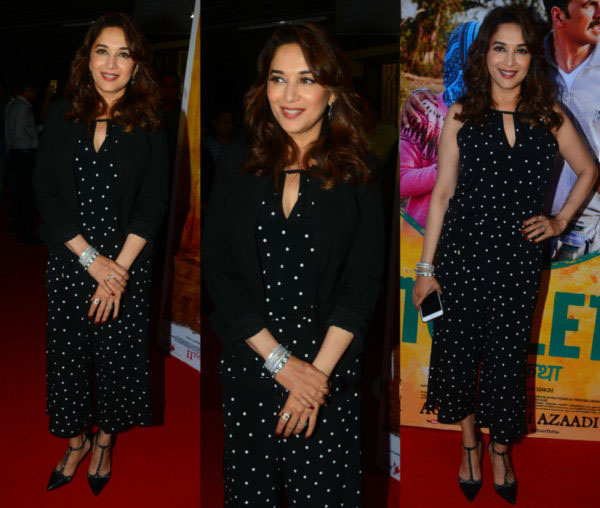 source: www.southindianfashion.com
As for Madhuri's hair and makeup, the fashionista it is simple. She let her hair down, the soft curls over her shoulders giving her a soft look. Her natural makeup accentuated her natural features. The pink lip color added some color to her otherwise monochrome outfit. We loved her look, did you? Share your thoughts with us in the comments section.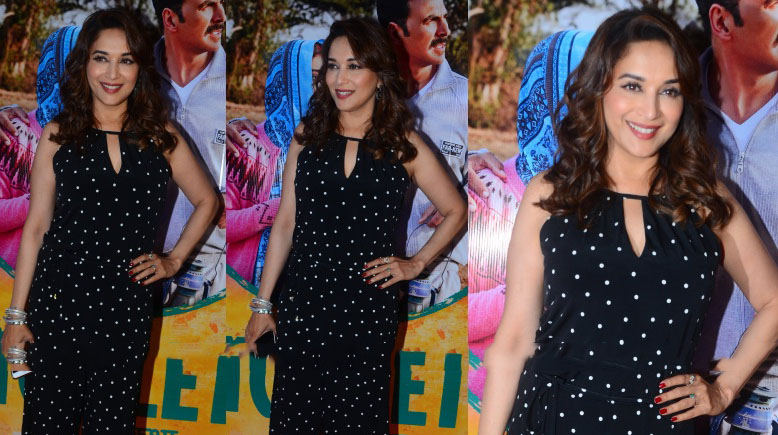 source: www.highheelconfideintial.com
If you like this article, spread the love by sharing it with your friends. Don't forget to subscribe to our website for the latest style updates! Stay stylish.