There are those women who can't stop obsessing over their hair while others are always thinking about the next nail art design. And then, there are the ones who love their accessories and are always in a never ending search for a new toe ring design. If you are one among them, then this article is meant for you. This post will chart out 10 must have designs that you need to add to your collection right away.

1. Adjustable Toe Ring
If your best type of toe ring that you want is the one that can be re-positioned, then the adjustable one would be the apt choice. However, you should be careful not to bend it because it will wear out and weaken.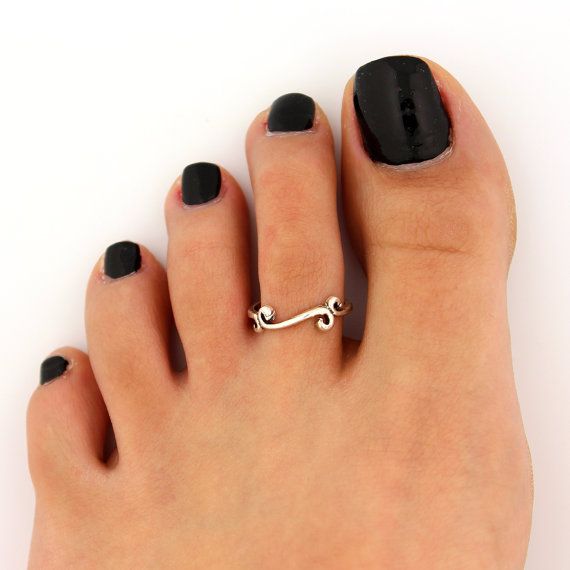 source: www.pinterest.com
2. Fitted Ring
Fitted rings are a popular option but remember to use a bit of lube that will help the ring sit on the toe comfortably. Use the lube while taking off the ring as well, which can spare you a lot of pain. Never attempt to take it off forcefully as it might hurt you and can ruin the accessory as well.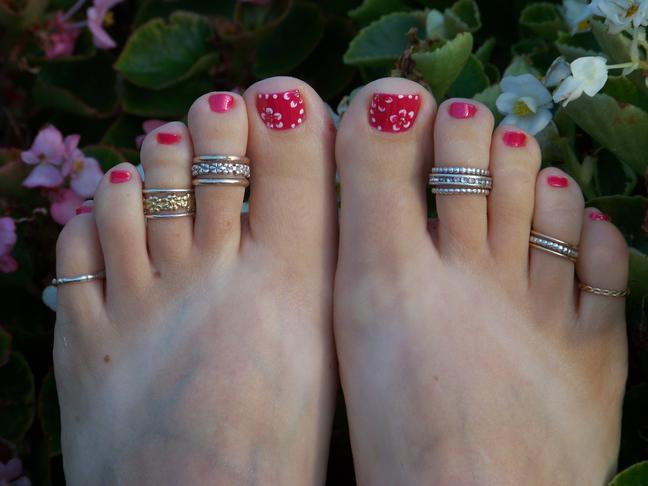 source: toeringqueen.com
3. Swirl Ring
These rings are a little different from the others as they are simpler yet the swirl adds elegance to this accessory. Adjustable bronze ones with stones are chic and trendy.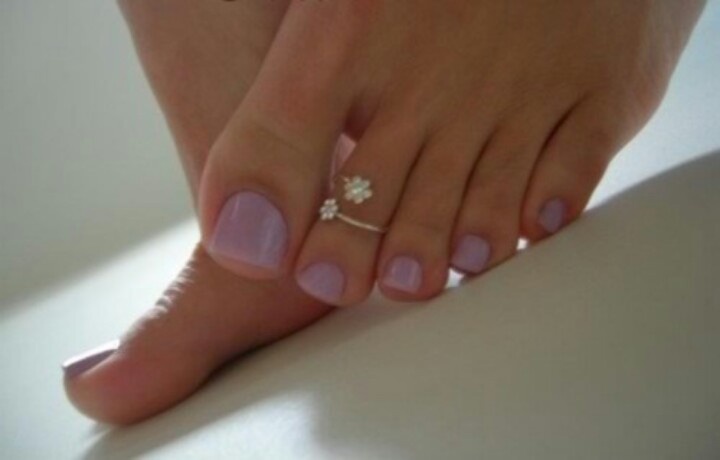 source: www.pinterest.com
4. Sterling Toe Ring
Sterling silver rings are a perfect option for office wear or even for parties. If you really want to flaunt your feet, then this shiny and minimalist option would serve the purpose.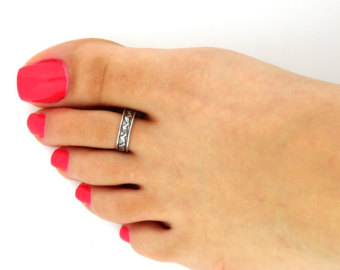 source: www.etsy.com
5. Flower Ring
Flower rings are a must have because they are delicate and super pretty. Imagine your freshly pedicured toes with a beautiful ring that will make your toes look even more beautiful.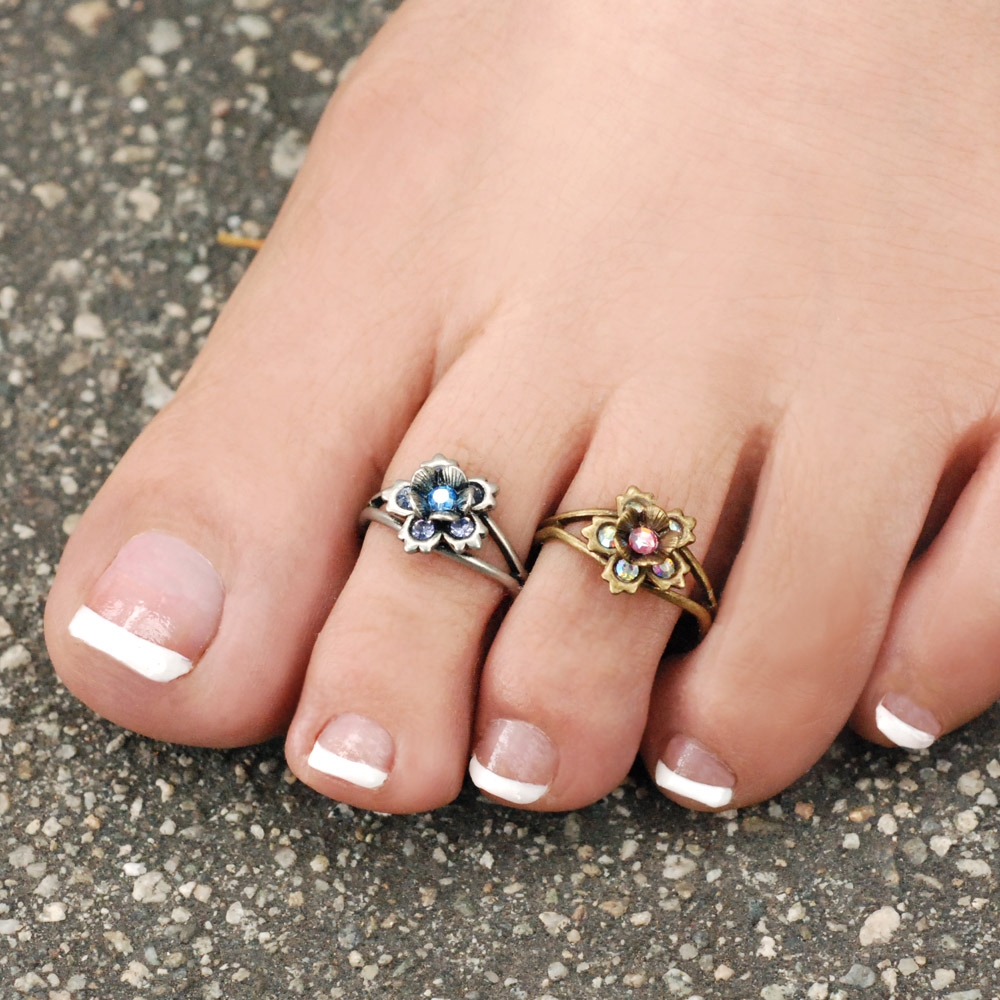 source: sweetromanceonline.com
6. Butterfly Ring
Butterflies are always pretty and when it sits on your toe, it is a match made in heaven. Adjustable butterfly rings are pretty and at the same time chic. It goes well with most outfits making it a versatile option to select.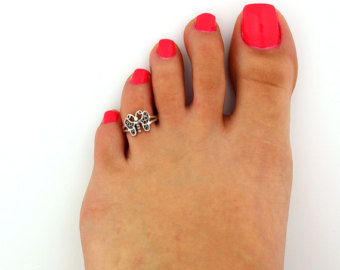 source: www.etsy.com
7. Big Toe Daisy Ring
If you really want to make your feet look pretty, then you should get a big daisy toe ring. This is something that will be visible and will accentuate your toe.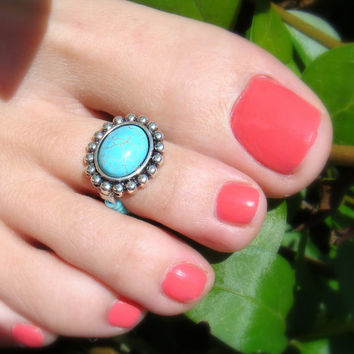 source: wanelo.com
8. Intricate Design Ring
Well, the best way to spice things up and look like a diva is to wear toe rings with intricate designs. This is very trendy and will never go out of style.
source: www.pinterest.com
9. Ring with Stone
Another type of toe rings that you should experiment with are the ones with stones. Well, it will definitely add bling to your entire look.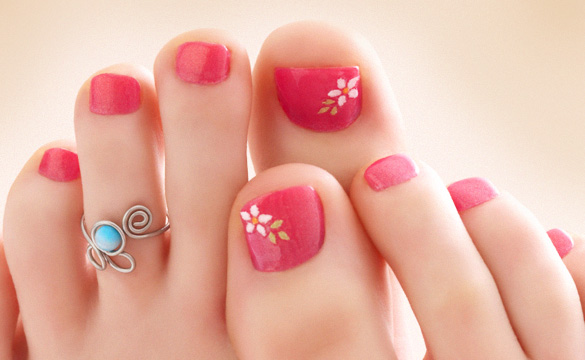 source: blog.bodycandy.co
10. Plain Bands
If you want to sport the plain and simple look, then you should opt for plain bands for all your toes or slip it on just one of them. If you really to up the style quotient a notch, then use some funky nail paint and designs that would compliment the toe rings.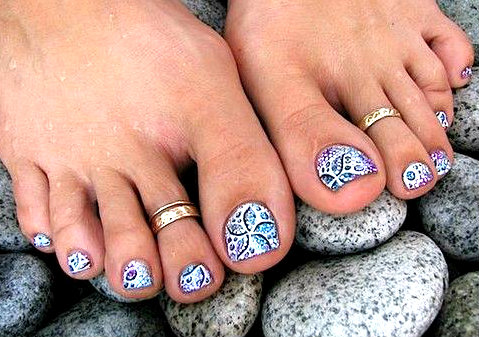 source: blog.octer.com
Thank you for reading. Do subscribe to our website for more trend updates.