Gone are the days when straight hair was the norm.
Unruly. Unorthodox. Unconventional.
These were some of the terms used when actors or models who had a natural head full of curls, stepped out without straightening their hair. It's true that there was a time in Bollywood history, when only straight hair was fashion. Every actress, every model and every celebrity would flaunt silky, smooth and slick hair.
Gone are those days!
India is now welcoming the unruly. The untamed!
Surely, the beauty of curly hair is unmatched. A girl with bouncy curls is always the envy among her mates. And as is the trend, curly hair is ruling the fashion industry right now. Bollywood, Kollywood and even Mollywood actresses, all are sporting their naturally springy curls!
Here are some styling tips you can learn from celebrities in India who are rocking their naturally curly hair.
Kangana Ranaut and her loose Ringlets
source: www.actozen.com
Of course, the first person who springs to mind when we think of curly hair is none other than the bold and beautiful 'Queen of Bollywood'. Kangana has truly embraced her curls which is evident from her statement that goes like this: "My curly hair is my personality and I love it".
Curly hair tip 1 – Leave your curls loose and let them do all the talking
Kangana's natural curls are bouncy, have huge volume and lie just below her shoulder. She has effortlessly let her ringlets free with a casual partition. The number one style tip for anyone with curls is that, don't touch them. Leave them free! In Kangana's case, don't you think her curls speak volumes about her confidence and elan?
Taapsee Pannu wears Stars as Accessories
source: www.desibucket.com
This Anglo-Indian model and actress has stolen many, many hearts with her lovely smile and even more lovely curls. She is usually seen with her hair let down and free. Taapsee is a lover of curls whether she's decked up in formals or swinging it in a casual outfit. She has, for the most part, kept the length of her tresses long, so that they drop below her chest in a long-layered cut with an occasional fringe in the front.
Curly hair tip 2 – Add accessories for cute looks
If you're not very comfortable leaving all that rowdy hair loose, then you can spruce up your hairstyle with some really funky hair accessories. Taapsee is wearing a string of stars which is tied at the nape of her neck. She has a small partition and has side-swept bangs. The colorful accessory is so pretty and stands as a beautiful contrast against her jet black hair.
Nithya Menon's elegant braid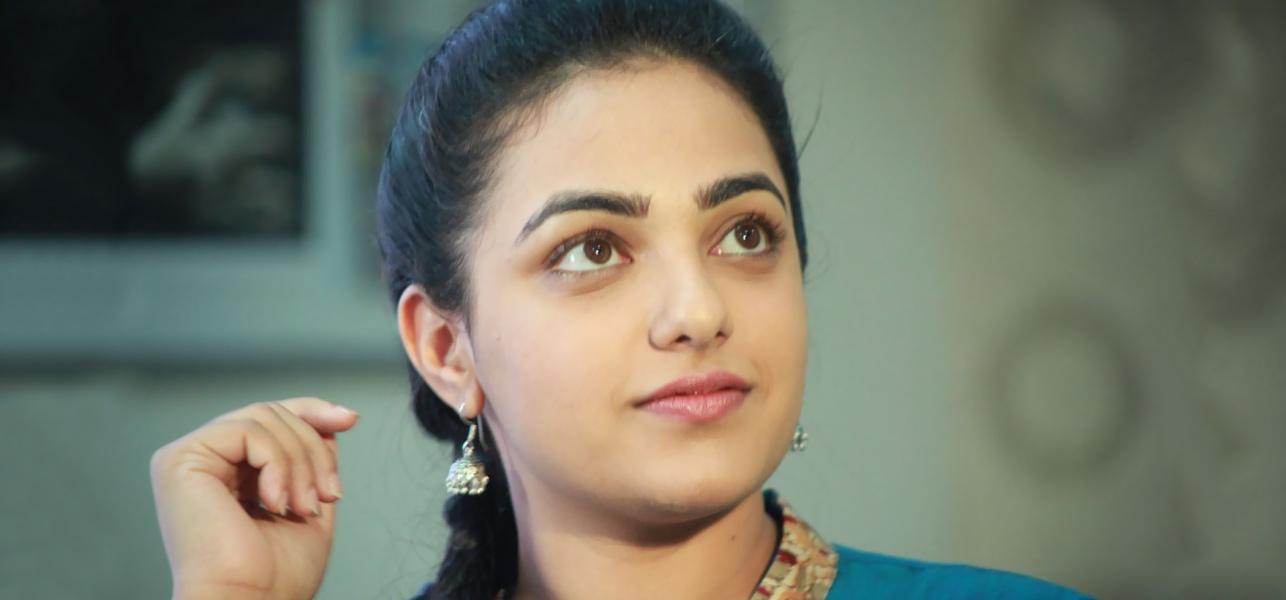 source: www.stylecraze.com
This South Indian actress has a unique style of her own. Nithya has big, round, beautiful, expressive eyes. She likes to bring her attention to them whenever she's acting. So her hair is tied back in a simple french braid, giving all the focus to her lovely eyes. This simple pulled-back look adds elegance to her entire look. Now that is what's called making a statement with your tresses!
Curly hair tip 3 – Try different braids and plaits
Curly hair is way more suited for braids than silky hair (which just simply unravels when you try to put it in a plait). A french braid looks incredibly alluring when done on shoulder-length curly hair. You can even try different kinds of braids like fish braid, reverse braid etc. If nothing works, of course, you can always wear a scrunchie and still pull off a great look!
Parvathy Menon in short curls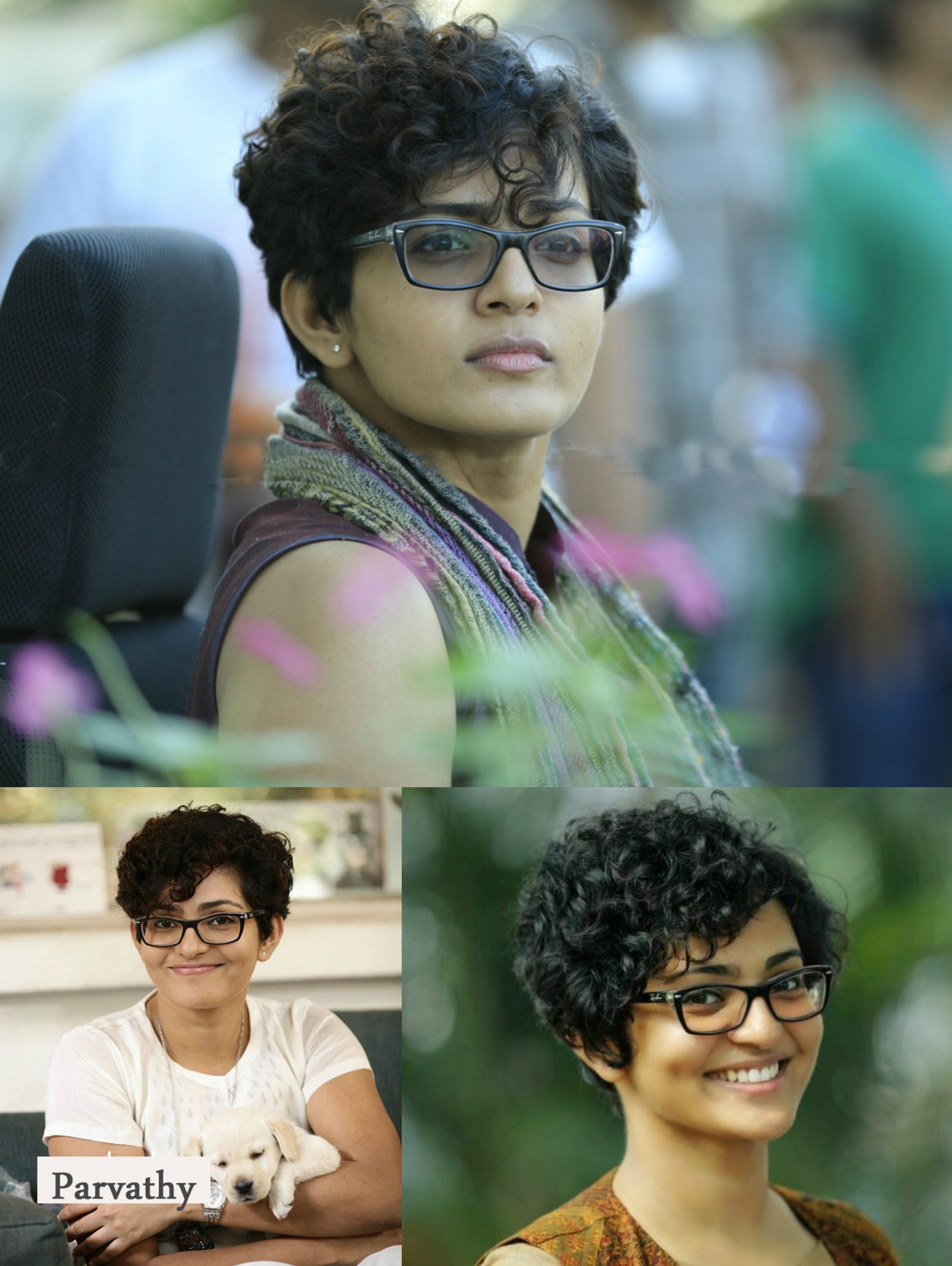 source: www.prokerala.com
Another strong actress from down South is Parvathy Menon. One of her best roles was in the movie 'Charlie', a romantic drama, starring Dulquer Salman. Earlier in her career, she had been flitting back and forth between curly hair and straight hair. But since Charlie, she has been seen with a head full of ringlets, and it's damn cute! She is one of the very few people who are bold enough to cut their curly hair short – like in – short short!
Curly hair tip 4 – Go short!
Curly haired women often shy away from short bobs. But after looking at how well Parvathy is carrying it off, I think every one should at least try it once. It completely changes up your face structure and adds a new dimension to your face. A short hair cut can be a fun way to change your look without doing much. Going short is definitely chic!
Saiyami Kher rocks cascading curls
source: www.ilubilu.com
This multi-talented model and actress sure knows how to style them curls. She is quite a recent addition to our list of Divas, but boy, is she giving the others some serious competition! Saiyami has ditched the hair iron and is boldly displaying her long, luscious locks, both in her instagram account and the promos for her latest flick, Mirzya.
Curly hair tip 5 – Concentrate on the crown
From what I see of all Saiyami's pictures, I can tell that she always concentrates on the top of her hair. She pumps up the volume of her curls at the crown by taking heavy partitions. This gives a beautiful cascading effect to your tresses, as the curls seem to pour from the crown down to their tapered ends. What an idea! (I'm sure gonna try this the next time I'm stumped for a new hairdo)
Ritika Singh looks cute in half pin-up
source: www.tellmeboss.com
This -boxer-turned-actress is already creating a flutter in the cinema world and no doubt, in the boxing ring. In her very first movie, she co-starred with actor Madhavan, in a role that befitted her personality. Her typical updo in the movie was using a scrunchie and bun. But this Diva has more to showcase than that!
Curly hair tip 6 – Effortless half pin-up
Ritika is all about the effortless charisma. Her hair always looks like she just woke up that way.  The ruffled hair just looks irresistible, doesn't it?  Curly haired women can afford to go for the ruffled-up and  messy hairstyle. Going by the boxer's style statement, a half pin-up is the perfect everyday style that says I'm sexy and I know it. Ohhh…lala! 
Masaba Gupta dresses up in a top knot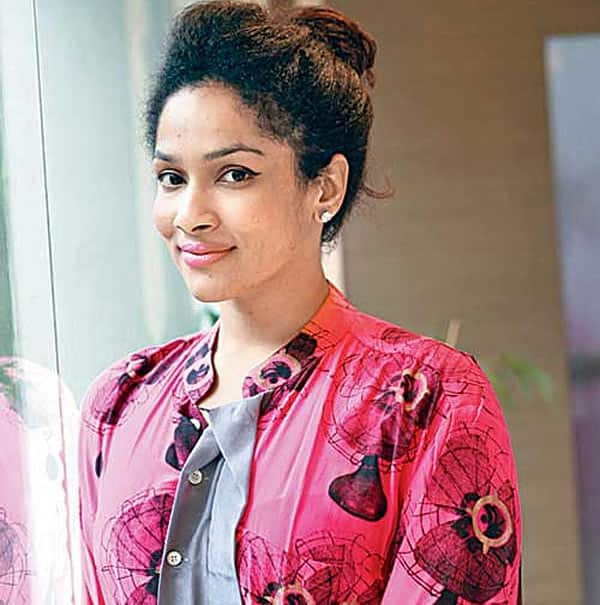 source: www.vogue.in
As one of the top Fashion Designers in the country, there's no doubt that Masaba knows how to style her afro curls. Her afro-punjabi hair is way too thick and way too curly to succumb to an ordinary brush. So she just gathers them up in a top knot.
Curly hair tip 7 – Gather it up in  a Top Knot
Sometimes, it's just better to pull all of the curls together in a top bun. Considering the heat and humidity in some parts of India, it is absolutely essential for curls to be a) protected from the Sun b) not cause you sweat around your neck. This look is both practical and pretty. A top knot or a top bun is a chic style, when you want to throw together a casual look.
Wear your curly crown with pride
Many curly haired women often try to change their beautiful hair. They resort to straightening or smoothening or in the very least, hair ironing to ease their curls into straight hair.
But celebrities like Kangana and others are changing the game. Curly haired Divas are inspiration to many young girls. They stand as role models by accepting their wild curls as a part of their personalities, and carry them with grace and ethereal beauty.
So girls and women, don't shy away from your curly hair. Embrace them. Forget your straighteners. Your curls are your best asset. It is the time to shine and wear your curly crown.
Which of these curly hair style tips did you like the best? Let us know in the comments.