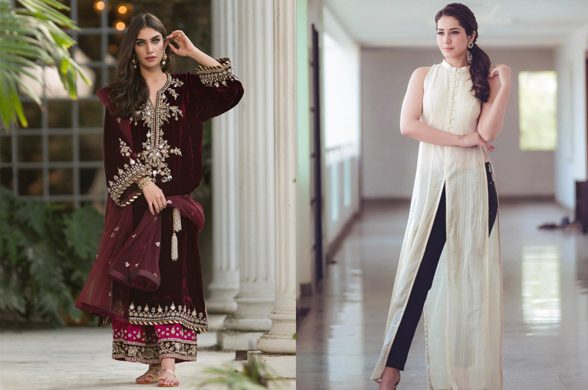 The Indian Kurti has evolved to be a must-have attire in every woman's wardrobe. If possible have like all types of Kurtis in your collection since they can be worn on multiple occasions. Although the design may be similar the pattern and styles are different. The Kurti is a woman's attire that can be worn to a wedding, college, office, parties and many other occasions. The Kurti is also not limited to Indian women alone. Other women in the world are also wearing the Kurti for different purposes to also have a unique style statement in the different events they attend. Whether you are a housewife, professional woman, social woman, an elderly woman or a college girl. There are enough Kurtis for wedding to choose from.
The Kurti is very affordable and designers are trying to be at par with the growing demand for the Kurti. More and more trends are coming out every day as new designers come into the Indian fashion space to improve the fashion scene. Designer Kurtis for wedding is at their peak in demand during the wedding season. Although the Kurti is an Indian traditional attire it has evolved now to a fusion of the Indian and western style that is known as the Indo-western. This has brought about new cuts, lengths, designs, patterns and new use of fabric for the same. The different types of Kurtis that can be found in the market and where to wear them are listed below.
Anarkali Kurti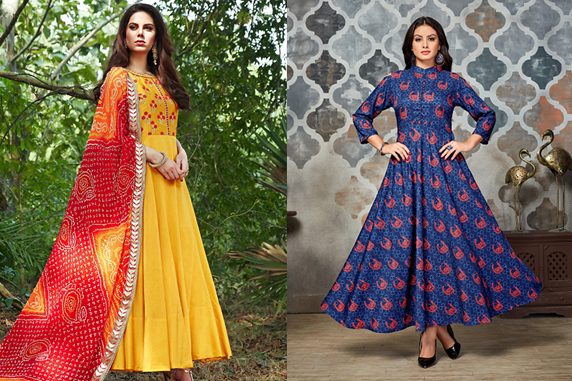 This Kurti is worn in weddings and Indian pre-wedding ceremonies. Such as the Haldi, Sangeet, and Mehendi. It is also good for casual wear, formal occasions, and parties. since it is such a beautiful attire for women. Anarkali is such an ethnic outfit that shows both grace and elegance in your look. The lovely thing about the Anarkali Kurti is that it fits all body types. The pear, rectangle, hourglass and many other body shapes. Hence this is a must-have Kurti for in every woman's wardrobe. An Anarkali is paired with a churidar, palazzo, Patiala, and jackets to boost up the look. The common fabric for this Kurti is cotton, silk, brasso, brocade. And it is in various lengths including calf, floor and ankle length. The best accessories to pair with this are head chains, dangling earrings, bracelets and sling bags. However, avoid pairing this Kurti with stockings it will lose its radiance.
Tail cut Kurti
The tail Kurti is a high low dress like design that looks elegant in all sorts of patterns and embroidery. This Kurti is worn for parties, college and is also a good choice for going out on a date. The best footwear is sandals, wedges or ankle strap heels together with a clutch or sling bag. This Kurti is either designed short or at knee length for all body types other than the apple body or inverted triangle body shape. It is made in a variety of fabric hence you can choose one that you prefer.
Cowl Kurti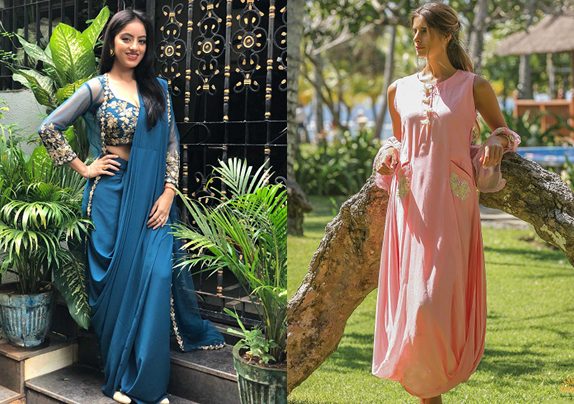 This cowl Kurti is a true fashion statement, with its asymmetric draped cowl hemline that falls in whichever way you desire brings out its fashion glamour. Its alluring effect makes you stand out at any party you go to. If you are a fashion conscious woman, the cowl Kurti is a must have in your wardrobe. Going for a wedding, party or any kind of festivities throw on your cowl Kurti and leggings or tights, with stud earrings, an anklet, clutch and a pair of stilettos or sandals for a sumptuous look. Avoid wearing this Kurti with jeans, palazzo pants or a skirt since it is already body fitting. Plus, it only looks good on pear, apple or hourglass body shapes. Get your cowl Kurti at knee, ankle or calf lengths.
A-Line Kurti
The A-line Kurti can be found in many colors, embroidery designs, and shades. Due to its comfort and flare from the waist down forming the A-line shape. It is preferred by most college students as daily wear for school, and also for formal dates. This Kurti looks good with matching churidar, Dhoti pants and jeggings or leggings. It should be something fitting since it is wider at the hem. Women who are apple or inverted triangle shape and those with wide shoulders should avoid this Kurti. Due to the design, the dress will not work well with their body figures.
Dhoti Kurti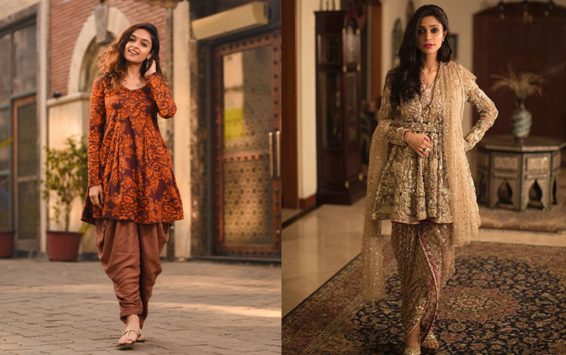 The Dhoti was originally men traditional attires. Then the women embraced them as part of their garment and the readymade Dhoti pants came to be a woman's fashion pants. The Dhoti can be a Dhoti saree, Dhoti dress, Dhoti gown or Dhoti Kurti. Having a number of these pants gives you an array of different outfits to dress for various occasions. Nonetheless, the Dhoti Kurti is the trending one of all. Its drapes and designer cuts flatter the feminine curves. This is a festive Kurti that can be worn with no bottoms or paired with tights. Withal avoid jeans, skirts, and palazzo bottoms.
 Frock design Kurti
This Kurti shows off your feminine side with the way it flows to the hem. This is a superb pick that will bring out the indo-western look in your Kurti. A frock Kurti is impeccable for weekends out and for casual outings. A delicate necklace and charm bracelets are an ideal combo to complete this look. Pair it with sandals, wedges or peep toes. Awe your friends with this knee or thigh length Kurti.
The Angrakha Kurti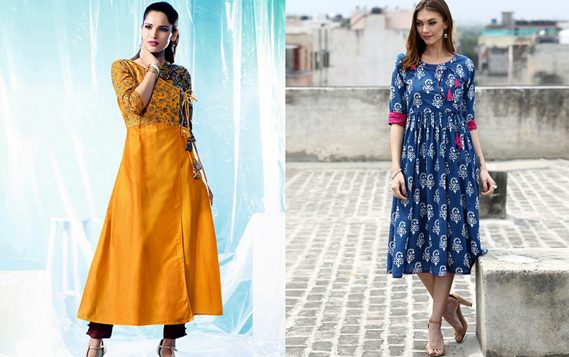 Urban girls love this Kurti type. It has been redesigned to have a sophisticated look when compared to the tunics worn by the royal court musicians. The Angrakha is designed so as the flaps overlap over each other and tied at the end with straps. To achieve the ethnic look this Kurti offers spruce it up with beads or stylish pom poms. This Kurti is also a follow-up trend of the Anarkali Kurti that most women wear to achieve the feminine and classy look. The Angrakha Kurti is a splendid choice for any festivities as well as casual, college or daily wear Kurti. Pair it with jeans, a palazzo or a skirt. Avoid wearing this Kurti with stockings or bottomless no matter how long it may seem.
Color block Kurti
This Kurti is in bold blocks of contrasting colors. If you love kurtis and love making a bold statement. The color blocked Kurti is the perfect design for you. The trick, however, is having a perfect color combination so that it does not look out of place. This is a perfect Kurti to be worn during summer, a date, and a party as well. If you have a rectangle body shape this is the best Kurti for you. This Kurti can be in print block, print and color block, or just plain color block. Pair it with matching leggings, or jeggings even palazzo pants. Accessorize with a plain color scarf, sunglasses, and sandals.
Trail Cut Kurti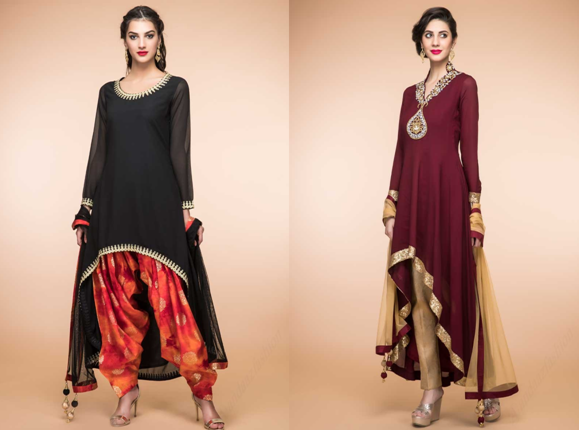 If you have been invited to a Mehendi pre-wedding party this category of Kurti is the best to wear. Plus, it is a good choice for dinner and other night functions. The allurement this Kurti offers with its hanging trails has made it be among the top trending kurtis. Depending on the fabric used for this Kurti it can change the overall look and use for the trail cut Kurti. Some of the fabrics that work well with this style are chiffon, georgette and silk to complement the designer cuts. A bottomless Trail cut Kurti in chiffon is a perfect beach cover-up. However, you can still pair with fitting pants, a choker necklace, cuff bracelets, dangling earrings, and a tote bag. Avoid traditional bottoms like Patiala, Dhoti or Hiram bottoms with this look.
Flared Kurti
As the name suggests the flared Kurti has put the Indian fashion on fire. This is also an Anarkali style Kurti that has earned its place in the Indian fashion industry. The flares in this attire offer a feminine charm and a dazzling rich look for the party or festivity that you are attending. The flares can be wide or narrow depending on a person's body type and height. Hence the tall women look good to the flared hemline than the petite women. This can also be worn bottomless or with ankle jeans, churidar bottoms, and an ethnic jacket.
Long straight Kurti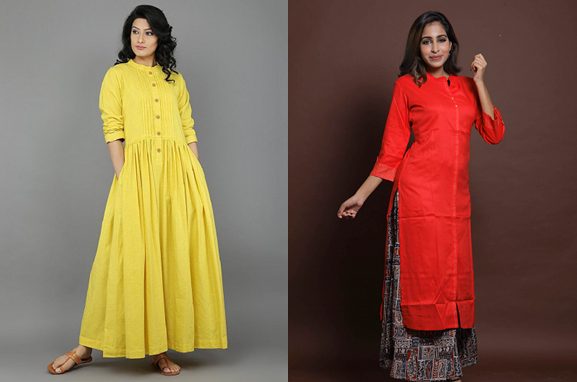 If you wish to appear taller this Kurti is perfect for you. It can be sleeved or with short elbow length sleeves. Today, this Kurti is in demand especially due to the professional look it gives. Although you can have it in any type of sleeve. Full sleeves look brilliant compared to the short sleeves. To achieve a fashionable fashion makeover for an office outfit the long straight Kurti will help you achieve an impressive office wear look. This Kurti can be worn to an interview, formally, and also to an outing. Stockings should also be paired with stockings. Cotton and silk are among the many fabrics that make this Kurti.
Pakistani Kurti
This Kurti has a Pakistan feel to it. They are baggy, long and straight. Since they are not designed to fit a person's body shape. This Kurti trends to people who adore crazy fashion trends that most people don't like and also those who desire to try something fresh from what is in their wardrobes. This is best for going with to trips, as daily wear and summer wear. It looks appealing when paired with leggings, jeans, and straight pants. Long neck pieces and dangling earrings and pumps or sandals. Some of the clothes to avoid with this Kurti are the Dhoti, Patiala or a skirt will not make a beautiful combination.
Shirt style Kurti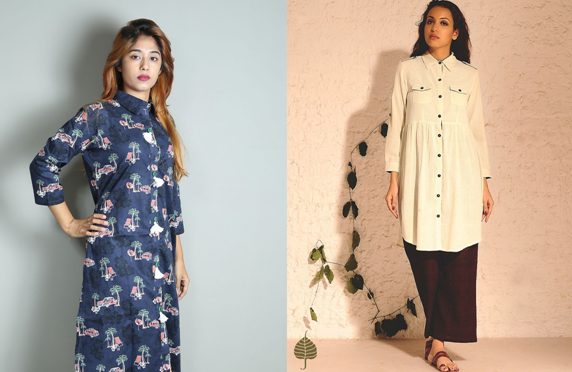 This Kurti is a blend of the Indian Kurti and the western shirt that gives it a trendy office look. This shirt is stylish and professional making it a good choice for a formal event. It is mostly made in prints or patterned in various colors. For instance, interviews, office wear and comfortable daily wear. Pair it with pumps and peep toes in cotton or crepe fabric. It can also be made in denim to give the Kurti a party look, also adding on a leather jacket gives it a brilliant finish.
Indo-western Kurti
The blend of the Indian and western fashion designs not only design the shirt style Kurti but the Indo-western Kurti too. This Kurti is a darling to many for its mix and match fusion that brings out the Indian ethnicity and western chic style to the Kurti. There is no particular look for this Kurti since it is a personalized blend of the Indian and western designs so the blend can be for instance a dhoti pant and a peplum top among others. Its popularity has come about since you can create a personal style statement that is unique from others. This can be seen in the Kurti cuts, sleeves, and necklines. This fits all body types and is not for traditional events but for romantic dates and outings. Pair with sunglasses, hats, gladiators, boots, and casual shoes.
Princess cut Kurti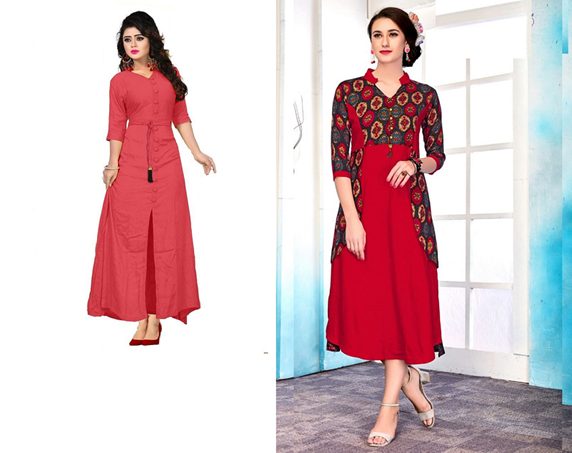 Just as the name states this Kurti is designed to fit for a princess and makes you look like one. The princess seams that are added in front of the Kurti make it have a feminine look and to accentuate the curves. They start from the shoulder down to the hem. The whole princess Kurti design has no cut as the name suggests but the cut is for the pattern fitting with no side opening. It can be a collar neck and full embroidery of buttoned down with three-quarter sleeves. This is both a party or casual attire depending on the design. Accessories to go with this Kurti are ear jackets, watch, wedges, flats, and a clutch.
Gown style Kurti
This Kurti goes all the way to the ground hence its other name floor Kurti. It is an evening gown style type of Kurti for the Indian women. It has a royal ethnic look that has made it a treasure to many starts in Bollywood. This floor length is in the type of Anarkali designs that look splendid at red carpets events, award ceremonies for the many Bollywood town girls and starts. This Kurti can be embroidered, printed or a designer Anarkali brand. It can be worn in weddings, reception, and festive occasions, it works bottomless or leggings if you desire. However, this Kurti cannot be a good choice for trips or casual occasions with the clash and style it brings out.
Double layered Kurti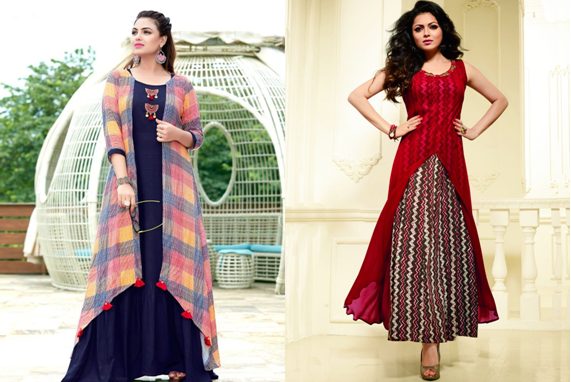 This Kurti has been designed with an extra layer, which makes it double with its original layer. In particular, it is made readymade already blended in the same pattern, color or embroidery that has been used. The current contemporary look has both pieces detachable and the untouchable ones. This Kurti can be paired with tights, jeans and a multilayered necklace. It can be made in cotton, polyester, poly cotton and wool. Plump and petite women should avoid this Kurti for it makes them look overdressed.
Reversible Kurti
This Kurti gives you two Kurtis in one. This is a plus for your wardrobe and you also save a coin buying this Kurti. Provided that it can be worn inside out too you are able to have two gorgeous Kurtis to rock on different occasions. Granted that it is a double duty and it is able to expand the number of Kurtis in your wardrobe. Wear this Kurti as both formal and casual wear. Pair it with any type of leggings and wedges. All body types can wear this Kurti but it is not for a wedding or party garb and boots do not go well with it either.
Printed Kurti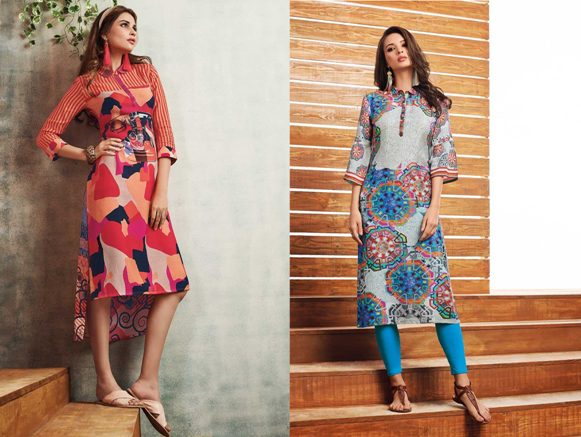 A printed Kurti just gives you enough of a look since it does not require any added accessories. Prior it used to block print that was available in the market but with the evolution of fashion and design, the digital print is the way to go. This is a summer and wedding outfit. Printed bottoms are not popular with this look for it makes it too much to look at.
Kaftan Style
Everyone loves a kaftan due to its glamour and comfort. As the Kurti has evolved to a kaftan style, the sophistication and remarkable style is evident in this loose-fitting clothing with wide dropping sleeves. Dress this to a beach party, trip, summer holidays and as maternity wear. Mostly they are worn bottomless but as a summer daily wear outfit pair it with tights, treggings or jeggings. Accessorize with a hat, sunglasses, flip flops. Avoid baggy bottoms like palazzo and skirts for this Kurti.
Pintuck Kurti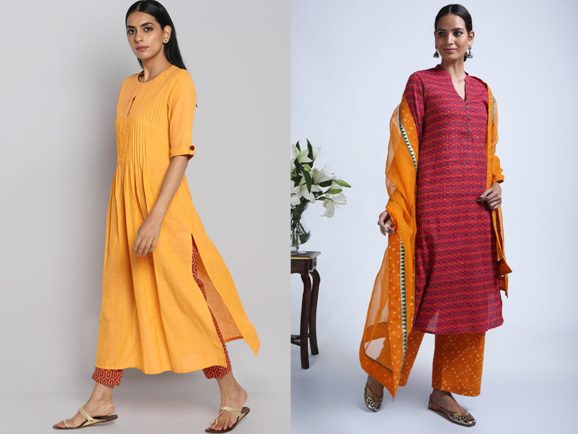 This Kurti is made up of pleats on the fabric that add a chic look to the outfit. Their popularity has grown rapidly and is on both the online and brick and mortar retail stores. Due to its intricate design the pintuck Kurti is a brilliant addition to every girl's wardrobe. It is a perfect wear for trips, dates, and college. This Kurti is in all lengths, and apple, hourglass, and pear body shapes blend well with this Kurti. Abstain from this Kurti if going for an interview and does not match with skirts or jackets.
Slit Kurti
This Kurti is for the millennial age group which they have totally embraced and considered the latest chic style statement. The slit adds the sensuous touch and charm to the outfit. The slit can be at the front or side and are a perfect blend with black or white pants or jeans. This look also sets you apart from the crowd. This is can be worn to trips, casual wear, and maternity. This look is not for an interview and skirts and palazzos cannot be paired with this Kurti.
Denim Kurti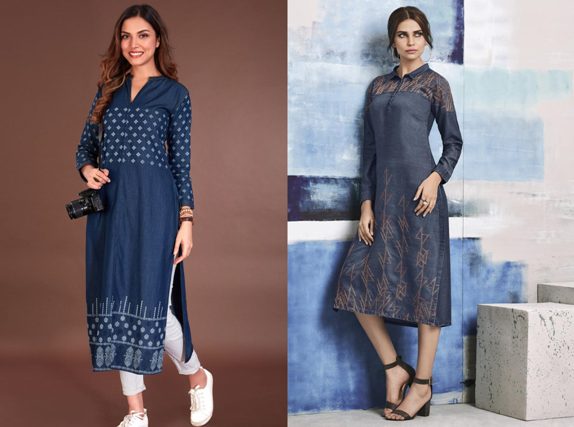 Denim used to be only for jeans and dominated the jean industry for long. Now it is being used in making Kurti shirts. The denim Kurti has misplaced normal jackets and t-shirts. The denim Kurti provides a perfect go-to sporty look worn as a shirt dress. Leggings or tights are the best bottoms for this Kurti. This denim should be avoided by apple shape body types. This Kurti is only found in the knee and above knee lengths.
Kurti with Jacket
In the Indian fashion industry, the Kurti blend with jackets has evolved to such a wide range. They create both a sophisticated look and rowdy look depending on how an individual prefers to look. This is both a festive look and is paired with shorts or leggings. A boho neckpiece and dangling earrings are perfect accessories. Plump and petite women should avoid wearing this Kurti for it will make them look overdressed.
Asymmetric Kurti
This Kurti adds on to Kurti designed hemlines to choose from. If you have worn the straight hemline Kurti for some time the asymmetrical Kurti is the new trend. It is best for short women who want to appear taller. Bollywood divas love this Kurti to stand out in the crowd at evening parties and other festivities. Chiffon, georgette, and crepe are the best fabrics for this Kurti since it is lightweight. Skirts, palazzos, and Patiala should not be paired with this Kurti due to how the hemline is designed.
Tulip Kurti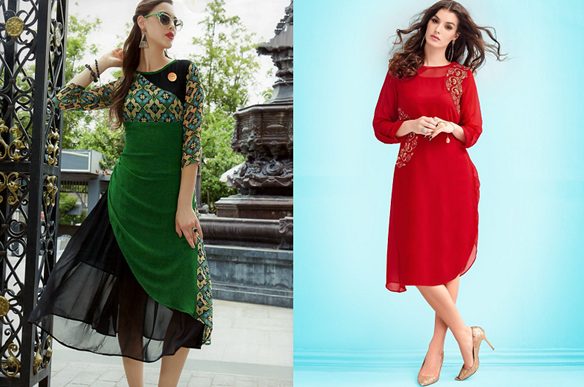 Any college girl should be in a position to rock this Kurti. It's flattering design and the tulip shape at the front makes it unique and different from other kurtis. It is an attractive Kurti to look at and admirable when you have it on. It is a casual, party and college wear Kurti. When paired with straight pants, tights and leggings of a calm color or print bring out the Kurti design in a brilliant way. For footwear wear some sandals or wedges. The design of this Kurti makes it a bad choice for an interview outfit.
C-cut Kurti
The 'c' shape on the hem of this Kurti makes it different from the high low. It is an awesome choice for tall girls and plump girls to have a slim and stylish look. If going on a trip or a date this is the perfect Kurti for that occasion. It also works well with wedding festivities. You can rock this Kurti bottomless or with jeans. Accessorize with gladiators, sneakers and a tote bag to achieve that trendy chic look. Don't dress to a formal event with this Kurti and if your triangle or pear body shape avoid wearing it as well.
Overlay Kurti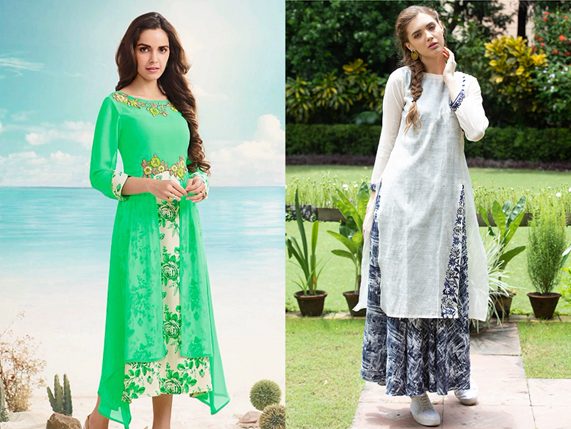 Donning an overlay Kurti to a party or wedding you are attending. Makes you stand out as everyone enjoys the beauty this overlay Kurti looks on you. Since the overlay starts from the waist down it adds volume and flare to the dress. Whether it is at the knee or full length this Kurti makes a statement with its unique design and flow. Pair it with a geometrical neckpiece, ring set, clutch, and Jhumki earrings. Avoid wearing this with a jacket or skirt to avoid looking overdressed. Plump and petite women should avoid this Kurti as well.
Empire waist Kurti
If you are looking for a perfect maternity dress to wear both casually and formally the empire waist Kurti will suit you well. Since it is tapered from the bust area and flows through the entire length they create a lot of free space for your pregnancy and make you look classy and trendy while donning this Kurti. You can wear them bottomless or wear matching leggings according to how elegant you want to dress that day. For footwear sandals or chappals will do and it is an all body type Kurti. However, don't wear traditional jewelry as an accessory to this Kurti or wear it to an interview. Most of the fabrics used are cotton and denim.
Tiered Kurti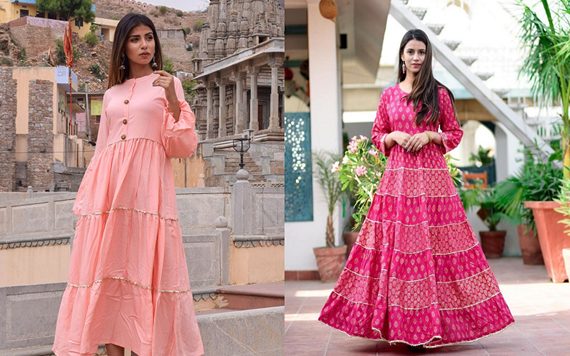 First of all, plump women should not consider wearing this Kurti since it makes them bigger due to the tiers that it has. This creativity in the fashion industry to add tiers of fabric to a Kurti gave it a fresh and beautiful look. If you are slim in structure and want to add volume to your body frame through this dress wear this Kurti and adorn it with statement bottoms such as the Patiala Salwar, Palazzo, skirts. This cannot be worn to a formal event and avoid accessorizing with a statement neck piece.
Kurta with pocket
Most women love dresses that come with pockets. This Kurti is made in a kurta design with pockets either in front or at the sides. Pocket details make your attire look traditional with a fresh fusion of modern. The versatility of this pattern has made it a trend among Indian women and also as a global fashion statement. This is a beautiful casual attire. Pair it with leggings and multi-strand necklaces with sandals or bellies. Avoid if you have a pear body shape.
Cold shoulder Kurti
The latest trend in town is cold shoulder attire. And the Kurtis has not been left behind as well and they are out doing this modern look in their design ensemble. Wearing this Kurti design will make you look glamorous whether the cold shoulder is on one side or both. Wear this to a party and casual outings. Sandals or peep toes are perfect footwear. It suits all body shapes since it is designed for your specific body type. It is best in crepe and cotton fabric.
Cape style Kurti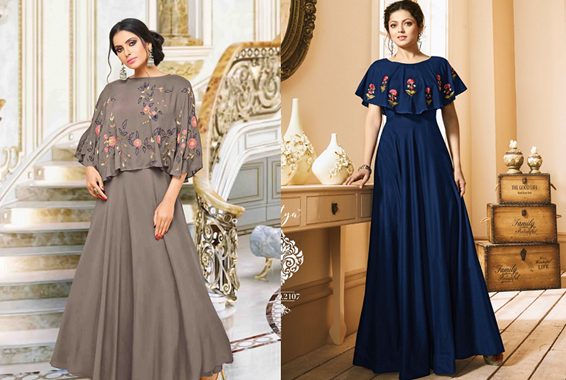 A cape that is added to any dress as long as it blends well makes you feel covered and stylish. This trend is loved by most people and has been in the fashion industry for long. Using it on Kurtis has taken it to a whole new level of the indo-western design on Kurtis. Hence it makes it a must-have fashion statement in whatever festivity or even on a date. Pair this ultrachic Kurti with churidar, leggings or Dhoti pants. Dangling earrings, a cuff bracelet, and some wedges complete the look. If you have wide shoulders or have an apple or inverted triangle shape avoid this Kurti design. The best fabrics used on this are silk, chiffon, rayon, and polyester.
Plain color Kurti
This type of Kurti is mostly made from cotton fabric to blend in well with the color that it's designed from. You can ask your designer to add an embroidery at the neckline and the sleeves to add some pop on the Kurti. Bold colors are the most preferred in the Indian fashion. This Kurti is mostly paired with contrasting pants like leggings, jeans or matching pants which may have similar embroidery at the hem of the pants. Other colors are becoming more popular especially to other women around the globe that love the Kurti. Pair this with sandals or wedges and a contrasting colored clutch to pop out in the bright colored Kurti. It is important to choose a color that blends well with the occasion you are wearing this Kurti to.
As much as there are many Kurtis to choose from. It also depends on the individual preference and how one will want it customized depending on the fabric they choose. Not all Kurtis will look good on every woman especially due to limiting factors such as height, body shape, age, status and complexion. Therefore, it is important to consider this and consult your fashion designer to help you choose which Kurti design is best for you and also in regard to the occasion you aim to attend. After all, there are many Kurtis to choose from as well as fabrics either in the summer or winter. Choose a Kurti that blends well with not only your personality but also your body structure and make a fashion statement in whichever event you wear a designer Kurti to.