Among all the 70s clothing, palazzos are definitely a favourite of many fashionistas. The best part is now, they are back in fashion again and with a bang!
Throughout the last two years , we have seen stars all over the world flaunt this attire. Nearly every woman in the country owns at least one pair of these comfortable pants. Hence, we bring to you eight different ways to wear the same palazzo pants! I am sure you have already tried a few of them, if not try them now.
1. Wear your Palazzos with a simple T-shirt
The simplest way to wear your palazzo pants is to wear them with a simple tee of your choice. Club your favorite T-shirt and palazzo pants to look chic on your day out with friends. This is a sure way to make your look with palazzo pants casual and not go overboard.
Suggested: Pair the printed palazzos with a plain tee and a big chunky necklace to keep things really classy and casual.
source: 3.bp.blogspot.com
2. Wear it with a plain tank top
Palazzo pants when worn with plain tank tops make for yet another casual, but a really chic statement. Add a simple broad belt to leave an impression.
Suggested: Your palazzos can be worn with a chic belt to look a little less casual than the outfit above.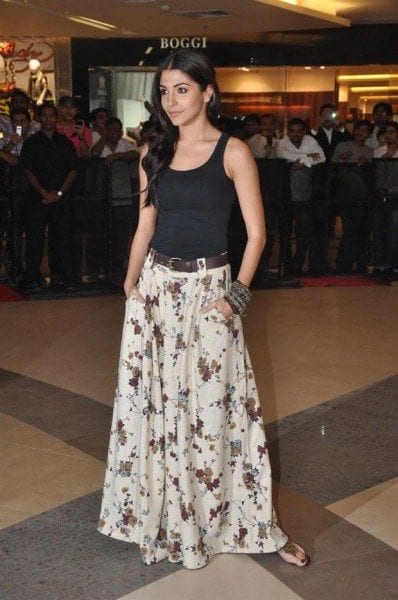 source: www.southindiafashion.com
source: tipthebeauty.com
3. Pair the palazzo pants with a long-sleeved top
A rather elegant way of wearing your palazzos is to pair them up with a long sleeved shirt or a semi formal top. Pair it up with a laced shirt if you're wearing these pants to a work party.
Suggested; Tuck in your button-down shirt  and wear it with a belt for a bit more of professional attire.
source: www.thebrunettediaries.com
source: stylescan.net
4. Palazzo pants look great with a crop top
There is no better way to wear the palazzo pants you own with a crop top. They go together so well that it brings out a beautiful look and at the same time make you look very sexy. Wear your crop top as many times as you'd like to experiment with your palazzos and they would still look great!
Suggested: Adding a crop top is simple and so cute. You can accessorize it well by wearing a hair accessory or some trendy earring.
source: i9.dainikbhaskar.com
source: s-media-cache-ak0.pinimg.com
5. Long kurtis and palazzo pants make a classy ethnic combination
The most ethnic way to wear your palazzos is to wear them with a long kurta. Despite the fact that a kurta will be long and flowy but so will your palazzos!.
Suggested: Wear a printed kurta with a pair of plain palazzos to looks amazing on festivals! You can wear your hair down or make a tight bun to look elegant on family functions!
source: thedelhibride.files.wordpress.com
6. Layer your top with jackets and pair it with your palazzo pants
Palazzo pants are also a great way to keep you looking cool during winters while helping you stay stylish. All you will need to do is layer up the top with a jacket or a coat. Using an overcoat, jacket or a trench coat you can make your outfit beautiful! It is going to make for the perfect winter outfit.
Suggested: Wear a printed jacket if your top is plain. Add a blazer and a pair of pencil heels for a professional look.
source: 2.bp.blogspot.com
source: glamour-zine.com
7. Carry out a formal look with your palazzo pants
You can actually make formal work outfits of your palazzo pants by teaming it up with a formal shirt. Aishwarya Rai shows you how to dress up in a formal way with your palazzos. When the article said that you can use your palazzos in different ways, we truly meant it.
Suggested: Don't wear bold prints while dressing up formally.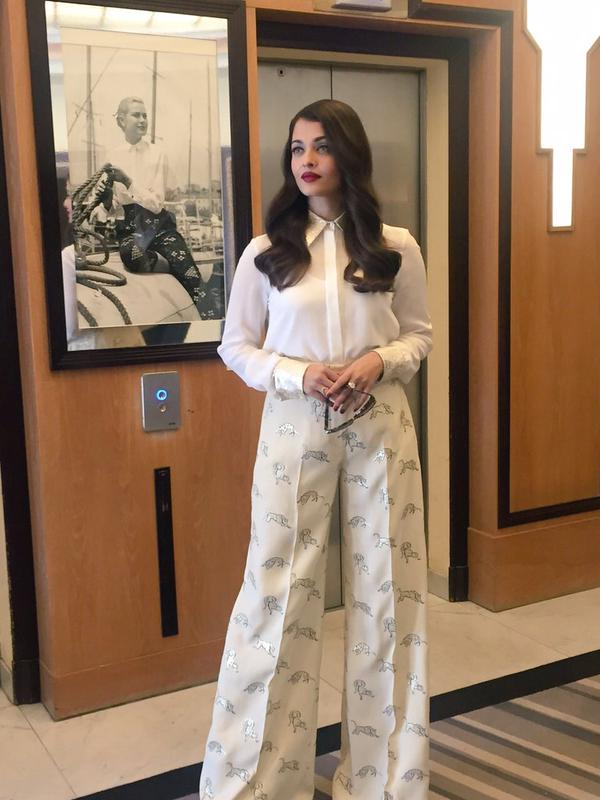 source: data1.ibtimes.co.in
8. Wear the same colored top and palazzo.
Wear your top and palazzos of one color for an outfit that looks like a jumpsuit. It will look chic in a way a only jumpsuit can.
source: images.asos-media.com
If you have worn any of these styles, leave your style tip below! Let us know how you feel about this article and follow us for more such articles.