I presumably don't need to tell you that a white button-down or a T-shirt is a closet essential. Trends come and go, but the versatility of the classic white button-down is perpetual. But the fact is your white tee may just be the most overlooked item in your closet with the most potential outfit for versatility. It can be dressed down or dressed up; it can be knotted or tucked into our favorite pair of jeans; styled with a pair of relaxed sneakers; paired with a voluminous skirt; do I need to say more ? Isn't it clear that a white shirt is your go to fashion mantra when everything else fails.
Below, I've culled 8 ways of the classic shirt's many styling options. Try one, try them all!
1.The Classic : Easy Denim Look With a Pair Of Sneakers
There is almost nothing that doesn't go well with a pair of jeans, and unsurprisingly, the white button-down is no exception. Both items are two of our closet's big guns, and together, they look so fresh and so clean & top it all up with a pair of chic sneakers & you're good to go.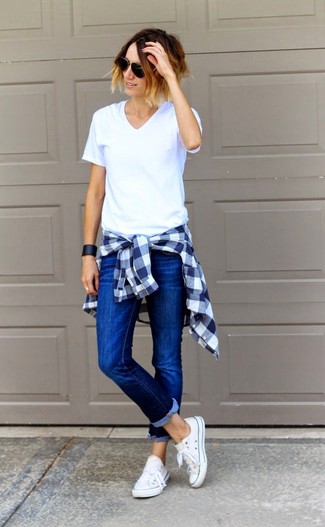 source: lookastic.com
2. Go Extra Glam
Go extra glam by pairing your boring oh-so basic white shirt with a fun and vibrant sequin skirt. Whether it's a mini, midi, or maxi style — you'll be turning heads left and right.
P.S. : Ditch the statement jewellery and go for minimal heels and a simple clutch. Or you can also give the shirt an interesting 70's flair with rolled up sleeves, long full skirt, aviator glasses and some solid boots.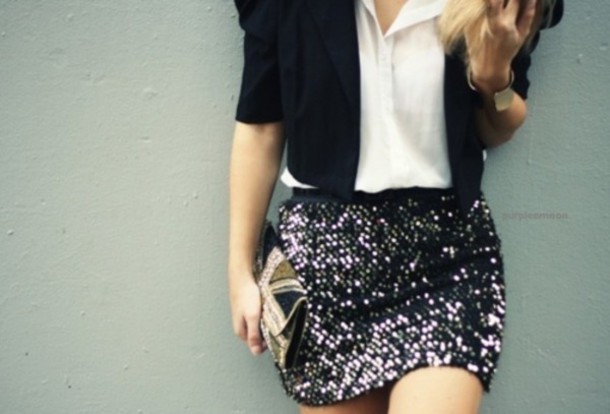 source: wheretoget.it
3. Casual Yet Sexy
Tuck the front bit of your shirt in, and leave the back hanging out to achieve that faux-asymmetric hem, and club it with hot pants and sunnies for the perfect, day-out look. Pair your white shirt with your favorite denim shorts. Finish the look with a fun clutch and some girly heels for a look that's effortless, but oh so sexy!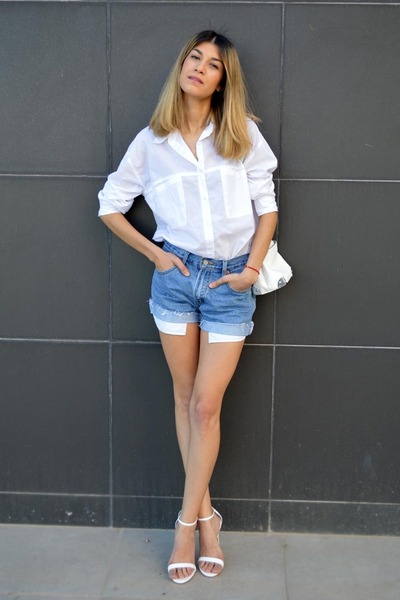 source: www.chictopia.com
4. On- Trend Look
Go for an on-trend look that's equally classic by pairing your white shirt with matching white overalls. For an extra chic look, finish off the look with some ankle strap heels and a fun clutch..!!
source: ladies-fashion.ru
5. Subtle Yet Sexy
You'll turn heads by pairing your classic white shirt with a sexy black bustier. Throw on some boyfriend jeans and some fun pumps for a look that's tomboy chic.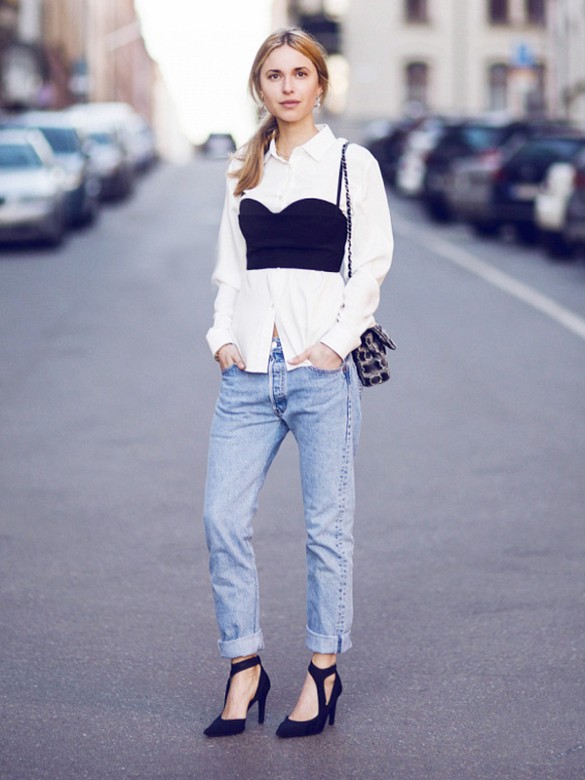 source: lookastic.com
6. Make a Statement
Use your white shirt and pants as a canvas to display that statement jacket or statement jewellery or just a fun badge.
Statement Jacket

source: mrpopat.in

7. Plain & Crisp

There's nothing more chic than pairing a crisp white button down with a black structured a-line skirt or any skirt for that matter. It's elegant, but oh so simple. You are sure to grab all the limelight & raise the glamour quotient a notch up.

Simple Yet Classic

source: www.pinterest.com

8. For The Weekend

Step up your overall or jumpsuit game by layering the onesie over a white button-down shirt.

The Best

source: sistacafe.com

I hope now you know how to spice up your boring white shirt. Please share your feedback and subscribe for more fashion tips.