It's only a few weeks to her wedding and the Bride, a.k.a, your BFF is chatting with you.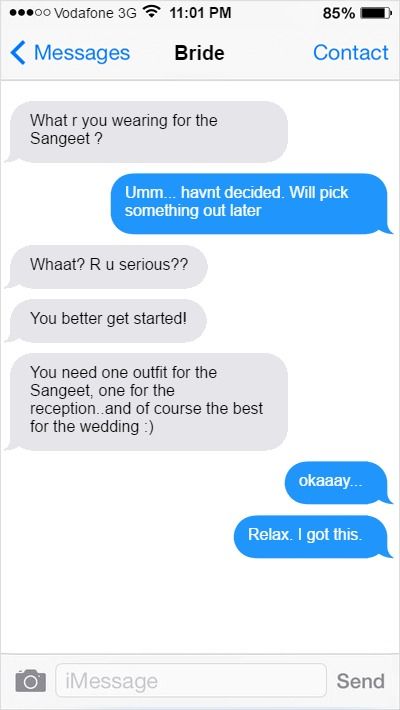 ---
Ah! Indian Weddings. They are always so…full of energy. Indian Weddings are like a festival with rituals and practices that vary across the country. But what we all have in common is the way we Indian ladies dress-up for occasions like this. Every specific function in an Indian Wedding deserves a special dress, whether the lovely lady is the bride herself or the sister of the bride, or the MIL or the BFF of the bride.
To pick out your dress for the Winter Weddings, you need a list of all the latest trends in fashion and accouterments.

And this is going to be that list.
The nuptial season has arrived. Yes, that means that it's time to pick out some of the best outfits for a spectacular wedding, errm…I mean, your BFF's wedding. To pick out a dress for an Indian wedding you need careful scrutiny, a keen sense of fashion and the know-all of the latest trends.
So that's why FashionPro has a line-up of all things essential for this wedding season! Here you can find a checklist of all that you need in preparation for the big day. You can also get some handy, last-minute styling tips that you'll thank me for later 🙂
Spare no expenses and leave no stone unturned while you have a fabulous time shopping for the latest wedding outfits with these tips in mind.
Outfit
Let's start with the basics. When you have your outfit fixed, then the rest of them are easy to match up. This is like the foundation to your whole outlook for the wedding day. So make sure you pick out the perfect dress for yourself from our line up below 🙂
For the Sangeet – Crop-Top Lehengas
The latest in fashion trends are the bold crop top lehengas. Lehengas have been around for ages, but that doesn't mean that we Indians don't know how to spruce them up. Over the years, lehengas have transformed a lot and today they are every wedding-goer's favourite pick-of-the-lot.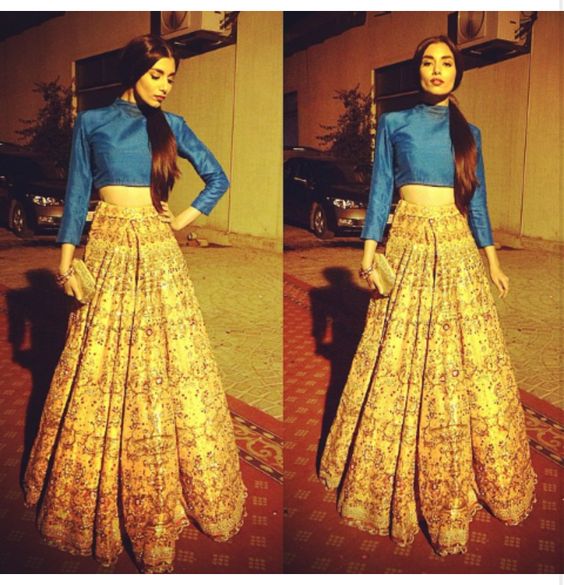 source: in.pinterest.com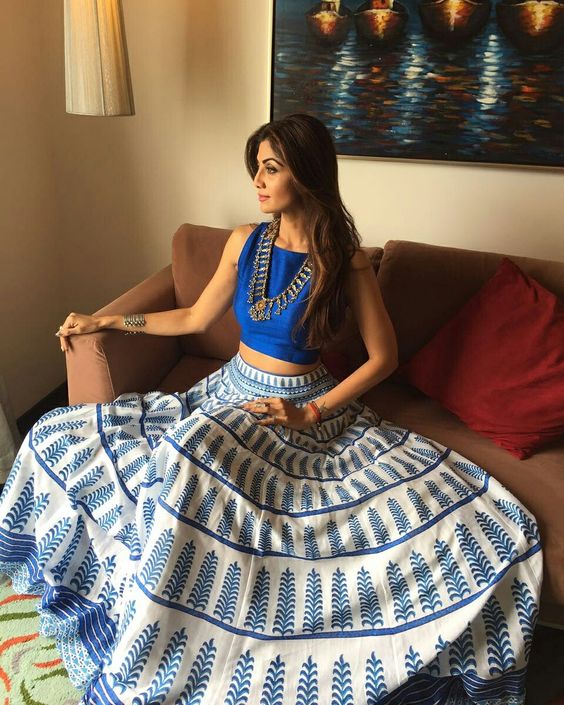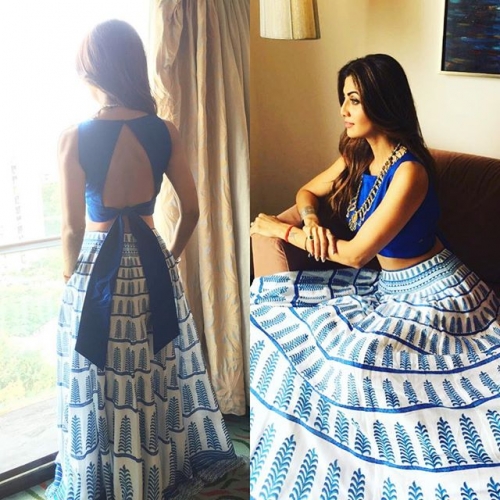 Go for a heavy-work lehenga from a range of materials (kancheevaram silk, cotton or soft silk) and match it with a contrasting crop top to give you the edge. You can even add statement jewellery, like this gorgeous neckpiece that Shilpa Shetty is wearing, with the plain royal blue blouse. The enormous ribbon at the back takes this simple outfit to the next level and makes it suitable for occasions like wedding parties. She sure knows how to dress up her outfit! Now, wouldn't that look spectacular on the dance floor? 😉
For the reception – Gowns
Is it the Cinderella magic of the ballroom gown? Or is it the elegance and the royalty that the gown adds to the wearer? Well, whatever it is, gowns look stunning in a wedding. Gowns are all the rage in the Wedding Industry right now.  So what better time to wear a gown than to your best friend's reception? There is live music, titillating conversations and high spirits! ( if you know what I mean 😉 )
Choose a gown that accentuates your figure and keep it flowy. You want your gown to say, "I'm enchanting" in a subtle way. So choose a lovely pastel shade, with soft layers and slits.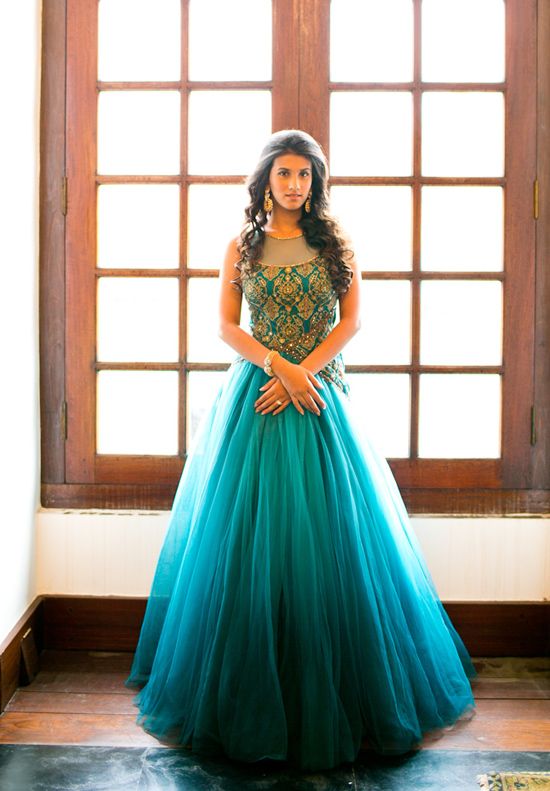 source: in.pinterest.com
For the Wedding – Saree/ Saree Gown
Deepika is setting some serious goals for us this wedding season. Her look for the Ambani pre-wedding party is an inspiration with its angelic white cut-out work saree and the divine golden border. The striking halter-neck blouse and the deep, dark color on her lips accentuate her beauty in this desirable wedding outfit.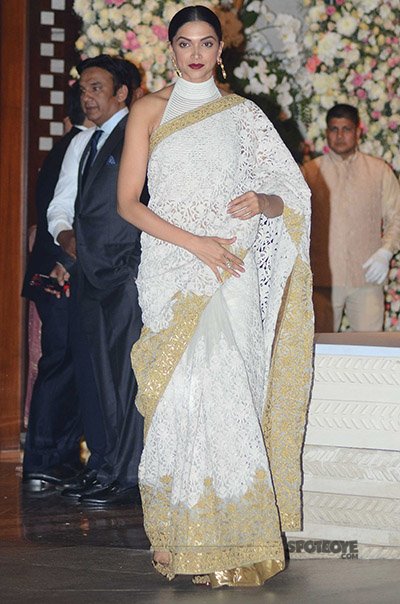 source: www.instagramcn.com
Some pointers to remember when picking out your dress
For the Sangeet, specifically choose an outfit that you are comfortable moving in. If you want to bust out your best moves, then your outfit has to co-operate!
Avoid solid white because they might seem too dull for an Indian wedding (duh!) and solid black dresses for sentimental reasons. You don't want Nana-ji to give you her sidelong looks, do you?
Check with the bride and see if you aren't overdressed. You don't want to be Over-the-top and steal the Bride's Thunder on her big day!
Avoid casual clothes – if you have no other option then go for a saree. Even a simple saree looks appropriate in a wedding. But God forbid, don't end up in jeans and tee-shirt. *eyeroll*