Today, to keep the spice quotient up, we bring you another amazing young lady with fashion in mind and beautiful ways to put those ideas to work, we bring you Shalini Chugh.
Q: Shalini, how would you like to introduce yourself to our readers? Tell them something about you!
A:  This is something that I very strongly feel about,
"Style is about being comfortable in your own skin"
and that is the mantra of my work.
We all come in different shapes and sizes. We cannot change that but we can surely learn how to smartly and stylishly adorn ourselves in our second skin (our clothes). My priority is to make my clients fall in love with themselves and then I work on their outer appearance.
I am a huge fashion follower and love to experiment with my looks keeping the budget in mind. Creating different looks with the same outfit is what I try to achieve. I love to travel and make new friends, and enjoy weekend clubbing with my girlfriends.
A dreamer, a learner and an adventurer is what describes Shalini Chugh, a certified Image, Fashion and Style Consultant by profession.
Q: How does it feel being a fashion stylist/consultant by profession?
A: Changing lives of others is a skill and a big responsibility. Being a stylist motivates me to wake up and look forward to a new day, a new challenge and to bring a positive change in someone's life. I aim to work together with my clients to bring their most fashionable self forward, making each day glamorous.
Q: After having achieved so much, what are your plans for the future in the world of fashion?
A: Frankly I have no big plans yet, I am living each day as it comes but currently, I do aim to reach out to the common population (people like me) and give them the best image and fashion dose. Everybody is fashion conscious these days no matter what age category they fall into. I personally enjoy creating diverse looks by incorporating the latest trends and clothing one is truly comfortable in and without digging a hole in their pockets.
Q: What according to you are the 10 must haves in every girl's wardrobe?
A: Here are the essentials that every young woman should have in her wardrobe to save her from any kind of fashion situation:
 

A tailored blazer

– When it comes to a classic versatile blazer, black tops the list. But if you are really fashion forward and want to look stylish go for a 'grey well tailored blazer'. It is equally versatile and goes perfectly with almost all the colours. Make sure it is well fitted and defines your waist.
A white top/blouse – A crisp white shirt/ top is a must have. This colour makes you look healthier and younger and goes well with both formals and casuals.
A pencil skirt – A very versatile piece of outfit, gives you that clean and polished look. Make sure you opt for neutral colour that can be paired well with many colours and patterns.

Nude pumps

– A must have, it gives an elongated look and pairs well with almost everything. If your idea is to look fashion forward, do invest in red flats as well.
Animal print – Wanna add that oomph to your boring outfit and want to look effortlessly stylish and trendy? Own an animal print anything – shoes, scarf, tops or accessories.
An oversized golden watch – A golden watch is a great way to dress an outfit.  Try leaving it loose so it looks like a bracelet.
Black tights – They make your legs look slimmer and are a must wear in a professional set up.
Little black dress – Invest in some unique design, details or cuts.
White sneakers
Stripes – Fun, young, trendy are a few words that cross my mind when I hear stripes. Perfect to be paired with most outfits.
Denims – Everybody's best buddy.
Last but not the least, never ever forget to wear an ear to ear smile.
Q: What exactly inspired you to be an image expert?
A: The inspiration came from within. I always had an inclination towards people, fashion, clothes and I wanted to choose a profession that I am passionate about. I wanted my business to do something that helps other people find their confidence and make them look and feel good. Then I stumbled upon Image and Fashion Consulting which not only changes your outer appearance but also transforms you from within. And of course, I couldn't have done all this without the support of my family.
Q: That is a really inspiring story, I'm sure everyone will get motivated from it. So, what is it about fashion you are in absolute love with?
A: The best thing about fashion is that it is not constant and monotonous, it brings a lot of excitement every season. It gives wings to my creativity. There is so much you can do with fashion and create your own unique style. People say –
"Fashion is temporary and style is permanent"
and I completely agree but my experience says
"Without fashion, style is incomplete and boring and vice versa"
I absolutely love everything about fashion and I always look forward to the new trends.
Q: Any tips that you would like to share with people who are 'fashion troubled' or are just too conscious about it?
A: People are conscious and confused about fashion only because they are not aware of their own personal style. They tend to follow celebrities and other fashion icons without knowing that these people do pay attention to the smaller details in their outfit and accessories and wear everything as per their body shape.
Tip: We all are beautifully and uniquely carved and this unique body should be adorned with clothes and accessories that are made for our own body shape. Once you know what works for you, fashion and styling would become as exciting for you as it is for us.
Q: Is there any particular celebrity or any fashion stylist that you've been following, someone like an inspiration?
A: Every celebrity and fashion expert has something or the other inspiring about them. So, there is no particular one I follow. I look for inspiration from various fashion websites and fellow bloggers because those are the trends I can incorporate in my work and life.
However, I do like the way Sonam Kapoor and Deepika Padukone carry themselves.
---
Thank you so very much for your time Ms. Shalini. I hope you succeed well in your profession and help as many as you can.
For readers, here are some pictures that Shalini lovingly shared with us!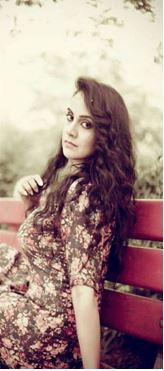 It is not any branded designer outfit but I chose this keeping in mind my body variations.
Kept it completely minimal with tiny golden earrings as the only accessory and beach waves for that romantic look.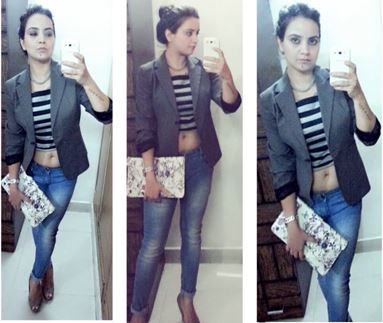 Here is a variation on how to carry it off for the casual day. Throw it over a well fitted denim pants, striped crop top or any casual top and your favorite clutch.
Stand tall in your favorite heels and finally add that classy watch for the final look. Flaunt this super stylish, classy and chic outfit, after all why should boys have all the fun.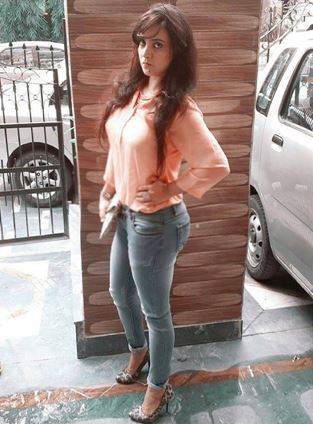 Peach collared top with warm undertone compliments my skin. It enhances my features instead of making me look dull and tired.
Peach multiple chain neckpiece right next to my face further brightened the look. Just the way one shoe cannot fit everyone, one colour also must not necessarily work for all.
Follow her on Instagram and Facebook.