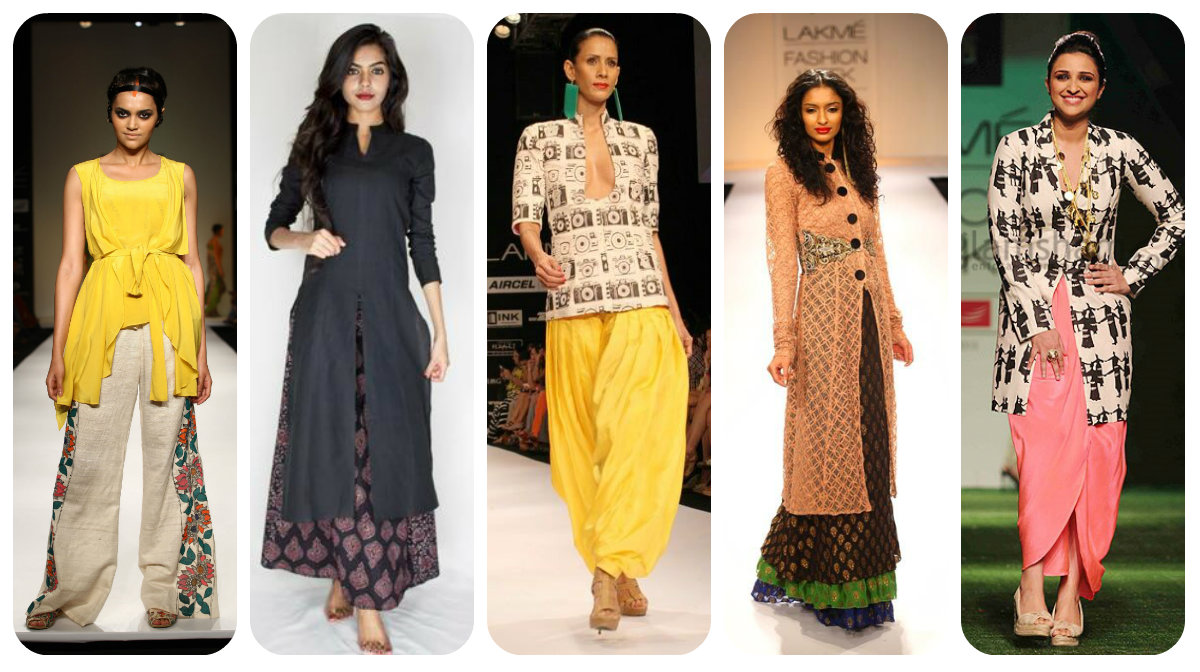 The melodrama that every women pulls out, when in front of her wardrobe is "I have nothing to wear". Has this ever happened to you? If your answer is yes ,then we have curated some looks specially for you so that you can think less and take more time in exploring the beautiful side of you.
Be it a teenage girl, a college girl, a working professional or a mother,  every role or situation in life demands a women to groom herself. It's true when it's said "It's the beauty from within that matters" but then a presentable person is appreciated everywhere. Simplicity in fashion counts more than following latest trends lamely, so trust us when we take you on a ethnic fashion makeover journey. We have made sure to include 2 looks for each type of woman in you, so let's get started.
The best think about ethnicity is that you can combine it with anything and everything and still look fashionable and great.
1. College/School diva
Well, these are the times of your life when you so wish you could just wear the best stuff in your wardrobe apart from your regular uniform since everyone hates uniforms. The looks here are for the sweet and childish girl in you who loves exploring new styles in fashion because this is the age to experiment and find out more about your likes and dislikes.
Tip: Adding bright colors is the trick to a perfect youthful ensemble.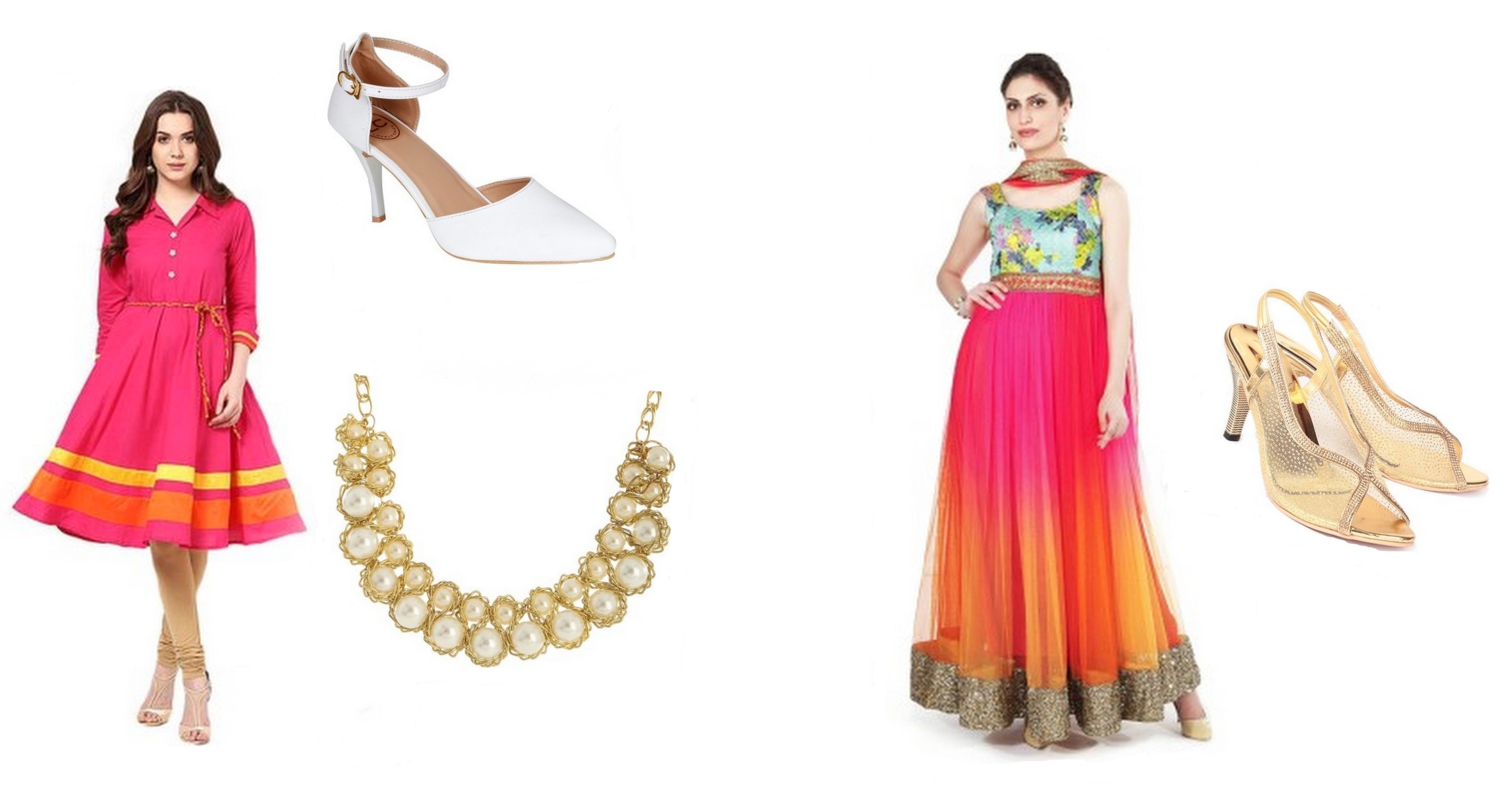 Look (Left):  Pink kurti , Statement necklace , Kitten heels  (Right):  Anarkali , Golden heels
2. Work Diva
Get into your colleague's good shoes by being the fashion icon of your office. Professionalism does dull up your color choices but who said you can't play with the basic tones? Being formal is not boring but a great way to bring out the women in you.
Tip: Add in a pinch of Indian style to the all-professional look.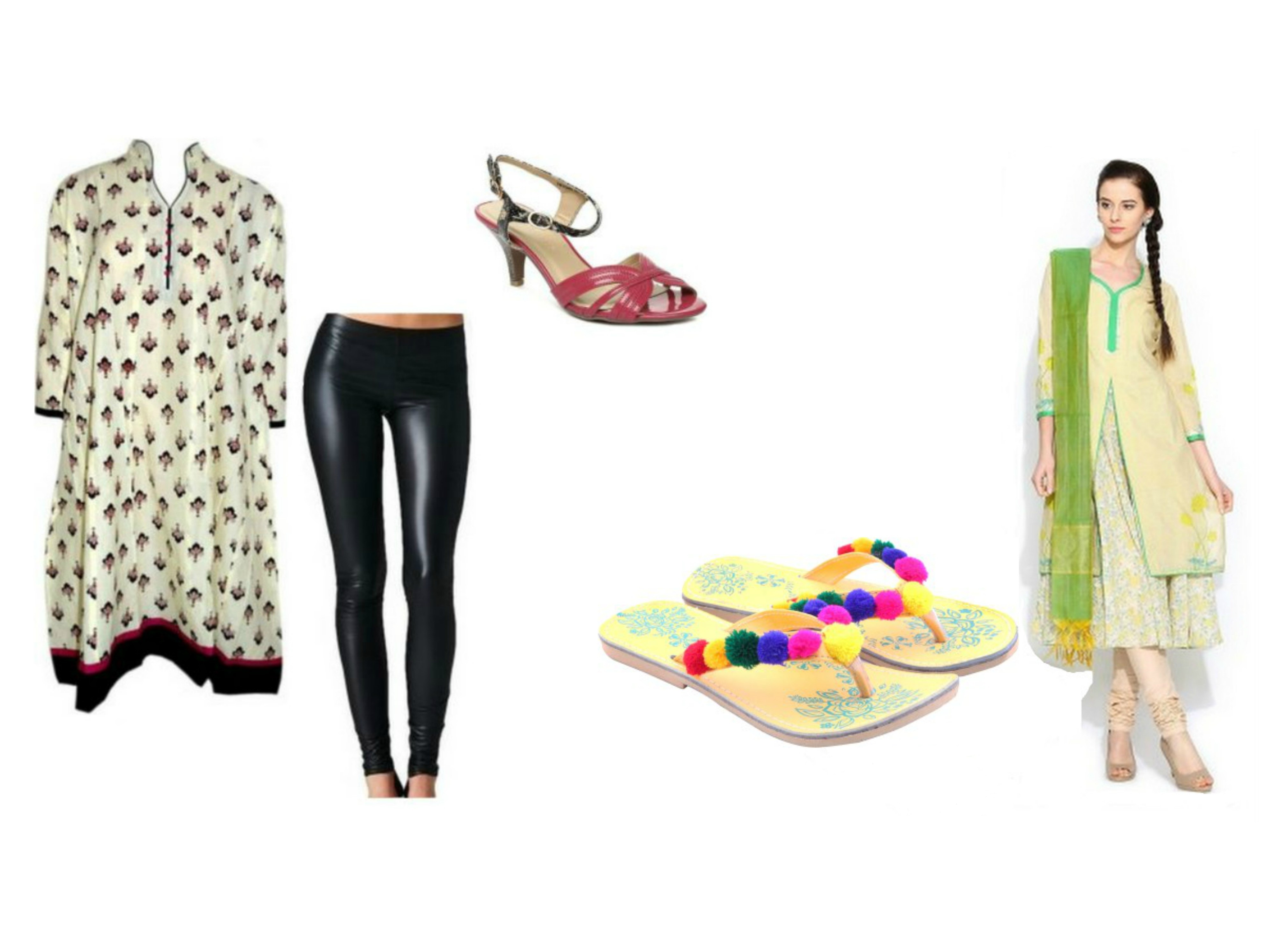 Look (Left): Long Kurti , shimmer leggings , Red heels (Right) : Salwar suit , yellow sandal
3. Party Chick 
Pump up your party moves with something really comfortable yet ethnically fashionable. Turn the tables by being a desi beauty. Why limit your fashion looks by sticking to western looks alone.
Tip: Add in an  Indian style outwear with western dress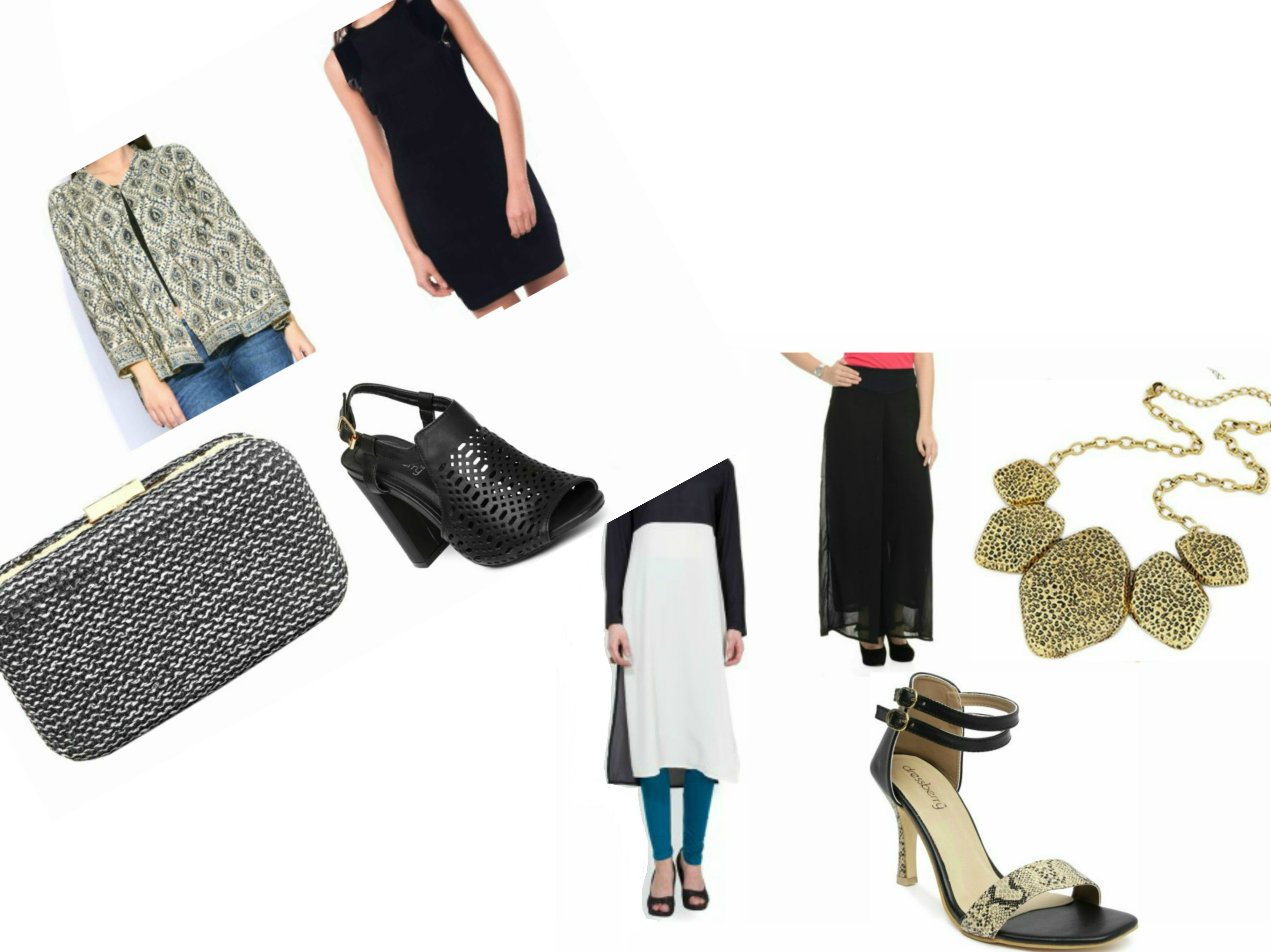 Look (Left): Ethnic jacket , Bodycon dress , clutch , Black heels  (Right) : Long kurti , Palazzo pants , Black strap around heels , Gold  Necklace
4. Ethnic theme party
This is the time when you can flaunt out all those sparkly jewels and lehengas or sarees, being in the comfort zone but at the same time, being fashionable. Adding in a little bling or mix matching tonnes of colors is the best thing about being your desi-self.
Tip: Do not overdo; being simple yet creative is the trick. Add blings only if your outfit is simple. Add in crop tops for a trendy look instead of blouse.Statement necklaces are a great way to add statement.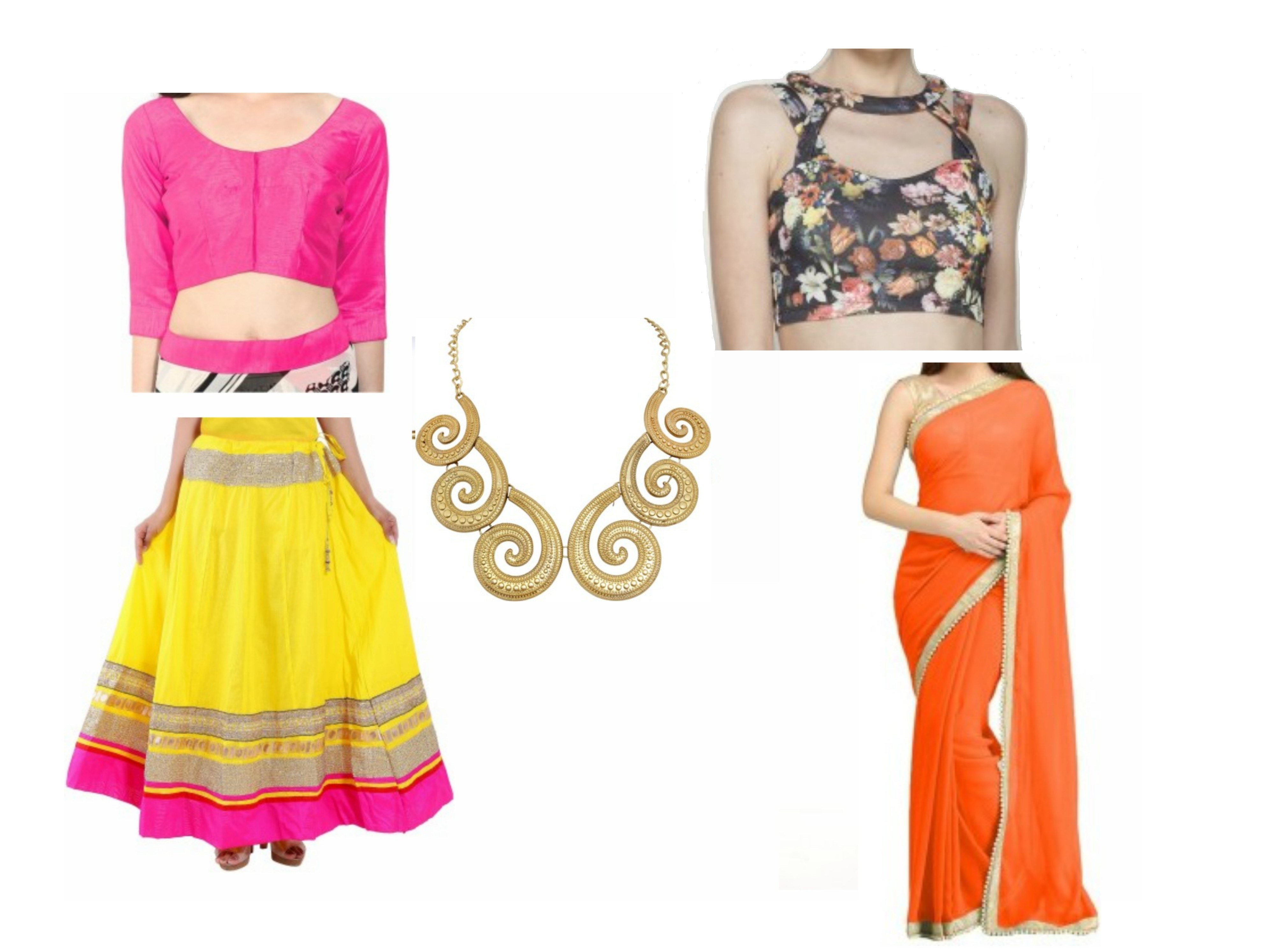 Look (Left): Pink Blouse , Yellow ethnic skirt , Gold statement necklace  (Right): Crop Top , Orange georgette saree
5. Casual Chick
For the every day uptown girl the best casual looks can be created by adding a little desi groove or spark to it.
Tip: Add in ethnic jackets and floral skirts to your daily casual look.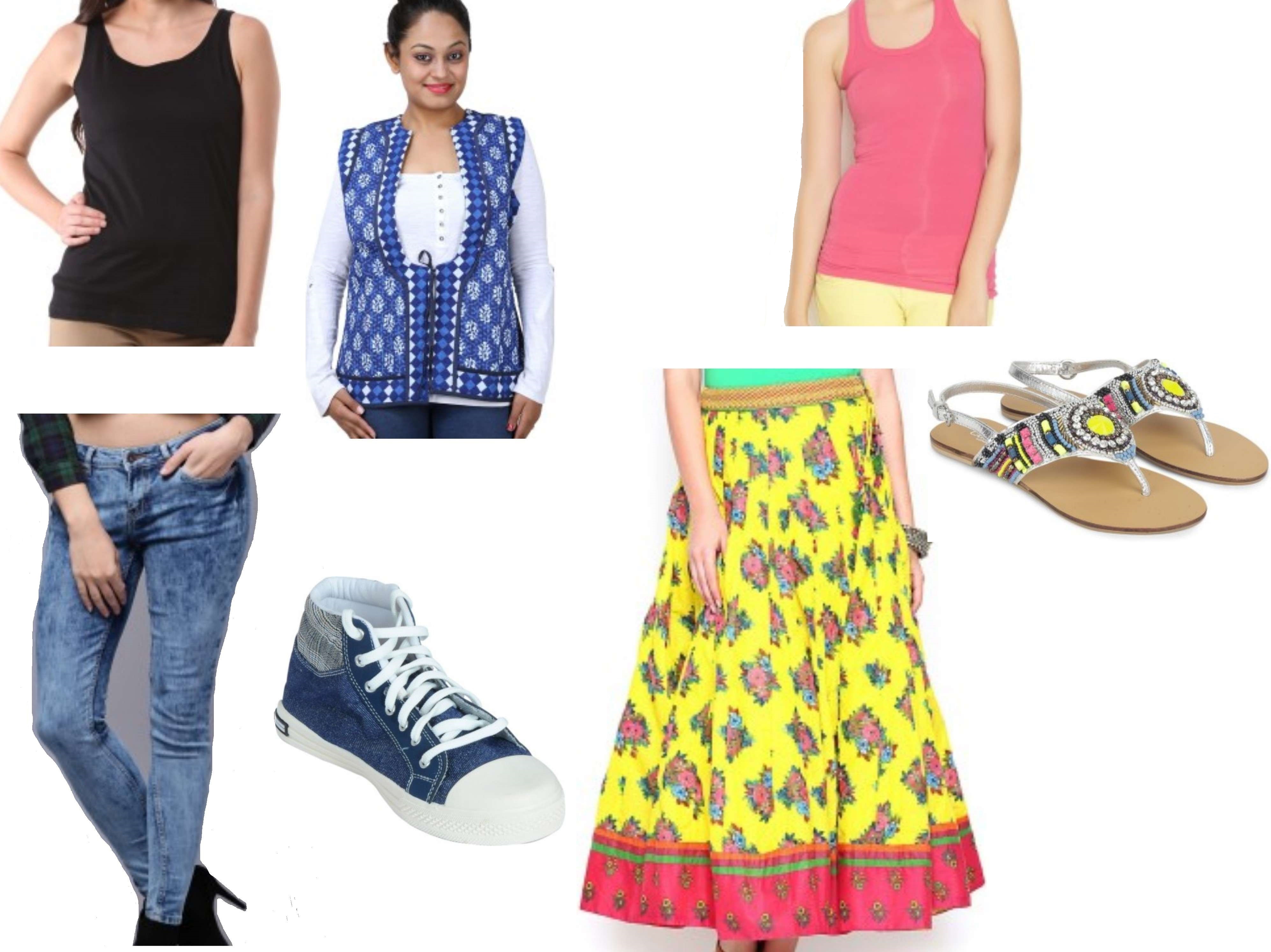 Look (Left): Black sleeveless top , Blue ethnic jacket , Skinny jeans, Casual shoes  (Right): Pink sleeveless top, Floral skirt, Studded sandals
Try out these ethnic ensembles with a bit of your own personal touch and let us know how the challenge of achieving the right indo-western look came up to be in the comments section. Thank you for reading!