The glitz and glamor of Bollywood reached its pinnacle at the Stardust Awards. This is an event where all the stars are at their fashionable best. In fact, over the years Stardust has been one of the magazines that have survived the tough competition posed by online media. And the fact that stars still attend events hosted by the magazine and with enthusiasm tells us that 'gold is old'. The who's who of Bollywood attended this event and Pooja Hegde looked nothing less than gorgeous. Let's take a closer look at the outfit she wore at this event.
Pooja Hegde's Look
Pooja wore a blue lace Zaik Nakad mermaid dress. It goes without saying that she looked heavenly! And yes, this girl is daring to be different and that too in style. The intricately detailed embroidered dress complemented with an open back looked perfect! That's not all, the right amount of net made all the difference.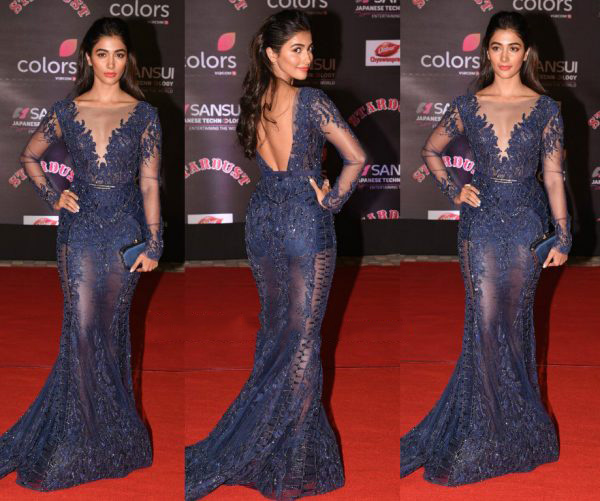 source: Bollywoodlife.com
As for her hair and makeup, Pooja's hair was neatly flowing over her shoulders. The coral lip color, an unconventional choice, added color to her entire look. Well, bold is beautiful, don't you think? We loved her look, did you? Share you thoughts with us in the comments section.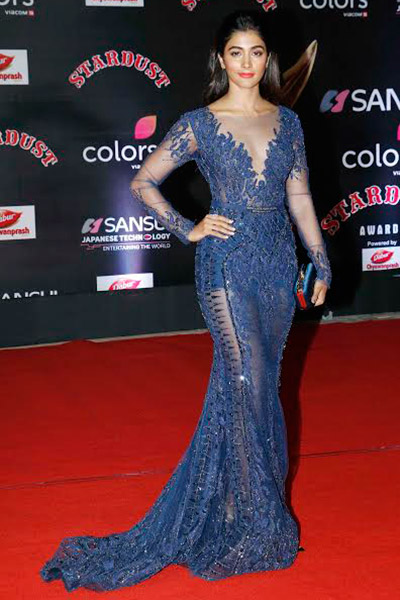 If you like this post, spread the love by sharing it with your friends. Don't forget to subscribe to our website for the latest style updates. Stay stylish!