"FASHION", a pretty familiar word, isn't it? Earlier in times, it was a thing for only a few but looking at today's time! We can easily say it is a part of every single girl or even a guy's life. And what's even wrong in following the latest trend? It's cool, I believe! We have so many style icons in India and across the world, the way they carry their outfits is something which is well appreciable and youngsters drool over that.
If you look at a girl from a metro city and then a girl from a normal one, you'll surely witness the vast difference in their attire. But when it comes to fashion, both will have a mind boggling taste. Nowadays in India, girls have become more confident in carrying any type of outfit and they have enough of fashion sense to make themselves a perfect diva. The most interesting fact about fashion is, it keeps updating.
For every season we have something peculiar to wear. As of now, we have entered the rainy season, so by default we have a different trend.
1) ARE YOU A "JEANS" GIRL?
If you are a jeans lover and cannot at all afford to resist it not matter what season it is, then styling up a pair of loose ripped jeans folded up a bit from bottom with a casual yet stunning top this rainy season is something which I see a lot and is certainly in trend and girls are intelligent enough to style it extraordinarily. Its not recommended to pull up some tight fitting clothes in this season as it not only makes you uncomfortable but also has some side effects and this  is something every girl will agree to. Along with these cool outfits girls mostly keep their hair tied up in a messy bun which ultimately highlights the entire look.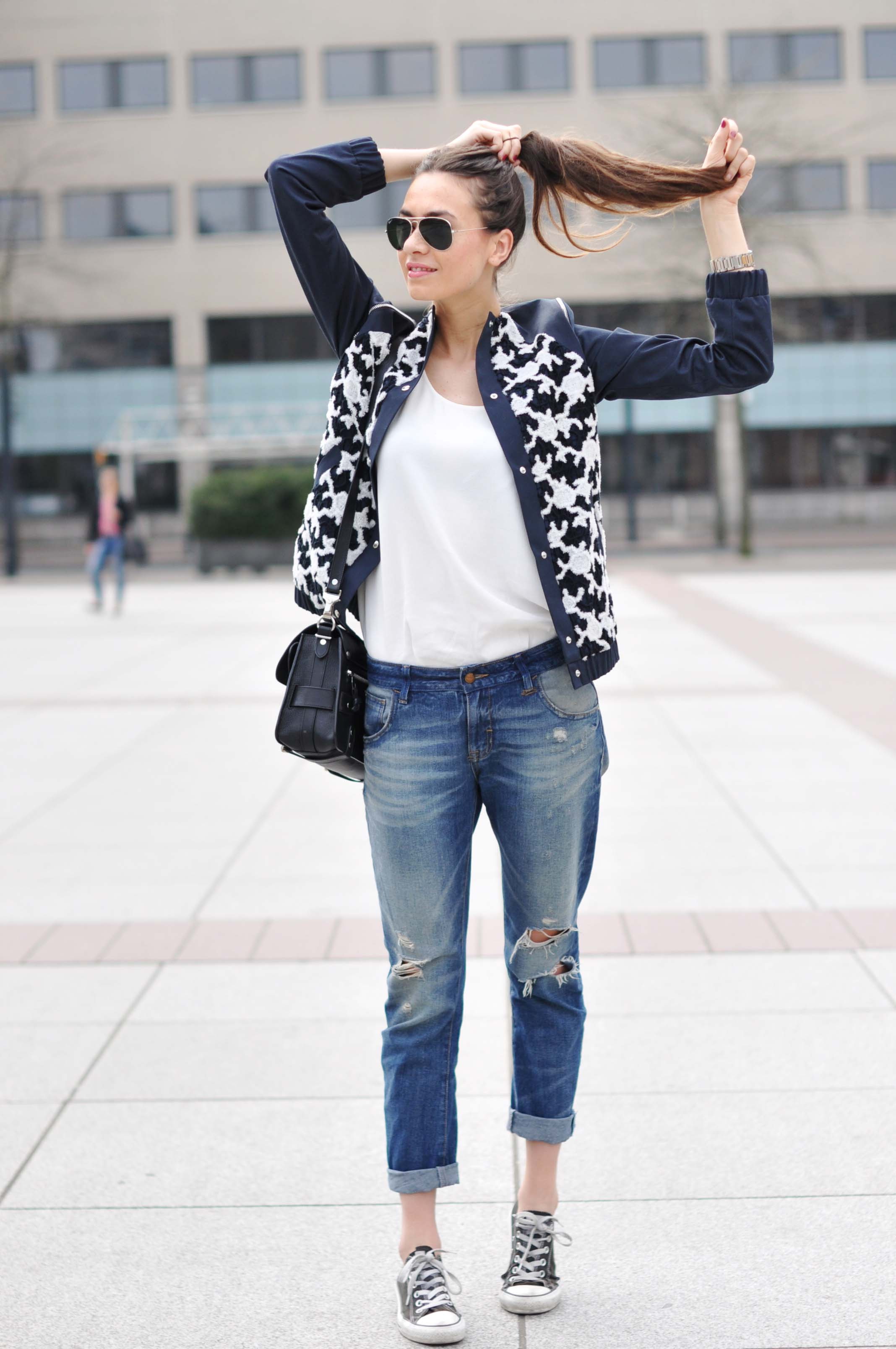 source: fashiongum.com
2) SHORT SKIRTS: THEY NEVER GO OUT OF STYLE
This is for the ones who find their kind of happiness in wearing knee length outfits. This is the season to try out all your short girly clothes as there is a possibility that the long ones get muddy easily. Short skirts or a capri styled with some light mint color top is a bit girly yet stylish and good go for this rainy season. The international fashion icon, Kendall Jenner was seen flaunting such type of comfortable clothes with a pair of high boots quite a few times.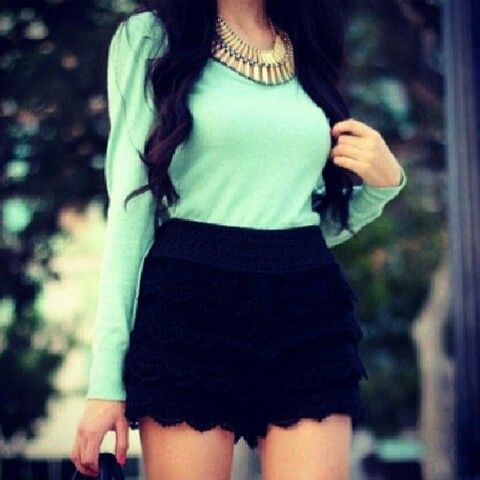 source: www.pinterest.com
3) SHIRTS ARE COOL AND DENIMS ARE WORTH THE DROOL
Girls are getting very much attracted towards the check shirts and styling it with denim shorts as this is one of the most comfortable and casual kind of outfit one can withstand in this season. This will not only make you look beautiful but you don't have to worry of them getting splashed  with mud and water and this is one of the best options for the girls who are comfortable wearing shorts in this high humid weather.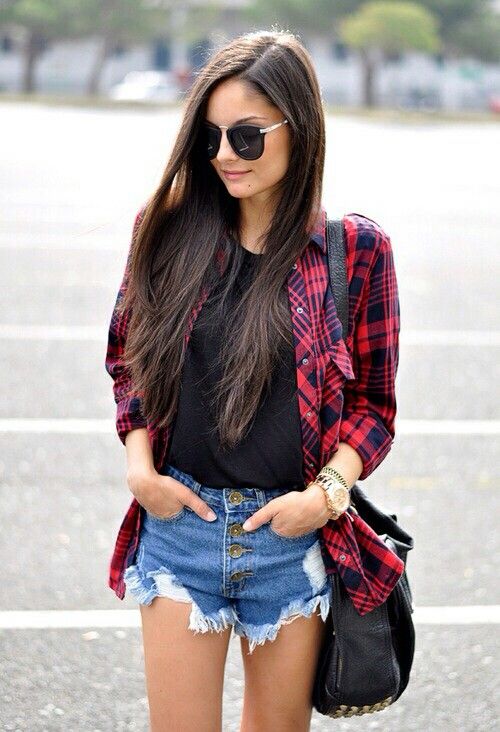 source: www.pinterest.com
4) CAMOUFLAGING WITH THE SEASON
The pretty floral dresses can never ever go out dated. No matter where you are going; to your college, to a party or simply to hang out, these floral dresses will never make you feel low. As the rains bring a lot of greenery around, everywhere you lay your eyes you will witness the flowers blossoming happily and so having some flowery dress will match well with the season.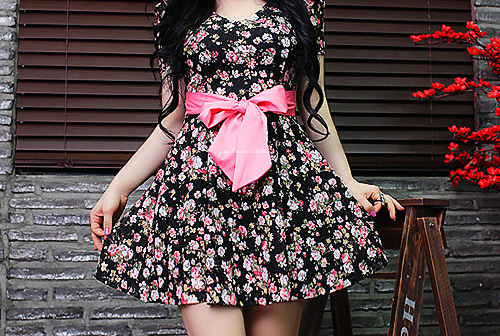 source: favim.com
5) IN THE RAIN, TRY SOMETHING PLAIN

This outfit would be perfect for a day when it's raining cats and dogs. The jacket is a "Pac-a-Poncho" , so it's super waterproof. But unlike the typical ugly and boring poncho, this one actually makes a fabulous style statement. When paired with neutral grey rain boots , the overall look is functional and cute at the same time.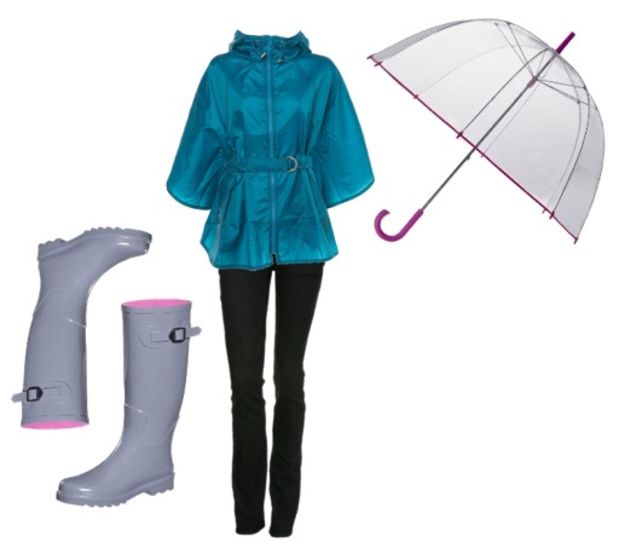 source: www.pininterest.com
So, if you keep hovering over latest trends then try out these outfits and don't at all hesitate to add your type of touch to it, I'm sure you will make it look more trendy. Just an additional tip, go for a light make up this season and effortlessly flaunt the pretty "YOU"!
Lastly, if the article was good enough to match up to your dressing levels or so, do share it and don't forget to subscribe to our website for more amazing articles!
THANK YOU 🙂