Jhumkas are the statement, ever-green ethnic jewellery that can never be out of fashion. Just one correct statement piece can make any look complete and add the final charm to your look. Correctly matched jhumkas are bound to add to your style quotient and leave no need for any other accessory. Moreover, there isn't just one design when it comes to jhumkas, there is rather lot to experiment with. Here are a few types of jhumkas flooding the market waiting to complete your look.
[az_jhumka_carousel_best_sellers]
1.   Hanging jhumka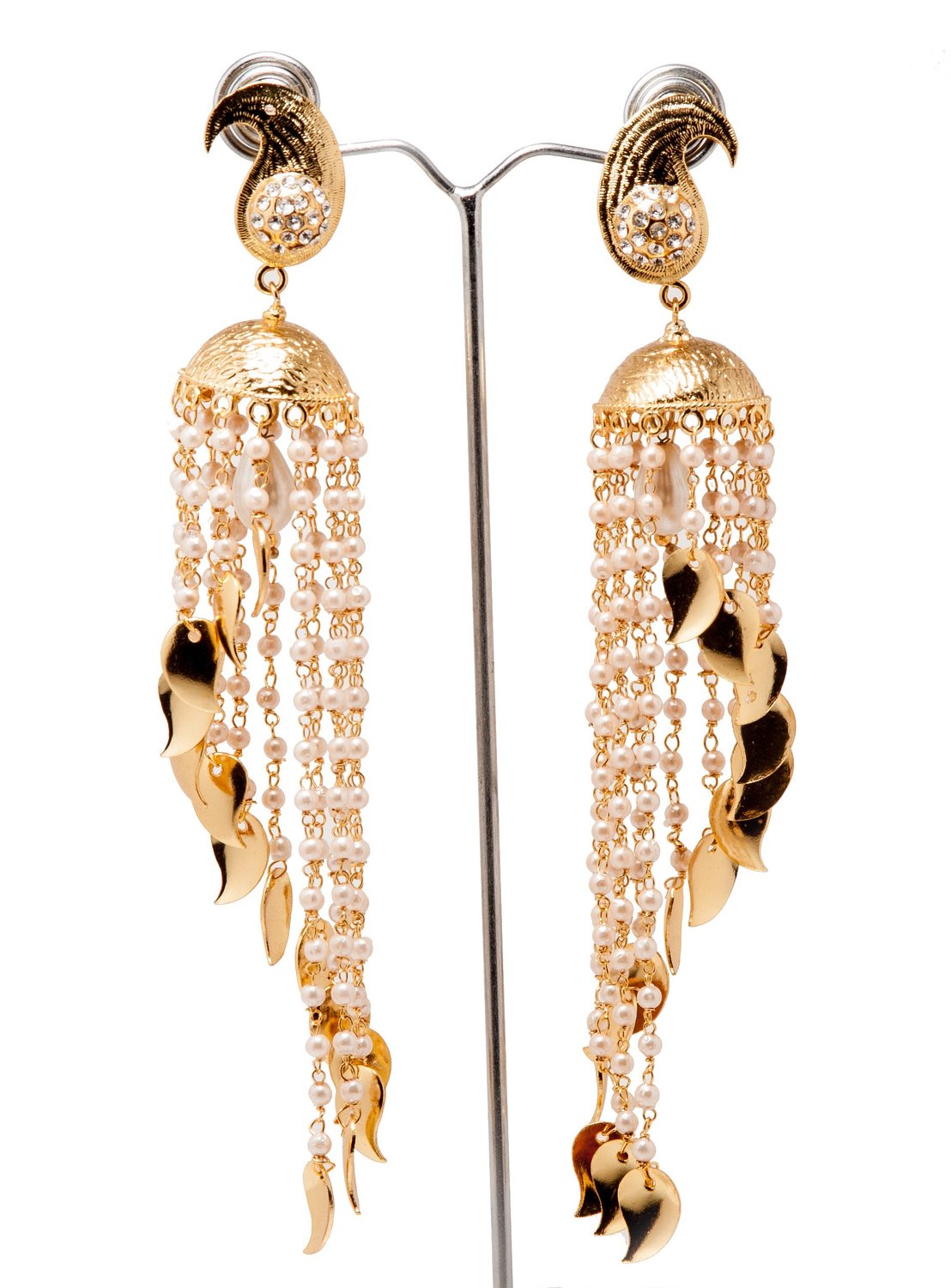 source: ecx.images-amazon.com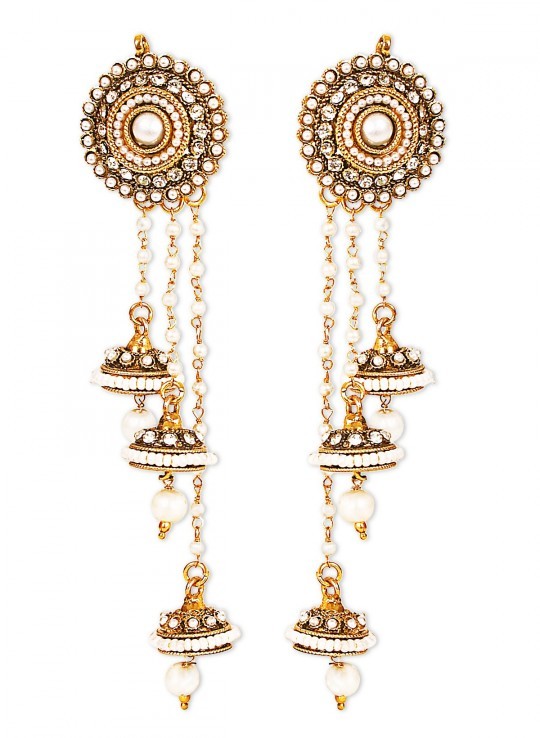 source: ak1.scstatic.net
These hanging jhumkas are a must have statement piece. They are sure to add the glamour quotient to even the simplest of outfits. It is best to pair them with outfits with light work, especially around the bust area.
2.   Drop earring jhumka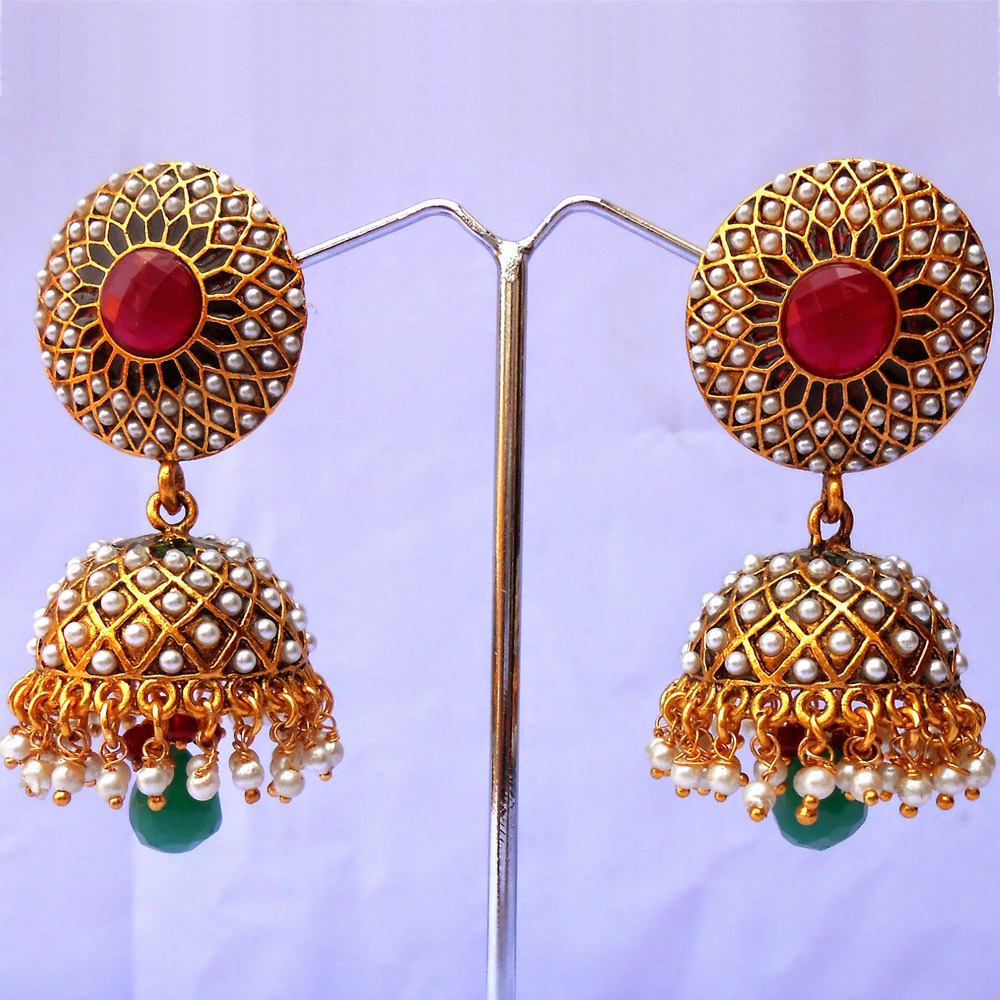 source: www.boontoon.com
source: www.sassyshifsays.in
These absolutely magnificent earpieces are bound to add weight to any outfit and if you choose heavy ones like the ones in the picture, they are sure to enhance the glamour of any simple outfit. Once you put these on there is hardly any need for any other accessory. It's best to pair them with sarees just like Anushka Sharma.
[az_jhumka_slideshow]
3.   Asymmetrical jhumka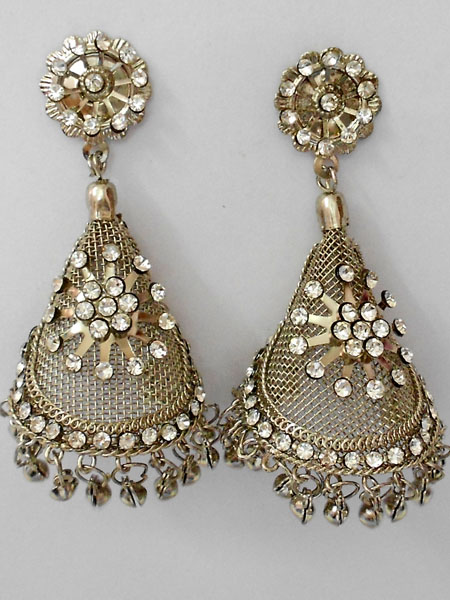 source: www.impexfashions.com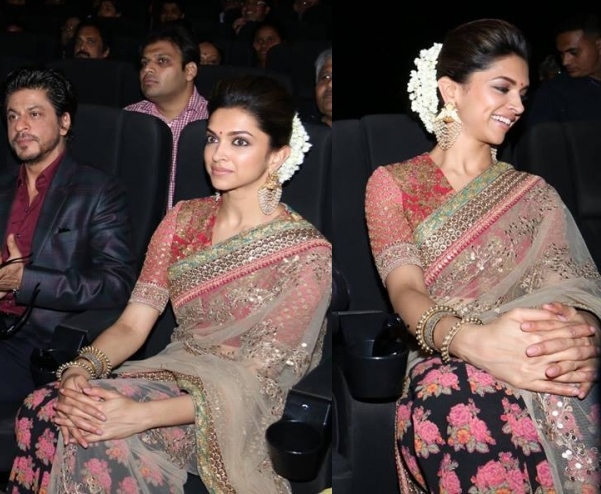 source: www.indiabazaaronline.com
Ditching symmetry for good, these asymmetrical jhumkas are bound to make a statement. You can take a leaf from Deepika Padukone's fashion journal with these fabulous asymmetrical jhumkas and be the life of any party.
4.   Jhumar jhumka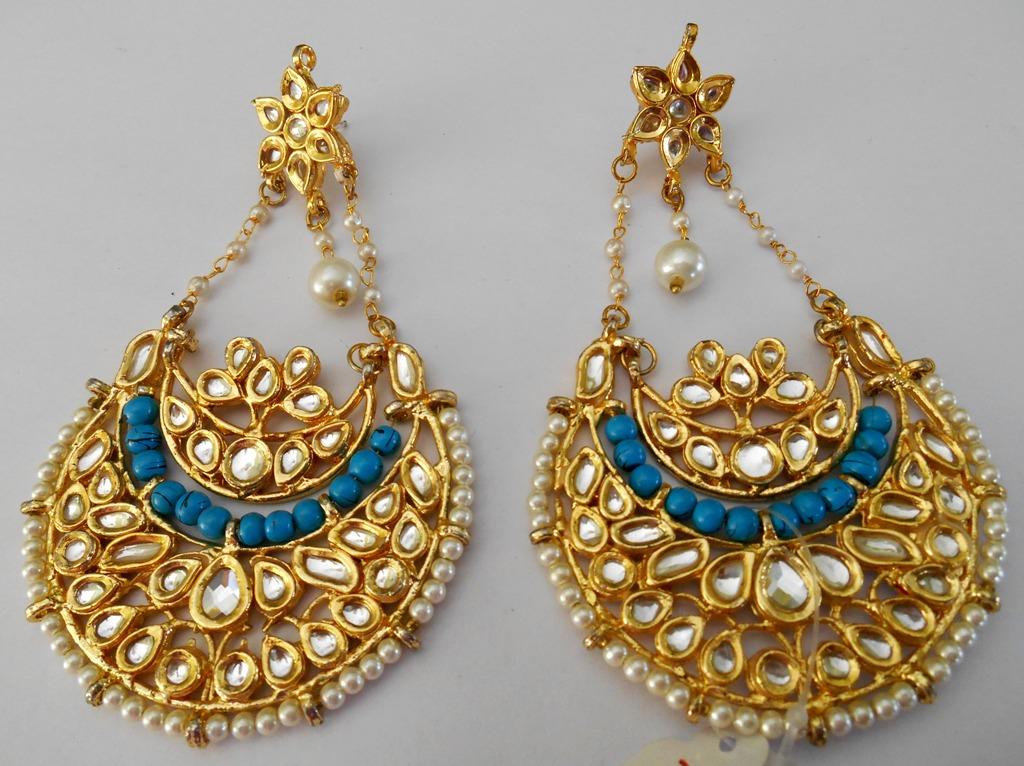 source: www.indiebazaar.com
The 'jhumar' or 'chandelier' jhumkas get their name from the shape they are molded in. They have an elegant fall and are ideal for light party wear. They can best be paired with moderately heavy suits.
5.   Flat jhumka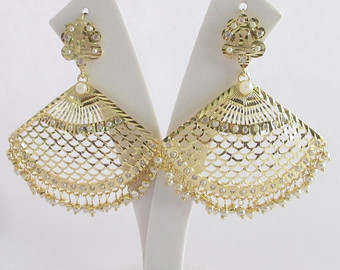 source: img0.etsystatic.com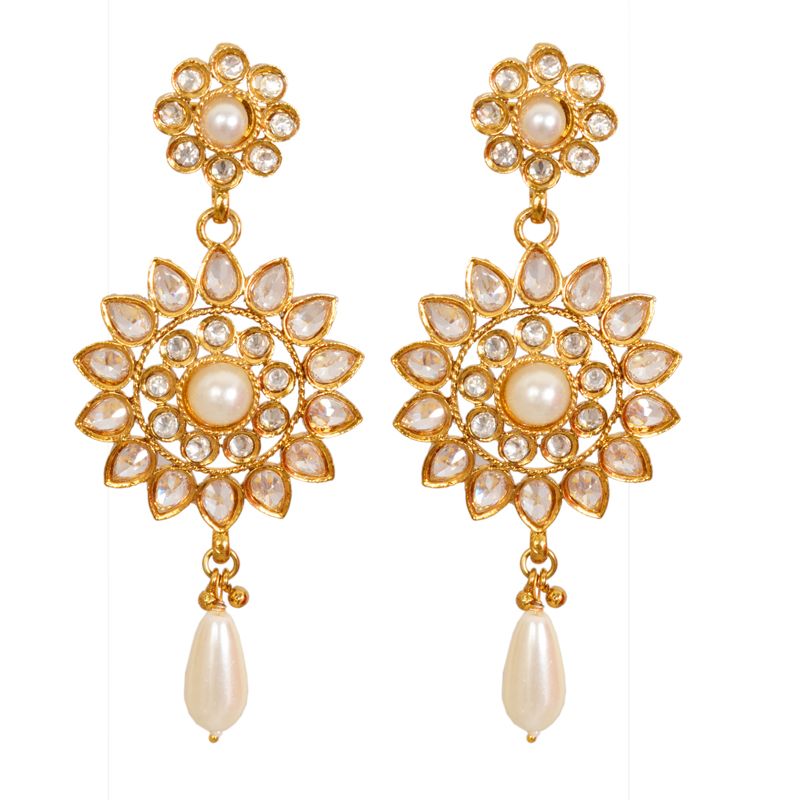 source: imshopping.rediff.com
These flat, elegant jhumkas are easy to carry and save you from the heavy weight you feel pulling down on your ears which accompanies the heavy, conventional jhumkas. These are ideal for an elegant, edgy look.
[az_jhumka_carousel_best_sellers]
6.   Ear-cuff jhumka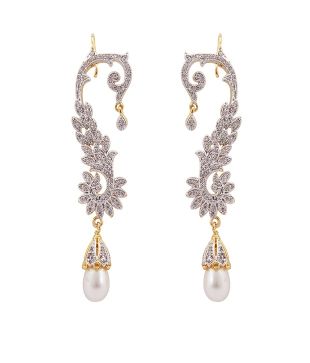 source: n2.sdlcdn.com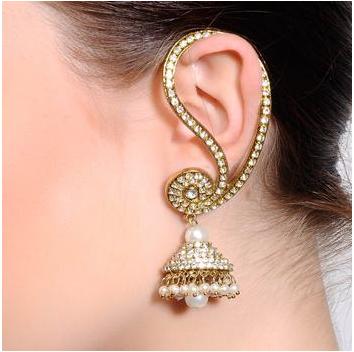 source: 3.bp.blogspot.com
The ear-cuff jhumkas is probably the hottest type of jhumkas available in the market. From simple to heavy, they are bound to make you stand out and complete your look. You can also opt for the peacock designs of these available in the market.
[az_jhumka_slideshow]
7.   Polki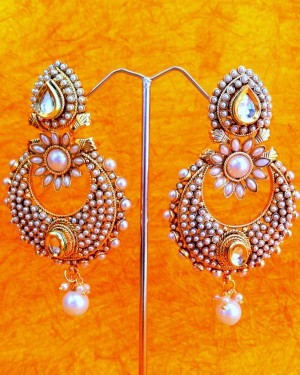 source: ak0.scstatic.net
These 'polki' jhumkas take ethnic elegance to another level. They are best to be paired with heavy, party-wear suits.
8.   Chand-bali jhumka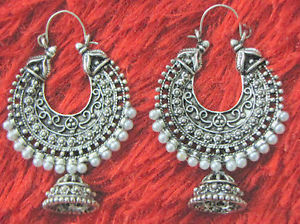 These 'chandbalas' with little jhumkis are pretty, petite and best for effortless daily fashion. They are mostly available in metal in many designs. Pair them with simple, daily wear outfits to look just the right amount of sophisticated.
9.   Quilled jhumka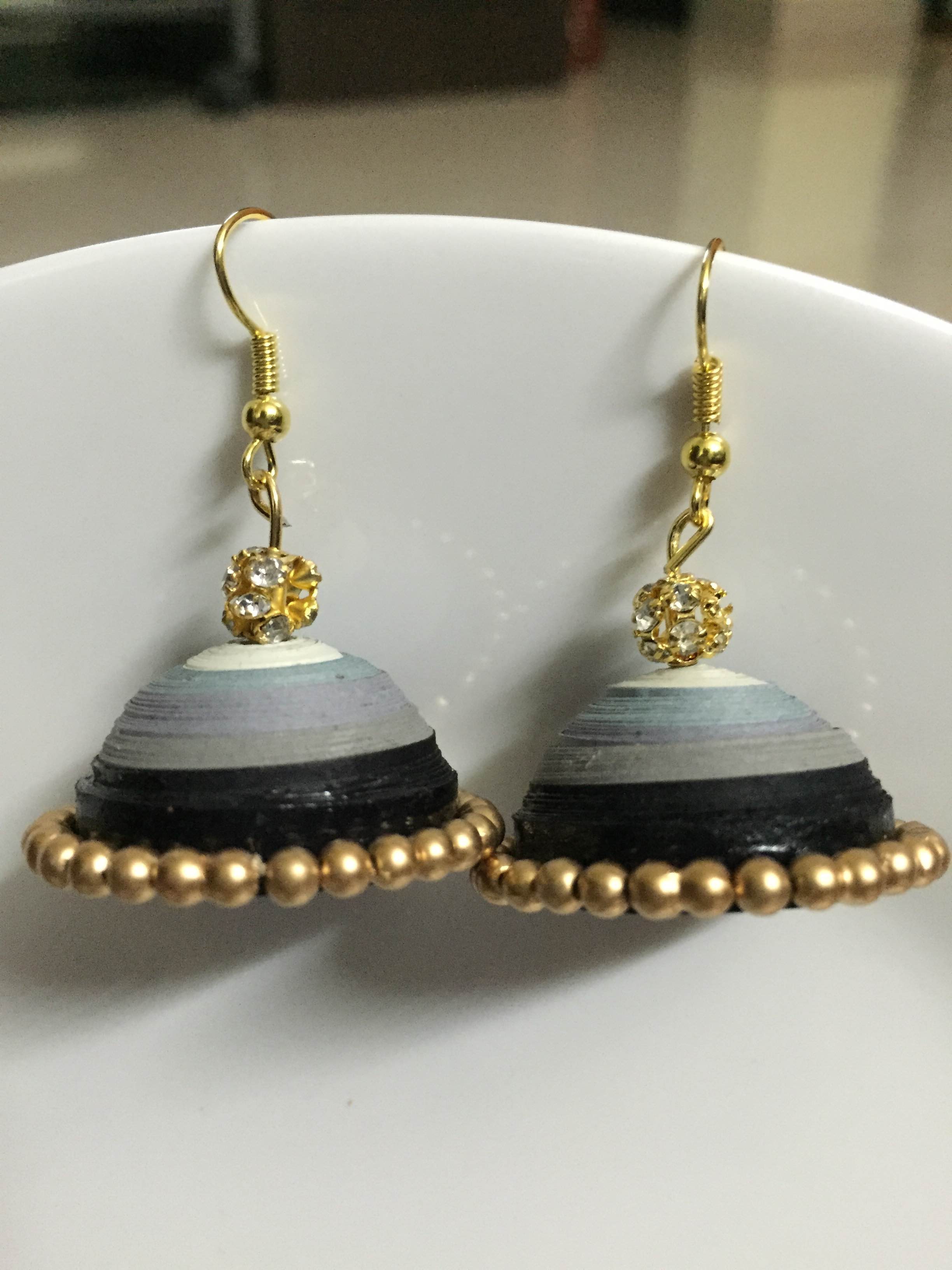 source: baggout.tiles.large.s3-ap-southeast-1.amazonaws.com
[az_jhumka_slideshow]
Quilling isn't just restricted to paper craft anymore. Behold the new variant of this art that you can wear in your ears. These come in many colors, shapes and sizes and look extremely pretty. They are ideal for daily wear and can be co-ordinated with outfits of any color.