If you want to get everyone's attention, the best way you can do so is by wearing a saree. Yes, all you need to do is bring your ethnic chic on. Well, a saree can be a girl's best friend when worn correctly. And recently, we spotted Raveena Tandon at the Bhay music launch slaying the look. Take note fashionistas, you can learn a lot from this celebrity. Let's take a closer look at her outfit. Happy reading!
Raveena Tandon
Raveena looked amazing in the dual shade pink saree. The glittery golden border looked good along with a matching pink blouse with embroidery by designer Varun Bahl. Well, this is as stylish as you can get along with a pinch of class and elegance added into the mix.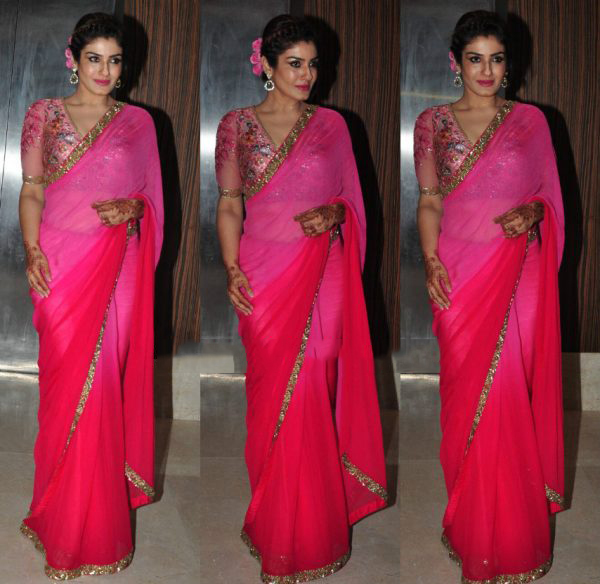 source: southindiafashion.com
As for her hair and makeup, she had her hair in an updo and her makeup was just right. Her matching hot pink lipstick was spot on. She selected a pair of earrings by Ghanasingh BETRUE.  And the pink roses tucked away in her hairdo added a delicate touch to her look.
We loved her look, did you? Post your thoughts in the comments section.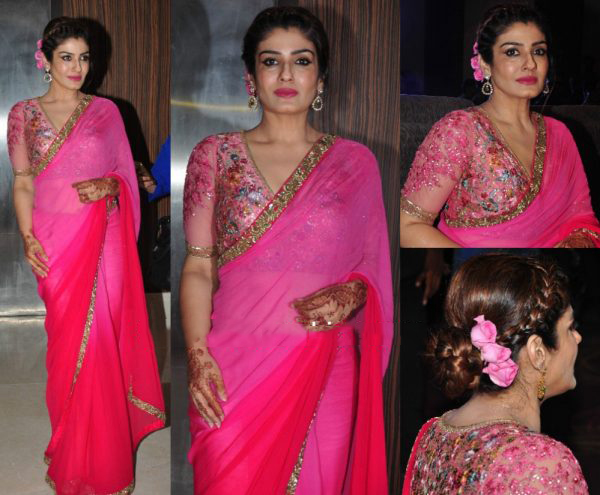 source: southindiafashion.com
If you love this article, spread the love by sharing it with your friends. Don't forget to subscribe to our website for the latest style updates. Thank you!