The ladies in Bollywood are very serious about the fashion and they leave no stone unturned when it comes to making a style statement. In a blink of an eye, trends change and the bar is set higher at an almost unattainable level for us mere mortals who love fashion. However, that's not going to dampen our spirits is it? Well, let's take a look at Shilpa Shetty in this ethnic suit.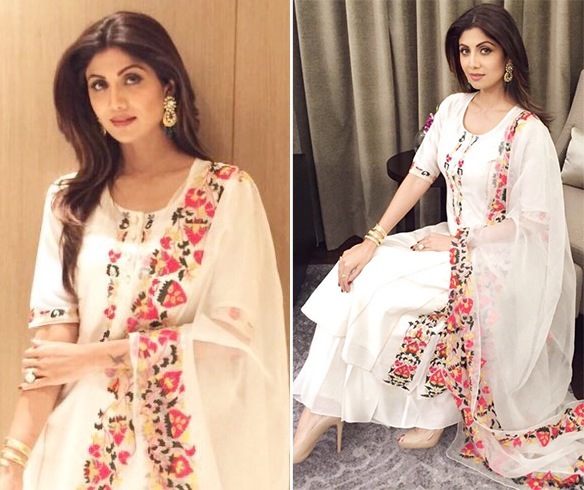 source: Instagram
Shilpa posted pictures of her in a white Abho salwar suit. This is no ordinary suit as an artist has sketched the designs on the suit! At first glance, this outfit might come across as a typical girl-next-door outfit but on closer inspection you will realize that this is a really wonderful outfit, which gives the wearer a royal look.
It's interesting to see one of the most beautiful and stylish celebrities in a sophisticated and demure outfit. She has tastefully selected her accessories that include golden bangles, earrings, and a nude pair of heels.
If you liked the article, please share it with your friends. Thank you!