"I have over 50 pairs of footwear but I still have nothing that can go with my new dress. I will have to buy a new pair."
This is the story of every woman. We do own hell lot of pairs of shoes, sandals etc, but it happens only once a wonder that they are enough. To be honest, they are never enough. Well, to make sure you never run out of matching footwear and you never have to walk barefoot, here is a list of must owns for all year round beautiful feet and legs.
1.     Wedges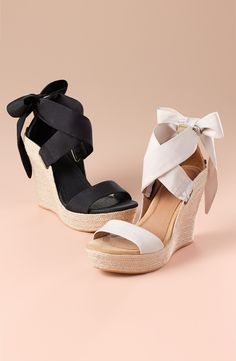 source: shop.nordstrom.com
Wedges are the prettiest things and the most comfortable of all kinds of heels. They come in a lot of heel sizes and can be easily worn as casuals. Pair them with sundresses, shorts or jeans. They go well with skirts too, but only casual, preferably flared or A-lined. Also, you must have a solid and a printed pattern. Do go for colours that you can wear with most of your clothing, it can be any colour of your choice, and same goes with the prints too. Make sure, you flaunt it while being comfortable in it. You should love wearing them as much as others love watching you.
2.     Pumps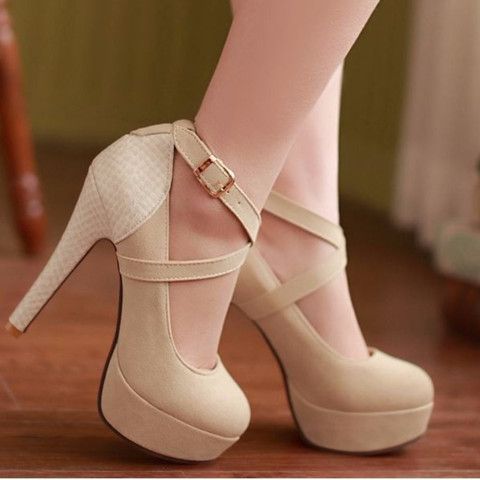 source: daisydressforless.com
Pumps are for night outs or for formal meetings. Both are totally different occasions, but pumps fit perfectly for both of them. The trick is to choose the right heel size because they can be really hectic to wear. Walking or standing on your toes for hours does not come easy, so if you've just started to wear them, start with a lower heel. Tip: you should definitely own a pair of beige and black pumps. They rescue in every situation.
3.     Flip Flops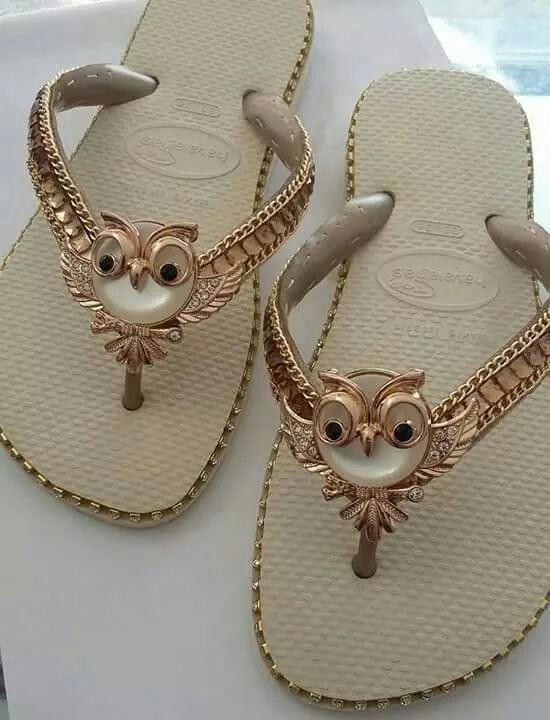 source: s-media-cache-ak0.pinimg.com
Flip flops are for when nobody's watching, or when you want to feel like nobody's watching. Flip flops are best for holidays, road trips, picnics, about the beach, and for places where you don't have to be so much of a self-conscious and all you want is to have fun. You can also wear them when nothing else comes to your mind. I wear them when I'm in a hurry, mostly because I forget to change my footwear, but they never let me down. Make sure, they are durable and comfortable and you love walking in them.
4.     Shoes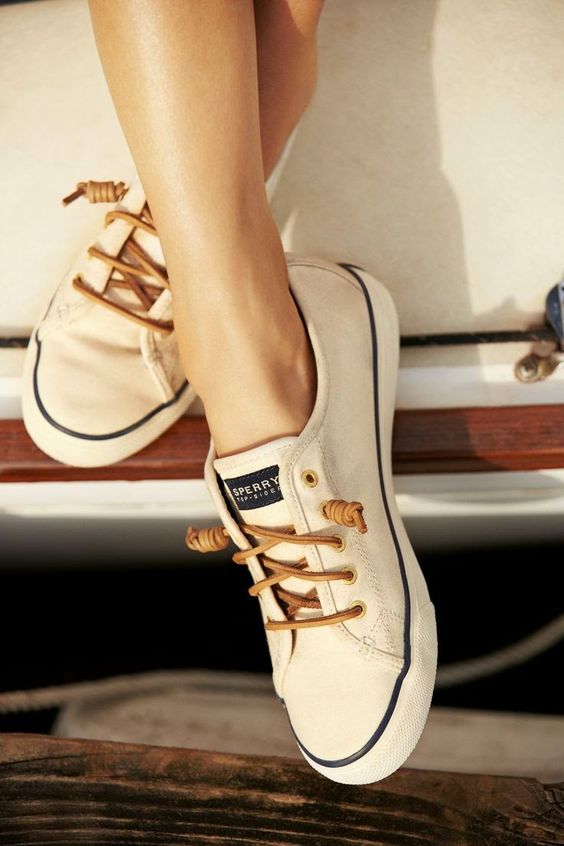 source: www.sperry.com
Shoes have two sides to them – sports and casuals.
Sports shoes for, well when you go for some serious sports. It is important to put on the right shoe for the right sport. So, don't use that just one pair for jogging, football and badminton. Consult with an expert and buy the respective shoe for your sport.
Casual shoes are when you feel sporty or, I prefer them when it rains too.  Shoes cover most of your feet and help them stay pretty for long and also save them from tanning. There are hundreds of varieties available. Don't be scared and pick one that fits your style. Remember the time Kristen Stewart wore tennis shoes with her dress on red carpet. See? There is no way you could ever look bad in them.
5.     Bellies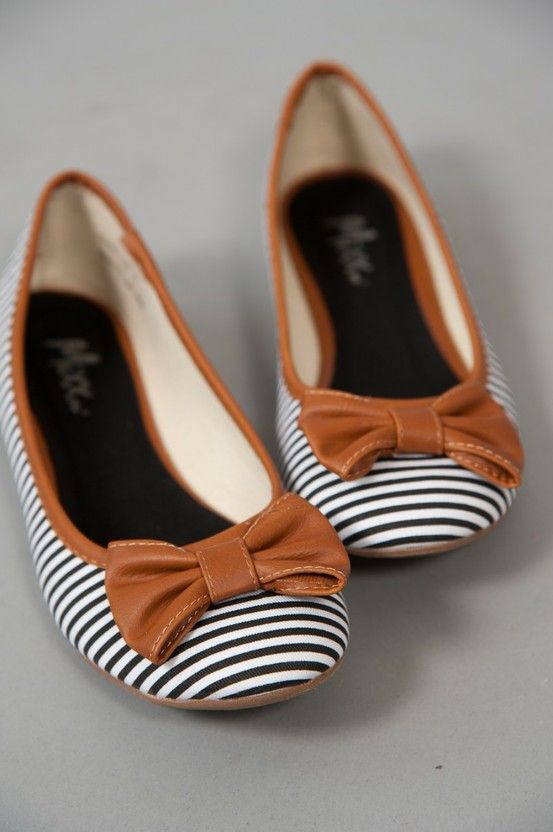 source: postris.com
Bellies have been in the market ever since. Every second person, I know, owns them. I wouldn't say they are a must to own, but yes they are a very good choice, comfortable and can work very well for those who have trouble with wearing heels. They can be paired with almost everything and that is the one thing I love about them. If you don't already own some, then go and buy a pair or two, or more of different styles.
6.     Gladiators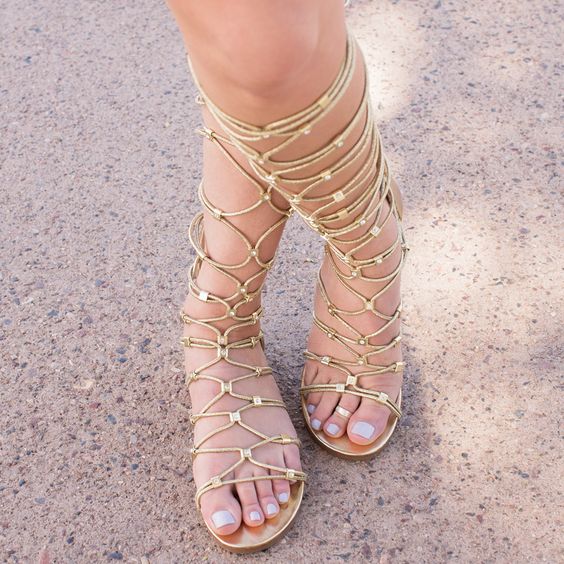 source: www.shoppriceless.com
Name one person who isn't in love with them. Can you think of anybody, because I can't? They are gorgeous, trendy, stylish and the mere definition of boho. They come in different lengths, styles, designs and patterns. You have a whole new world to choose from. You are even given the choice of heels or flats. Now, isn't that amazing?
7.     Sandals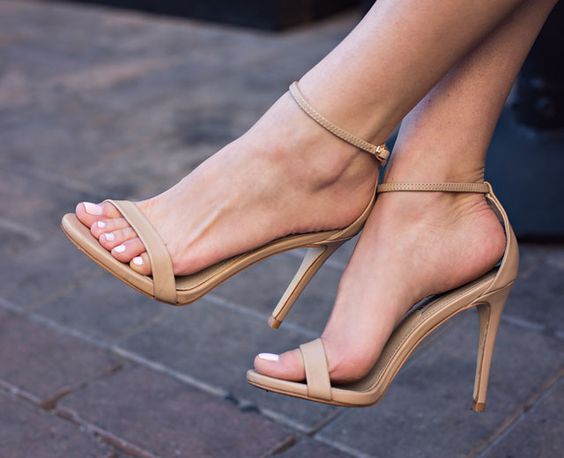 source: www.sydnestyle.com
Sandals are mostly best suited for ethnic wear. Sarees, suits, lehengas – anything. Sandals have the perfect glow to match ethnic wear, especially when you have an event or any function to attend. They come in a lot of heel options and you have your freedom to choose. For a function of a longer duration, prefer flats or wedges over stilettos and vice versa. No other footwear would go that well because they are mostly casual in nature and designed for western outfits.
8.     Flats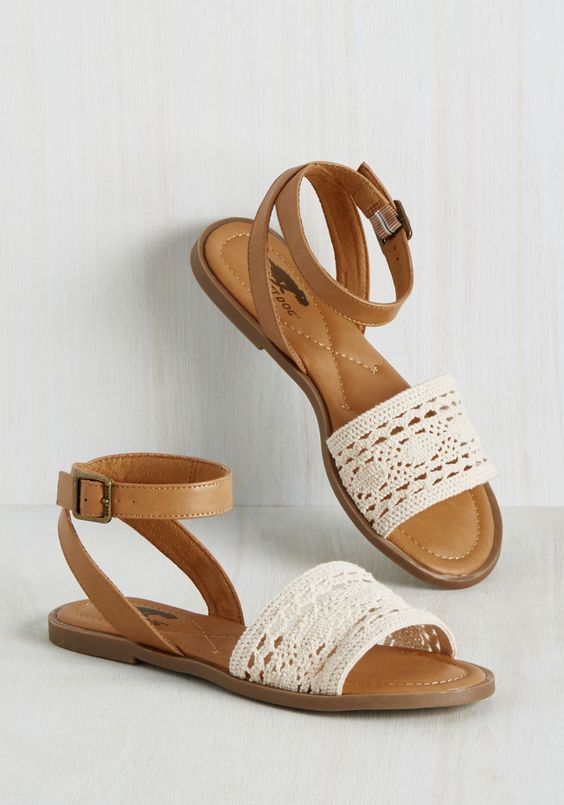 source: www.modcloth.com
Flats are your rescuers. Trust me when I say this, they fit best in anything and everything. Don't you just love that feeling about them? There is no specific definition or limits when it comes to flat. They can rock your feet any day without hesitation. Never think twice before choosing flats over heels, only if you really like them. In case you don't, find another pair; there is always a silver lining.
9.     Boots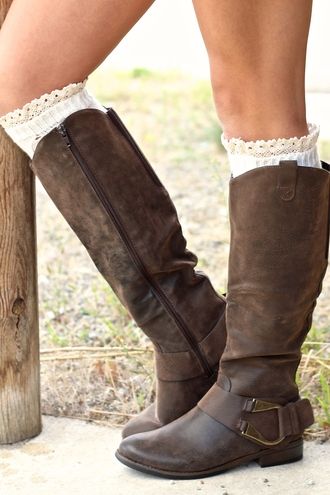 source: nanamacs.com
Boots are must owns for winters. You must have at least one pair both in heels and flats, whatever length suits you – ankle, calf or even thigh if you like, but that is a little tricky to put on. For people who think that pairing boots with jeans is a bad idea, let me assure you that it is not. There is nothing more sexier than a woman wearing a skin tight jeans and her knee length 5 inches boots with them. Don't wait till you buy a skirt for winters. Put on your jeans and show off your boots.