Ladies, we invest a lot of time and money in buying ethnic, formal, casual and western wear clothing .We are always ready to spend extra bucks on purchasing apparel which are branded. Women prefer the brand which has good market recognition and style . Top women oriented brand in India has high quality products at affordable prices.India is having so many brands, both local and international, that satisfy the need of every Indian women and those perceived to be hip and modern.
We have come up with the best brands which you can look out for when shopping for trendy clothes.
Bharatsthali
Bharatsthali.com is a retail and digital platform to push forth the artisanship of Indian weavers, to ensure their holistic well-being and protect as well as promote their legacy. Taking pride in offering you sarees sourced directly from the artists and weavers, this store is known for its fair-trade sarees and a wide range of sarees for every occasion. The store gives you saree that caters you well on the desk as well as to the drinks with the same aplomb. We take pride in being an ethically conscious business. The collection of BharatSthali consists of silk and cotton taant sarees at various price points. Their range of drapes covers the handloom and heavily embellished sarees as well as the routine sarees for everyday use. The collection of sarees also include printed and embroidered sarees.
The silk sarees are certified with Silk Mark India by Government of India.
Forever 21
It's a 1984 established American fashion chain that offers a variety of women's clothing ranging from western to ethnic wear. Forever 21 is dedicated to all the young women who live and breathe style. Apart from apparel you can get accessories and certain beauty products at pocket friendly prices.Famous among youth customers with a favourability rate of 80.5 percent.
Only
An international high fashion Danish brand that celebrates the laid back spirit of fashion. Best known for their fabulous denims that gives you the cool casual rock chick look. ONLY collection is all about embracing a carefree, off-duty vibe and effortless attitude.It's growing global presence in the market made it famous among ladies. You can get T-shirts, maxis, dresses and trousers in varieties of colours and prints . ONLY girl is not defined by a certain style but by her love for denim.
h&m
Hennes & Mauritz is a Swedish clothing store is known for its fast fashion trends for the public. It provides everyone with quality fashion at a low price. It also includes accessories, footwear, cosmetics and swimwear. From sparkling evening outfits to casual day wear to cute accessories, you'll find everything fashionable for yourself at H&M. The main aim is to maximise the sustainability in their products with time.
Koovs
The online marketplace for getting branded fashion products in India.The idea is to inspire young people to explore, to be creative and enjoy fashion every day. Koovs is for all the girl who likes to stay updated with the latest trends. From formal-wear to backpacks and evening dresses, you will get everything under one roof.
Stalkbuylove
The online shop for you- be it on a lazy Sunday afternoon or during your office lunch hour. This fast fashion private label aims at making fashion for Indian women hyper trendy, wearable at the same time affordable. It has it's base in New Delhi and crater the tastes and preferences of fashion forward ladies.Shop form Stalkbylove and leave everyone wondering from where you got that cute top!
W for women
Known for introducing the concept of 'Mix n Match' in retail.A place where you can find the most interesting prints in the most unexpected styles. Long kurtas with longer palazzos and short asymmetrical tops with fitted pants – that's their forte. If you love experimenting with your look, if you are looking to spice up appearance then W is the right brand for you. W for women is the only Indian retail space which offers 'Indian contemporary' wear.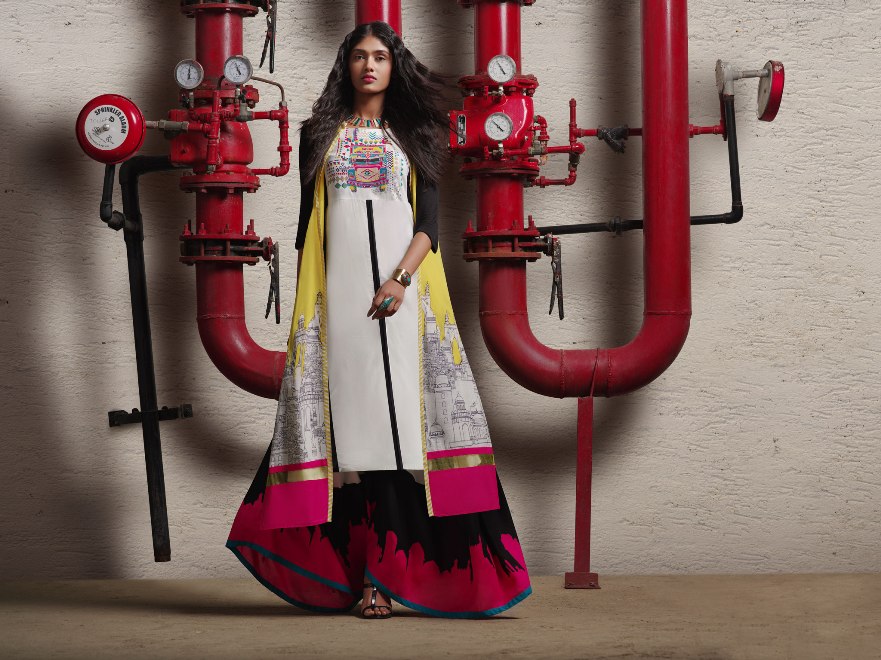 source: www.thehansindia.com
Biba
Global Desi is all about colors, flowy fabrics and unique silhouettes. You will get a variety of options to choose from choose from, be it a cheerful kurti or a funky crop top, and it'll all look so stunning. Global Desi promises you to leave with a happy and gleaming face. The exclusive styling and draping of the dresses and tops will give you the aura of Desi girl, who would love to add some vibrancy in others life.
AND
Ladies, designer Anita Dongre has made fashion available for everyone.Yes, with AND designer clothes are out of reach anymore. Available both online and at stores, this is that one designer from whom you can find experimental styles and designs. From non-linear clothes to basic stuff, every girl will find something suitable for herself.
Westside
We all want to have clothes that goes with every occasion.That is what we love about Westside them for: You will get traditional-wear for festivals to cocktail dresses for evening parties under one roof. Westside is one such retail store tat gives you the liberty to be insta ready. Shop from them for your perfect daily college wear or go for interesting prints.The fabric used is comfortable and flowy while the silhouettes are such that they suit every body type.
Madame
The spot-on place for your fun, formal clothes and for gorgeous printed tops! You'll not run out of choice, we promise! Fascinating necklines and captivating styles – it has all that a girl needs to add that variety in her closet of clothes! This fitted dress and that paisley top look like they belong with us, right?
Mango
The offbeat designs and originality in terms of concept and product quality is amazing when it comes to this Spanish brand, Mango. Being very niche and sophisticated, the taste of young modern Indian women goes very well with it. If you're trying to nail the classic chic look, this brand is for you! From basics to glittery gowns, you'll find what you want here!
Make your shopping experience joyful. Keep reading and subscribe to our website for more such awesome articles. Comment below your shopping experience.